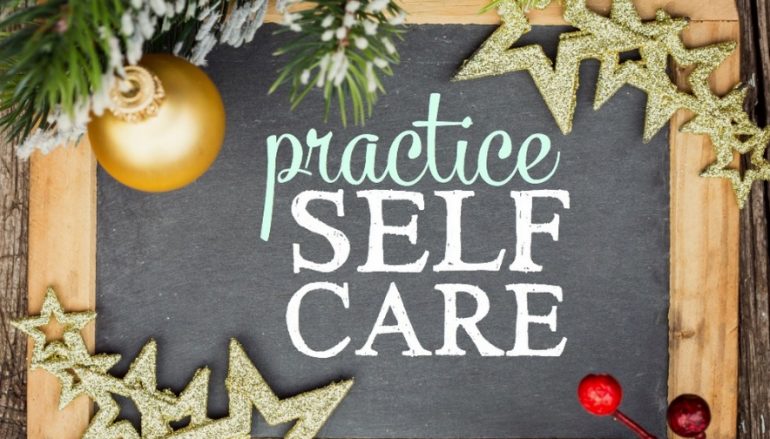 12 Days of Self Care for the Holidays
Holidays are here bringing joy, cheer and also some added stress. You can ease into the holiday season with just a little thought and planning to incorporate self care into your days.
Try these 12 self care tips to help ease the stress of the holidays:
1. Take a deep breath. Try pranayama breathing techniques to relieve stress.
2. Read something for fun like a book or a magazine article you've been putting off.
3. Use affirmations like: 'I have all the time I need.' Or 'I've done enough.'
4. Eat an apple or pear. Slowly enjoy the taste and textures as you eat. Try this outdoors, weather permitting.
5. Listen to music or a meditation. Slow down, sit down and just listen.
6. Early to bed, early to rise. You deserve and need an extra hour of rest.
7. Try a restorative yoga class. Exercise is great for promoting relaxation and reducing stress.
8. Embrace random acts of kindness. Do something generous for someone unexpectedly.
9. Drink lemon water. Warm lemon water first thing in the morning for digestion.
10. Use essential oil. Try jasmine, lavender or lemon to boost mood and relieve stress.
11. Create a mantra. A mantra can help keep your mind clear and on track.
12. Express your gratitude. Stopping to give thanks for everything in your life can make you feel happier and more optimistic.
One important thing to remember is that how we treat ourselves will directly impact how we treat others. Confidence comes from self love. Compassion comes from our ability to see the best in ourselves. Self care is not selfish, it's a fundamental skill needed to love others.
"Christmas gift suggestions: To your enemy, forgiveness. To an opponent, tolerance. To a friend, your heart. To a customer, service. To all, charity. To every child, a good example. To yourself, respect." ~Oren Arnold
Rene Hawthorne
Rene' Hawthorne, 500HR RYT, (a.k.a. The Lotus Chick), is a former classical ballet dancer with The Dallas Ballet. For the past 11 years, yoga has been her focused passion. Her teaching style is a fusion of years of various dance experiences and yoga trainings. She currently teaches at her home studio, The Sweet Spot and at The Mat Yoga Studio in Dallas, Texas. Offering a variety of weekly classes ranging from vinyasa flow yoga, kids yoga, private yoga lessons, corporate yoga and Doga (yoga with your dog), you will find something for every member of the family. Check out her website to find a class for you at www.thelotuschick.com.
Related Articles
Read more from LIFESTYLE