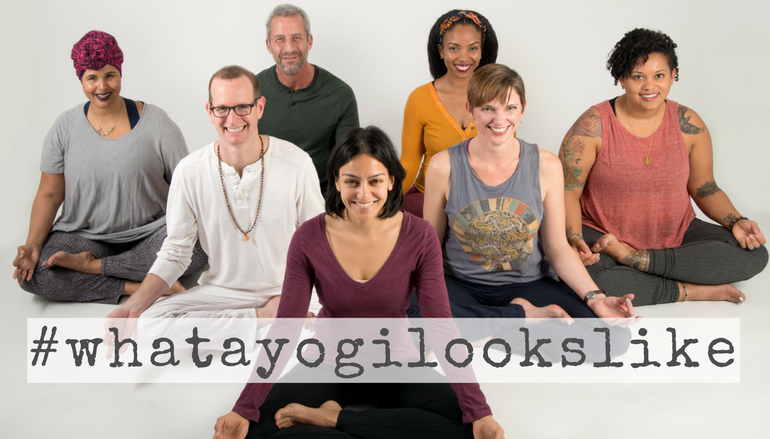 Transforming the Practice
"We believe in the transformative power of yoga for a more socially just world, both individually and collectively." 
How do we re-shape the world we live in to be better, more equitable, and more just? Since the Yoga and Body Image Coalition was formed in 2014, the alliance has brought together numerous activist yogis working to promote inclusivity within the practice. The YBIC shows us we are stronger together, and that it is through alliances like the YBIC that radical transformation becomes possible.

Early efforts dating back to 2010 to raise awareness on issues of diversity and body image in yoga led to the publication of Yoga and Body Image in 2014. The anthology, co-created by Melanie Klein and Anna Guest-Jelley, featured twenty-five brave contributors who shared their stories of healing negative body image through yoga. Knowing they "would be a greater force to reckon with and our voices would be more likely to be heard (and taken seriously) than if we were all working as disparate individuals," Melanie Klein co-founded the YBIC to maintain these connections and continue their work beyond the publication of the book.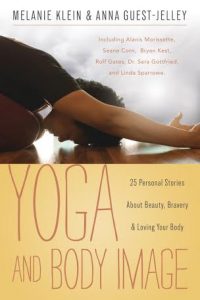 The YBIC focuses on the transformative potential a consistent yoga practice has on one's body image. As a movement, the YBIC also sharply critiques the ways yoga culture and the yoga industrial complex can inhibit the effectiveness of the personal benefits of the practice by promoting stereotypical images of yogis and yoga, contributing to marginalization and inequality in the practice. Drawing attention to inherent sexism, racism, classism, heterosexism, able-ism, size-ism, and age-ism in the industry, they seek to make yoga a powerful tool of healing and change for every body. Spearheading conversations about diversity, representation, and body positivity their efforts to increase access to and accessibility within the practice have sparked a growing movement, prompting industry level changes.
Since founding, the YBIC has been a force to be reckoned with, generating dialogue and discussion at the highest levels of the yoga industry. In 2014 the YBIC participated in the Practice of Leadership Panels organized by Off the Mat®, Into the World in dialogue with industry giants Yoga Journal and Lululemon. The coalition was featured in the July 2014 issue of Yoga Journal to promote the newly released anthology, and has since been included in numerous publications such as Forbes, The Guardian, LA Yoga Magazine, Yoga International, Mantra Yoga + Health, Om Yoga and Lifestyle Magazine, Ms. Magazine, Yoga Teacher Magazine, Gaiam, MindBodyGreen, Decolonizing Yoga, Adios Barbie, YogaDork, and It's All Yoga Baby.
The YBIC has successfully utilized online platforms to disrupt dominant constructions of yoga and yogis and promote diversity and accessibility in the practice. They have engaged in numerous social media campaigns, including their #WhatAYogiLooksLike campaign, a project birthed after the Practice of Leadership panel Klein attended with founding partners Dianne Bondy and Dana Smith on yoga, body image, contemporary body politics in yoga, and what this means for industry leaders. In partnership with Yoga International magazine, the campaign features several articles and videos spotlighting diverse teachers and encourages supporters to share photos of their personal practices to disrupt dominant stereotypes of what a yogi looks like. The YBIC's "Every Body Is a Yoga Body" fundraising effort also seeks "to challenge stereotypes about who practices yoga, who should practice yoga, and what a 'yoga body' looks like." Their recent #PropItUp challenge,  promoted prop use and celebrated accessibility in yoga. Recent work has featured a series highlighting curvy yogis, including Anna Guest-Jelley and Valerie Sagun of Big Gal Yoga. All campaigns encourage participation by supporters and yogis of all backgrounds as a means of representing diversity and avoiding replicating the "star model" common throughout the industry.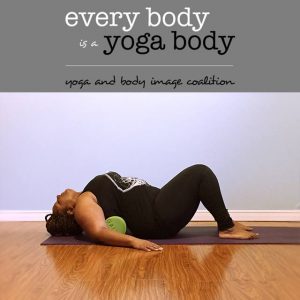 Recognizing the importance of reaching beyond online spaces to generate and build community engagement, trust, and empowerment, the YBIC promotes local events around the nation. They recently held a "Conversations with Modern Yogis" series of talks led by YBIC's leadership team at local studios. With regular blog posts and podcasts that help amplify marginalized voices, the work of the YBIC challenges standard industry practices, calling up industry giants and yoga celebrities to envision and help produce a future where yoga is not only accessible to all, but will finally welcome and celebrate every body.
Activism around body positivity in yoga and efforts to create more diversity within the practice have blossomed in recent years in large part because of the YBIC. Books, articles, resources, and conversations about equity and inclusivity in the practice are becoming more common, helping create a more equitable vision of yoga. Discussions of body positivity have become mainstream, and have even been co-opted by industry giants and yoga celebrities trying to cater to the power of the new movement (sometimes disastrously) . Ultimately, however, it will be the community of activists, supporters, and teachers the YBIC has helped create who will continue holding industry giants accountable and who will be at the forefront of efforts to transform yoga, promoting greater access and dignity for all.
Photo Credit: Sarit Z. Rogers, Dianne Bondy
Amara Miller
Amara Miller is a yogi, PhD candidate in sociology, feminist, artist, teacher, and perpetual student. Her sociological understanding of the world informs both her practice and teaching to better combat systems of oppression, including inequality and inaccessibility within the of practice of yoga. Her dissertation looks at the impacts of globalization, commodification, and appropriation on the cultural transformation of yoga in the last fifty years. Her work also investigates how teachers and activists involved in body positivity resist these changes.
Related Articles
Read more from SPONSORED