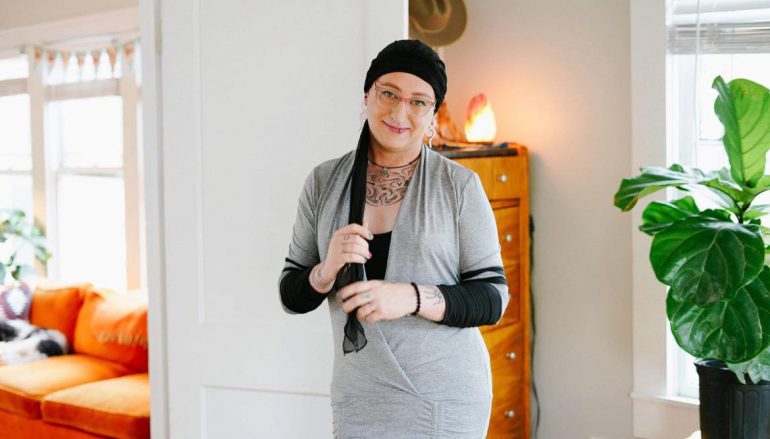 Yoga & Gender-Affirming Care for Trans Youth
Ley (she/they) currently serves as the Director of LGBTQIA+ Programming at Charlie Health.
Formerly, Ley served an Associate Professor of Philosophy at Texas Christian University, and an affiliate of TCU's Asian Studies, Contemplative Studies, and Women and Gender Studies programs. Along with their academic work, they're both a consultant and a yoga and mindfulness instructor for Charlie Health. Additionally, they maintain a private philosophical consulting practice, certified through the Logic-Based Therapy and Consultation Institute and registered with the National Philosophical Counseling Association. In collaboration with Urban Yoga, they offer monthly yoga practices for trans, non-binary, and gender non-conforming persons in the Dallas-Fort Worth area.
Ley says "The struggles of adolescents and young adults in LGBTQIA+ communities are real, and without validation and proper care, can prove to be devastating. When our LGBTQIA+ youth seek help, they deserve nothing short of the best, most compassionate care by the best, most knowledgeable providers. I am so excited to have the opportunity to bring my expertise, lived experience, and passion for LGBTQIA+ communities to Charlie Health as Director of LGBTQIA+ Programming, leading and growing our services so that we may provide the best, most effective and affirming care possible."
We were privileged to have Ley share some details about her experience.
YD: How did you become interested in representing this community?
Ley: After years of knowing but not accepting, it was the experience of my yoga teaching apprenticeship that led me to affirm my identity as transgender. With a newfound sense of empowerment, I approached the owner of my home studio (Urban Yoga, in Fort Worth, Texas) about teaching Trans Yoga classes, specifically for trans and gender-nonconforming (TGNC) persons.I received an enthusiastic "yes." A friend—Carly Taylor, now Charlie Health's Director of Contemplative Programming—suggested that I contact Charlie Health about working with their growing population of LGBTQIA+ clients. Fast-forward a bit, and I'm Charlie Health's Director of LGBTQIA+ Programming, ensuring every day that adolescents and young adults can get the affirming mental healthcare they need.
YD: Tell us a little bit about the organization.

Ley: Charlie Health is the first and largest provider of fully-virtual, intensive outpatient therapy, serving young adults and adolescents across the country. Our approach integrates therapeutic modalities such as dialectical behavior therapy and cognitive behavioral therapy alongside creative arts and experiential therapies as well as contemplative practices such as mindfulness and yoga. For the parents and caregivers of our clients, we offer an array of family programming ranging from mindfulness groups to LGBTQIA 101 classes.
YD: How do people get involved? Both to help or volunteer as well as those who could benefit from the services.

Ley: Anyone interested in joining the mission should check out the careers section of our website. If you're seeking help and think you would benefit from our services, just click the "get help now" button on that same website: www.charliehealth.com.
YD: Could you share some statistics? How many people does the organization serve? Is there a goal or max? Ley: We have served thousands of patients across the U.S. since our launch in 2020. In a country where suicide is now the second leading cause of death for young people, critical mental healthcare is more important now than ever. Our attendance rates are 30% higher than the industry average for similar programs. Nearly 90% of clients who complete programming with Charlie Health do not re-enter higher levels of care such as emergency departments, inpatient facilities, or partial hospitalization programs. We are saving lives with evidence-based, personalized, and accessible care.
What type of success have you seen?

Many TGNC persons experience gender dysphoria, the sometimes debilitating stress that arises when our internal sense of our gender is incongruent with our gender assigned at birth. In mindfully exploring mind-body connection through yoga, we can practice coming into mental-physical alignment, reframing our relationship to the body at a fundamental level. Yoga aids us in non-judgmental awareness, in the practice of tolerating discomfort, and in developing the skill of listening to our inner sense of who, what, and how we really are. For people who might feel radically disconnected from their bodies, yoga can help recover a sense of thriving and affirmed embodiment.
What are some of the biggest obstacles? 
Given the realities of gender dysphoria, affirming yoga requires particular care. It needs to be trauma-informed, accessible, and adaptable. There's an unfortunate tendency in some yoga communities, too, toward incorporating unnecessarily gendered and binary language. When working with TGNC populations, ahimsa (non-violence) guides us to be mindful of our language and cues, especially when talking about body parts, supposed "gendered" energies, and even what common names we give to certain poses ( e.g. Utkata Konasana, sometimes called "Goddess Pose.")
Related Articles
Read more from YOGA