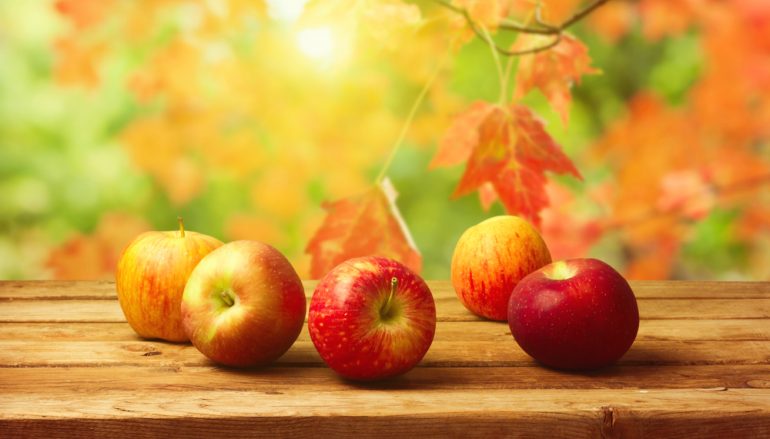 Why Apples? + A Healthy Recipe
Why Apples?
Fall is in the air and that means apples are in season! There are so many varieties to choose from. Indulge and pick one of each kind to see which one you enjoy most. Not only are apples juicy, crunchy and tasty – they're good for you, too! Here's just a few reasons to snack on an apple (or two) a day:
HEART HEALTHY. The amount of fiber in combination with other nutrients from an apple has an effect on blood fat levels, thus, supporting the cardiovascular system. Apples also provide Vitamin C to support healthy immune functions.
HELPS LOWER CHOLESTEROL. Consistently eating apples have been found to lower cholesterol and other heart disease markers because of the antioxidant compounds found in apples.
GREAT PRE-WORKOUT SNACK. Snacking on an apple before you exercise may aid to endurance by making oxygen more readily available to the lungs because of the antioxidant called quercetin.
HELPS REGULATE BLOOD SUGAR LEVELS. Eating an apple helps slow down the digestion of carbohydrates. This helps lower the rate of glucose absorption from our digestion trace. Basically, apples help lessen the sugar load on our bloodstream.
---
BAKED APPLE CRISP
Try this tasty recipe! Perfect for Fall!
Serves: 4
INGREDIENTS FOR APPLE MIXTURE
4 granny smith apples, cored and roughly chopped

¼ cup pure maple syrup

2 tablespoons coconut oil

½ teaspoon vanilla extract

2 teaspoons ground cinnamon

¼ teaspoon ground ginger

⅛ teaspoon ground cloves

¼ teaspoon salt
INGREDIENTS FOR CRUMB TOPPING
1 cup walnuts

½ cup unsweetened shredded coconut

2 tablespoons pure maple syrup

1 tablespoon coconut oil

¼ teaspoon sea salt

¼ teaspoon almond extract
INSTRUCTIONS
Preheat the oven to 350˚F.

In a large, oven-safe skillet over medium heat on the stove, combine all of the apple mixture ingredients except for the apples and bring the liquid to a boil.

Stir the apples until the liquid thickens and becomes a bit sticky, about 1-2 minutes.

Prepare the crumbly topping by combining the walnuts, coconut, maple syrup, coconut oil, sea salt and almond extract in a food processor, and process until sticky and crumbly, but still coarse in texture.

Transfer the skillet of apple mixture to the oven, and bake for 15 minutes.

After 15 minutes, stir the apples. Add crumb topping.

Bake an additional 15 minutes or until the topping is lightly browned.
Modified recipe from Dexonista.com
Melanie Butz
Melanie is passionate about empowering women to learn to love themselves again. As a certified holistic health coach, she uses an integrative approach to wellness that enables her clients to reconnect with their inner guidance….to love every part of themselves—especially the parts they may have ignored and hated due to shame and guilt. Using yoga as an elixir for the mind and body, Melanie guides her clients to connect with their intuition and physical body through a mindfulness based practice. Facebook Personal Page: Melanie Marcial Butz, Instagram: melaniebutz
Related Articles
Read more from HEALTH