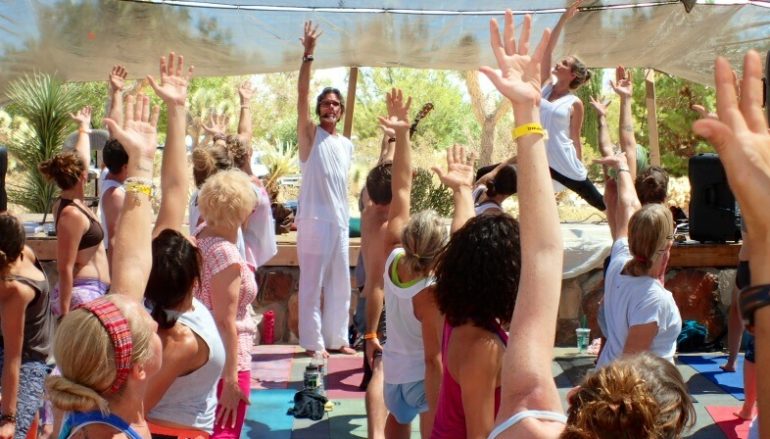 WARRIORS FOR HEALING – BHAVA RAM
"We can remake ourselves biologically, emotionally, and physiologically,
and in doing so we can achieve a tremendous amount of resiliency, healing
and even find a new mission in life."
~ Dr. Deepak Chopra
Advisory Board, Warriors For Healing
Upon the close of an interview with Bhava Ram, former NBC Foreign Correspondent and Founder of Warriors for Healing, I feel an overwhelming sense of honor for the millions of military, the troops who have taken a stand for you and for me. It's humbling to acknowledge those who have sacrificed, and who currently are serving their lives for us.
"I had a career as a journalist working the front lines in conflict at the Persian Gulf War and in Afghanistan. I've seen terrible conflicts, massive refugee crises, and suffered my own PTSD from the loss of a dream career due to a broken back and cancer. As a result, I have great empathy for our veterans. I know that despite the odds, healing is possible. Now I just want to give back. This is why I founded Warriors For Healing", says Bhava Ram.
With over ½ million veterans suffering from Post Traumatic Syndrome Disorder (PTSD) and with more than 20 suicides a day, it's astronomical the way side affects of PTSD can ripple and negatively change the lives of those surrounding the victim as well. Prominent among veterans is widespread pharmaceutical medication addiction, alcoholism, depression, spousal abuse, domestic violence, and homelessness. Consider the impact of this on the children involved, the spouses, the friends, and extended family members.
Warriors For Healing is an organization whose mission is to raise awareness of yoga science, and to educate and connect veterans to free resources to help manage and reduce PTSD. The intention is to bring yoga and meditation services to the military to help aid in recovering and moving through trauma.
Bhava goes on to say, "It's not just about coping with the trauma we are experiencing in our lives and learning to find resiliency, but actually realizing that we're not stuck, it's not over. We can move forward and perhaps discover an even more meaningful mission in life. Personally, I never dreamed that anything could conceivably compare to being a foreign correspondent. It was an unbelievably rewarding career on every level. And when I lost it all, the despair was so deep because I thought I would never have any kind of meaningful identity again."
HOW CAN I GET INVOLVED?
SAVE THE DATE
Visit http://warriorsforhealing.org/ and find out more about Warriors for Healing events!
Bhava states, "With the work I do in yoga healing it's clear to me this science is perhaps the most effective modality we have in dealing with some of these traumatic life stressors that some of these veterans face. I've been on the front lines of war, I've suffered from PTSD and cancer and I am proof that yoga heals, and that puts me in a position to be able to share this, and my approach is that yoga is a science."
JOIN OUR TEAM
"Yoga is a high level of medicine with no negative side effects", says Bhava.
Help fundraise and give back to veterans who have served our country. Start a team, reach out to your yoga studio, your friends, your family, reach out to like-minded people and ask them to donate what they would spend on a movie or a few coffee drinks.
To get setup, go to: https://www.crowdrise.com/warriorsforhealing
WHERE DOES MY MONEY GO?
Warriors For Healing is dedicated to raising awareness of yoga science and to aid in delivering yoga and meditation services online to veterans and other traumatized populations so anyone, anywhere can access this 3 or 4 step program to help them move forward, without having to travel to a yoga studio which may be hundreds of miles away, or which they may not have the income to be able to afford. "We cannot transport yoga teachers into every setting so this is a way we can reach people and help from afar", says Bhava.
Warriors For Healing is also partnered with Give Back Yoga Foundation (GBYF), which delivers mindful yoga therapy through a host of projects. Revenues will not only go to Warriors For Healing to produce the free yoga and meditation resources, but also to GBYF.
THANK YOU
We hope you are inspired to want to help fulfill this mission. Bhava states, "I invite everybody that this message resonates with to join this healing movement. I do not pay myself, I'm just looking at this as being the most important gesture of service that I can make in my life."
Kim Bauman
Kim Bauman is the Founder of One Love Movement, a yoga teacher, and the creator and facilitator of One Love Heroes talk show and podcast. One Love Movement is a nonprofit that brings people together to take action and build support for projects advancing social justice, particularly to under-represented kids. To learn more, please go to: www.onelovemovement.org
Related Articles
Read more from INSPIRATION