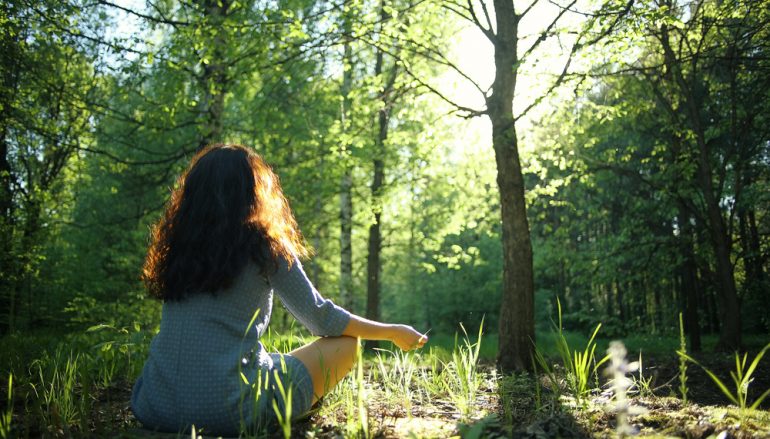 Get Back to Nature – 6 Tips For Healing in Nature
We all know how good being in nature can make us feel. We have known it for centuries. The sounds of nature, the sunlight playing through the leaves, the fresh clean air — these things give us a sense of comfort. They ease our stress and worry, help us to relax and to think more clearly. Being in nature can restore our mood, give us back our vitality and refresh and rejuvenate us.
Just as the sun gives us warmth and vitamin D, the earth gives us food and water, a surface to live on, and a natural, and gentle source of energy. You can't see the earth's energy but some people can feel it as a warm, tingling, and pleasant sensation when they are out walking barefoot along the beach or on a patch of fresh green grass.
Time spent in nature's embrace is a soothing reminder of the fact that we also are part of the natural world. We feel at home in a quiet forest and are comforted by the pounding surf of the seaside, or by the heady scents of a meadow. Once we get back to nature, our stress and tension we have been holding onto melts away. However, finding opportunities to reconnect with nature and enjoy its healing benefits can be difficult in our busy society or if you live in an urban area.
One way to reconnect with nature is gardening. Planting and tending a garden allows us to spend time with nature in a very personal and hands-on way. As we interact with the soil, our visceral connection to the earth grounds us. The partnership that is formed when you collaborate with nature through gardening is wonderful in that it provides you with so many opportunities to be outdoors. You will be reminded of not only your connection to the earth but also of your unique gifts that allow you to give back to the earth.
Another way to reconnect with nature is forest bathing. Forest bathing is retreating to nature to immerse in the forest atmosphere. This practice originated in Japan and is practiced today as a healing method. It is simply being in nature, connecting with it through our senses of sight, hearing, taste, smell and touch. By opening our senses, we can bridge the gap between us and the natural world.
Tips for Nature Healing:
1. Turn off your device to give yourself the best chance at relaxing and enjoying a sensory-based experience.
2. Slow down and take note of every small detail you can. Notice what's around you.
3. Take deep breaths. Fill the abdomen and extend the exhale twice as long as the inhale.
4. Stop and sit. Use mindfulness to observe nature and forget about your to-do lists.
5. Open your eyes. Take in natures colors. Greens and blues are the most relaxing colors on the color spectrum.
6. Linger a little longer. Allow yourself to be fully immersed in the sights, sounds and sensations of the natural world.
Get back to nature and give it a try! If you need ideas of natural spots near you, go to your browser and type in "get back to nature near me" for a listing of parks and nature preserves in your area. Then put away the devices and take a walk.
"The clearest way into the Universe is through a forest wilderness." ~John Muir
Rene Hawthorne
Rene' Hawthorne, 500HR RYT, (a.k.a. The Lotus Chick), is a former classical ballet dancer with The Dallas Ballet. For the past 11 years, yoga has been her focused passion. Her teaching style is a fusion of years of various dance experiences and yoga trainings. She currently teaches at her home studio, The Sweet Spot and at The Mat Yoga Studio in Dallas, Texas. Offering a variety of weekly classes ranging from vinyasa flow yoga, kids yoga, private yoga lessons, corporate yoga and Doga (yoga with your dog), you will find something for every member of the family. Check out her website to find a class for you at www.thelotuschick.com.
Related Articles
Read more from LIFESTYLE