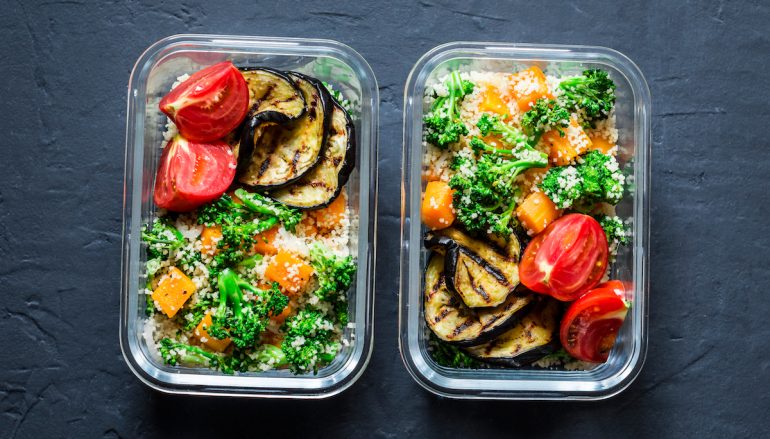 Back-to-it! How to Pack a Powerful Lunch
Deep down, you know the truth: Any lunch you make yourself will taste 100 times better than any lunch you could buy. Unless of course it is a greasy burger from your favorite fast food joint?! But the only way to keep lunch costs down and resist the temptation of fast food is to plan ahead. Here are three ways to say goodbye to lackluster lunches!
1. Batch cooking soups and stews.
Your wallet and your heart will thank you when you can make a date with your kitchen one day a week to prepare your lunches for the upcoming week. At first, you may feel a tad overwhelmed with all the foods you want to make, so I suggest starting out with one pot of soup or stew. No freezing is required for any of your batch cooking since you'll be eating your meals throughout
2. Take a bit of extra time on the weekend to do some prep work so that lunches take just minutes to make. Use this breakdown: healthy grain + protein + 2 veg + fruit + snack.
Healthy grains: sprouted grain bread, leftover cooked quinoa or rice (1 cup), leftover cooked bean pasta or 4-6 fibre-rich crackers.
Protein: two hard-boiled eggs, ½ can of tuna or salmon, ½ cup of hummus, ¼ block of smoked tofu, or ½ cup of Greek yogurt.
2 vegetables: grated carrots and beets, sliced cucumbers and jicama, spring mix and parsley, roasted sweet potatoes and squash or raw red and yellow peppers.
Fruit: apples, pears, watermelon, oranges, or grapes
Snack: trail mix, roasted chickpeas, protein bars or a handful of nuts
n example of a delicious lunch using this breakdown: ½ can of tuna on sprouted bread with crunchy cucumber and jicama slices on the side. Grab some grapes for a sweet dessert and a handful of trail mix as a snack for that 3PM slump.
3. Take leftovers from dinner or make extras at dinner.
This tip uses the same principles behind batch cooking but without the commitment of spending a few hours every week in your kitchen preparing a separate dish for lunches. To keep lunches simple, for dinner make one big batch of something like a pot pie or a lasagna and save a portion of it for lunch the next day. If it is more of a meat-and-potatoes kind of meal just make sure you grill an extra chicken breast or salmon fillet and make extra veggies and potatoes to take with you for lunch the next day.
Don't forget to be patient with yourself! There will be times where you make too little or too much, or the leftovers don't taste quite right, or you get bored, but just keep going. Over time, packing a lunch will all be second nature!
Jess Pirnak
Jess is a Registered Dietitian working in Vancouver, BC. She is registered with the College of Dietitians of British Columbia and is an active member of Dietitians of Canada. Jess graduated from the University of British Columbia's Food Nutrition and Health program, and completed her dietetic internship with Provincial Health Services Authority after finishing a Psychology degree from Simon Fraser University. Jess is passionate about education, prevention and creating a healthy community. In her spare time she updates her personal food blog where she discusses hot topics in nutrition. She loves working with kids and parents helping them create a positive relationship with food and enjoys discussing sustainable farming practices with anyone who will listen!
Related Articles
Read more from LIFESTYLE