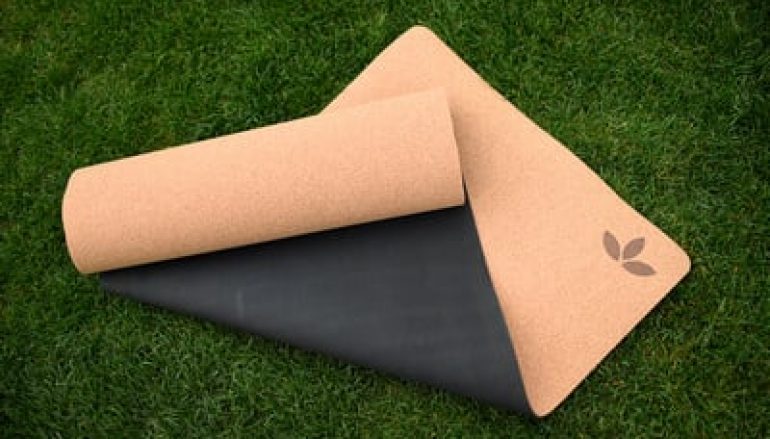 5 Reasons You Need a Cork Yoga Mat
When you think of yoga mats, cork may not be the first thing that comes to mind.  Choosing to invest in a yoga mat is a big decision. With so many choices, it can even be a little overwhelming.  People always ask me, "what kind of yoga mat should I get?"
Hands down, my favorite is the cork yoga mat. Here's why:
It's Natural.  Cork yoga mats are free of harsh materials and harmful chemicals.  They are sustainable and eco-friendly.  Cork is an all-natural material made from the bark of the cork oak tree, so it comes straight from the earth.  This is better for the planet and better for your skin.
It's Not Slippery When Wet.  Let's face it.  You sweat in yoga, especially hot yoga.  As if you don't have enough to focus on, having your hands and feet slipping all over the place is a huge distraction.  Because cork is a natural material, it wicks away liquid keeping your mat surface, grippy, steady, and reliable.
It's Pretty.   Maybe I'm biased toward a simple clean, natural look but it really is eye-catching without being too fussy.  In addition, it's very lightweight which makes it more attractive because it won't wear you down while in tow.
It's functional.  Other yoga mats are heavy and wear out quickly.  Cork yoga mats are lightweight making them easy to carry around from class to class or continent to continent.  Once you purchase a cork mat, you won't need a new one for a while.  They are durable yet efficient.
It's Antimicrobial.  This is probably my favorite feature of a cork yoga mat.  Yoga can be "germy." Tons of bacteria and odor can accumulate over time with other types of mats.  The antimicrobial properties found in cork kill germs so you will only need to clean it every once in a while!
Cork is a material that's safe,  good for the environment, and also perfect for your yoga practice for its lightweight, antimicrobial, and high-performance qualities.  You can find one here.
Jenn Bodnar
Jenn Bodnar is the owner of  Yoga Digest and has a genuine belief that yoga can benefit everyone. She is 500ERYT having attended multiple teacher trainings, facilitating yoga teacher trainings and studying and practicing yoga since 1999. Jenn is an avid fitness professional, who has taught and managed group fitness for many years. As a former competitive triathlete, gymnast and dancer Jenn loves the balance of strength, flexibility, perseverance and freedom that yoga provides. She is mom to three awesome young men and loves being active and outdoors with her family and friends. Jenn oversees LifePower Yoga studio in North Dallas, is a self proclaimed health food chef and hopes to leave a positive footprint by inspiring others to choose happiness. "Watching people grow through yoga is one of the most amazing miracles to witness."
Related Articles
Read more from YOGA