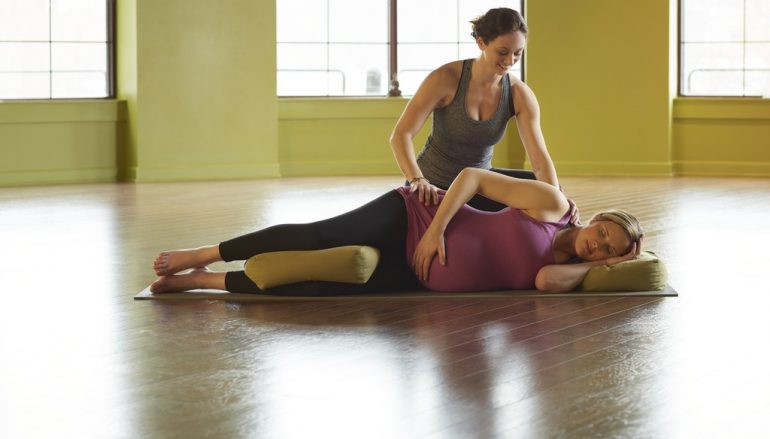 5 Prenatal Yoga Poses for Common Pregnancy Symptoms
Some women believe their fitness or wellness routine needs to change once they're pregnant, but I'm here to tell you that if you're an avid yogini who wants to continue your regimen through your pregnancy, you can. As a nine + year certified (E-RYT) Experienced Registered Yoga Teacher with Yoga Alliance and mother of two (about to be three), I've seen the benefits and importance of practicing yoga throughout my pregnancies, firsthand.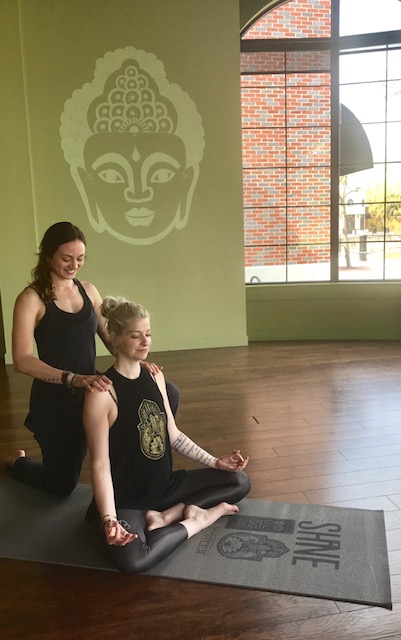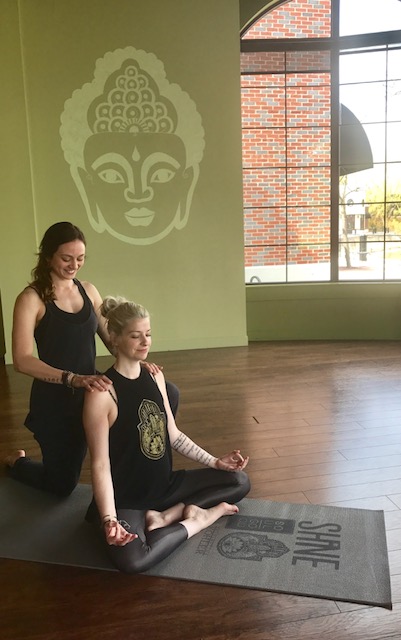 With two little ones (a two-year-old and 11-month-old), I am constantly running around picking up food, pacifiers and changing diapers – you name it! Lifting and carrying the kids on a daily basis can cause strain on my lower back and ignite sciatic nerve pain. Practicing yoga at least three times a week has proven to help alleviate these symptoms and helps to clear my mind – which is just as important. I'm also looking forward to hot yoga post-baby as it's great to help regulate hormones and sweat out the excess water weight.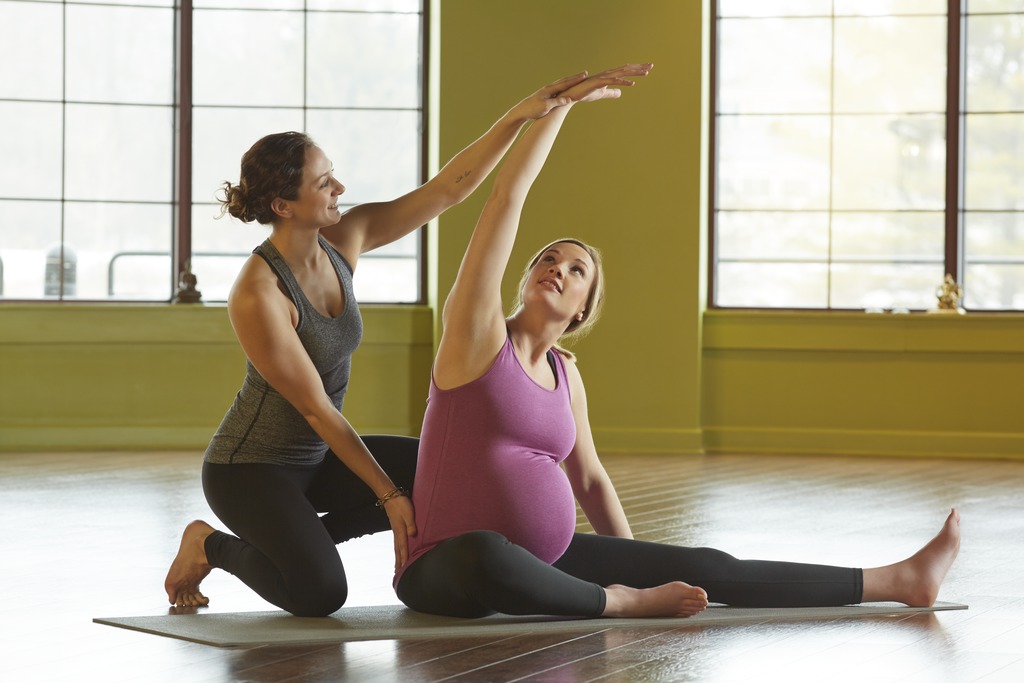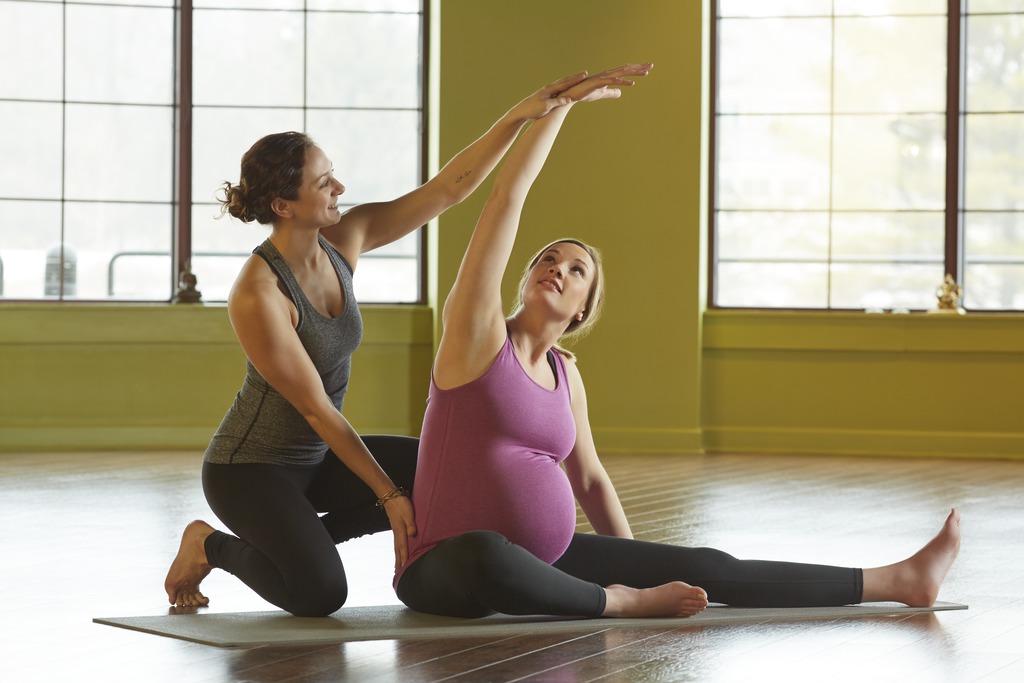 In fact, at Yoga on the Lake we offer complimentary Prenatal Yoga every Saturday.   We have anywhere from 15-20 expecting moms attend, mostly locals and Destination Kohler guests. The overall design and focus of our studio is to create a comfortable space where guests can experience a mind-body connection and this is no different for our expecting yogis.  No matter the level of experience – there's a session for everyone.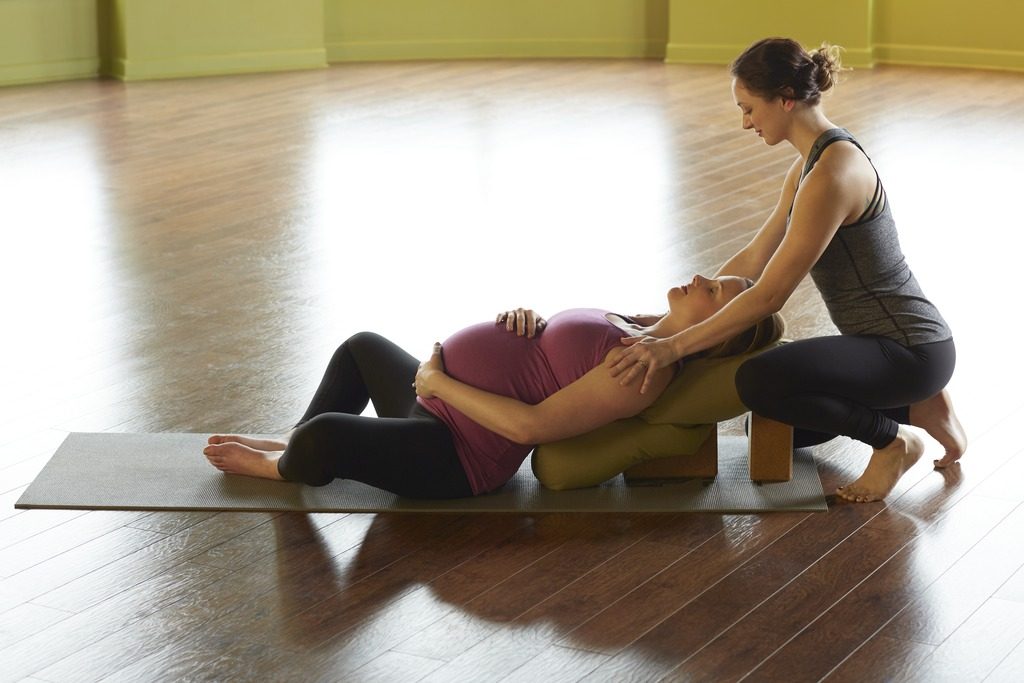 With Mother's Day around the corner, I encourage all moms to find something "just for them" and seek out support systems during pregnancy and beyond. Yoga communities are a wonderful way to meet wellness-minded friends and uplift your spirits
Ashley's recommended poses to help alleviate five common prenatal symptoms:
1. ) Shortness of Breath: Pranayama while focusing on taking deep breaths into the chest and rib cage
2. ) Back Pain: Activation of deep core and pelvic floor muscles (Supine Pigeon is also effective)
3.) Swollen Feet & Legs: Modify legs up the wall and go into Uttana Shishosana (puppy pose).
4.) Heartburn: No forward folds, lye on your left side and practice cooling breath work
5.) Morning Sickness: Practice a form of meditation and perform long belly breaths focusing on the exhale
Ashley Kohler
Ashley has been a certified (E-RYT) Experienced Registered Yoga Teacher with Yoga Alliance since 2009. She has a passion for music, vibrational, and spiritual flow. Ashley incorporates a fusion of Vinyasa, Kundalini, and Pranayama into many of her classes. She is certified in Advanced Power Vinyasa, Yin Yoga, Hot Power Fusion, Yoga Sculpt, Barre and Real Ryder Indoor Cycling. Ashley is the Senior Manager of the resort's hyper-focused fitness studios, including Yoga on the Lake (YOTL) and Bold Cycle, and is the YOTL school director for the 200 Hour Yoga Alliance Vinyasa and Hot Yoga Fusion Teacher Trainings. In May 2019, Ashley led the launch of Press + Chill, a healthy juicery and food bar offering fresh, seasonal dining options. Instagram:  @yogaonthelakekohler
Related Articles
Read more from LIFESTYLE