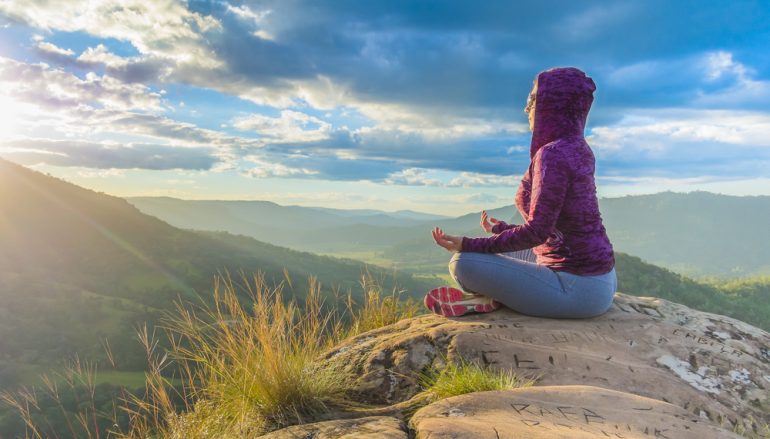 5 Easy Ways To Celebrate National Yoga Month
September is National Yoga Month, and a natural time of transition as we're letting go of summer and welcoming in the fall. At this time of year, it's normal to clean out what doesn't belong, and to bring new and inspiring things into our lives.
To fully experience National Yoga Month, I urge you to go beyond simply buying a new yoga outfit (though, you should do that too!), and use the celebratory month as a springboard for exploring the yoga community and making new connections with your fellow teachers, family, and friends.
Here are a few ways to breathe some new life into your practice this September as we welcome the new season, and to celebrate National Yoga Month like a true yogi:
Start With a Clean Slate: Has your home yoga space gotten cluttered? Take some time to freshen it up.  Vacuum, wipe down your mat, fluff up your meditation cushion, and set up some new inspiration to keep your practice vibrant.
Spice Things Up: We can all get into a rut with yoga. While attending the same classes, practicing the same poses, and giving the same greetings can help us build strength and technique, it can also lead us to be blind to our weak spots. This month, try new classes, search for fun podcasts, dust off an old yoga DVD, or listen to new music. (Try David Newman's latest album: Acoustic Chant: Ukulele Kirtan Serenades – it'll get the prana flowing!).
Get Outside: Have you been checking out the fall foliage or thinking about a yoga adventure? Why not take the leap and register for a yoga retreat? Festival season is in full swing including many meditation celebrations and yoga events like Kripalu's 24th Annual Yoga Teachers Conference!  If that's not an option, simply make time this month to find a comfortable spot outside for meditation or pranayama. Practicing yoga outdoors during the fall is revitalizing!
Tap Into Your Yoga Community: Find some time to volunteer at your local yoga studio. Whether it's lending a hand to help organize yoga props or sweeping the studio floor, giving back will help you build a stronger connection with your yoga teachers and community members, and will also serve to strengthen your practice.
Give Thanks: Surprise a friend with a free class at your favorite yoga studio, or send a card to your favorite yoga teacher that lists out some of the things about yoga or their teachings for which you're most grateful.
Just remember, it's never too late to try something new, and one of the simplest parts about being a yogi is to be present. In fact, why not start right now? Join me by closing your eyes and taking three…deep…breaths.
Larissa Hall Carlson
Larissa Hall Carlson of the Kripalu Center for Yoga & Health in Stockbridge, Mass., serves as the Dean of the Kripalu School of Ayurveda, and guides retreats, directs trainings, and provides Ayurvedic consultations throughout the country. Each summer, she teaches yoga to reduce performance anxiety for the elite musicians of Tanglewood Music Center. She has taught courses for students at the Boston Conservatory, Juilliard School, Harvard, and Princeton. Larissa is the creator of three CDs, Meditative Yoga Flow, Ayurvedic Pranayama, and Pitta-Pacifying Yoga.
Related Articles
Read more from YOGA