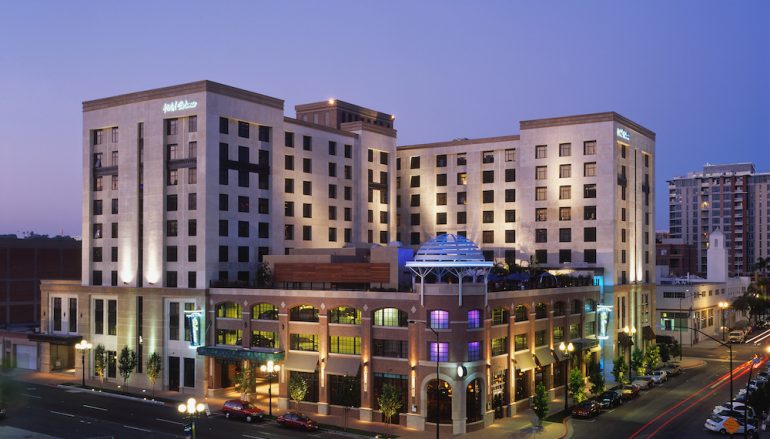 4 Healthy Tips For the Conscious Business Traveler
With over 488 million business trips being taken per year, 47% being females and many millennials seeking jobs that allow them to travel, it's no wonder hotels are becoming more competitive in the conscious consumer space. Regardless of age or gender, the number one struggle for people who travel is staying healthy while on the road.
It was refreshing to visit the Kimpton Solamar on a recent business trip to San Diego. Not only was I welcomed to my room with  fresh fruit and sparkling water upon arrival, but I was thrilled to find a Kimpton branded yoga mat in my closet.  I had forgotten to pack my own yoga mat and was attending the annual One Love Charity Yoga Event.
Kimpton Solamar hosts a free yoga class every Sunday morning for their guests.   You can also find around the clock yoga programming on your TV if you prefer to practice yoga in your room, at any time. It's just a click away.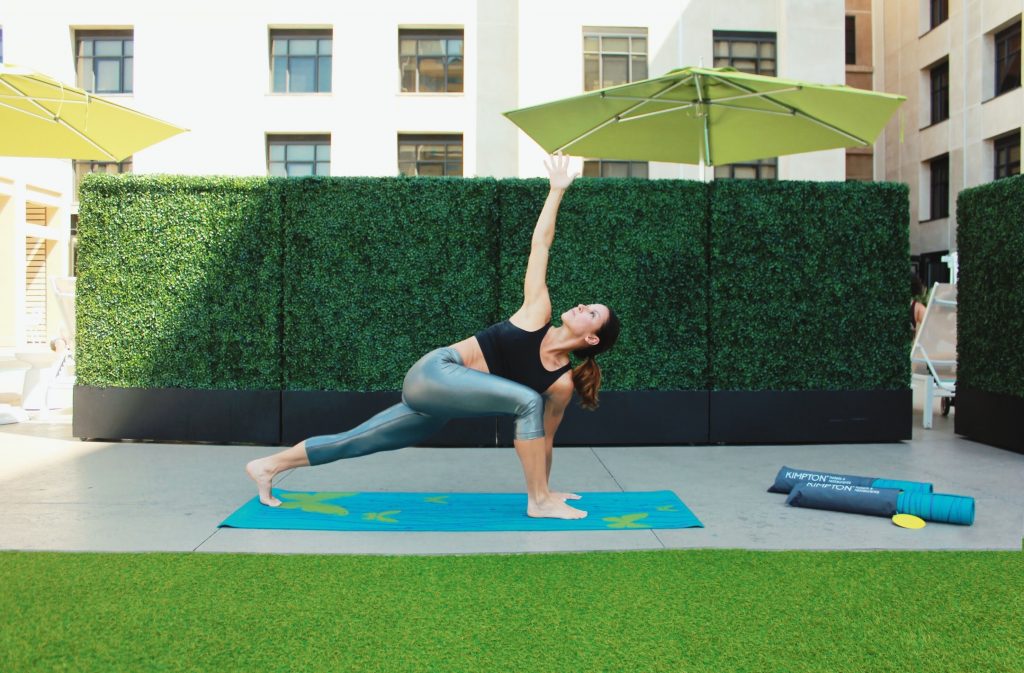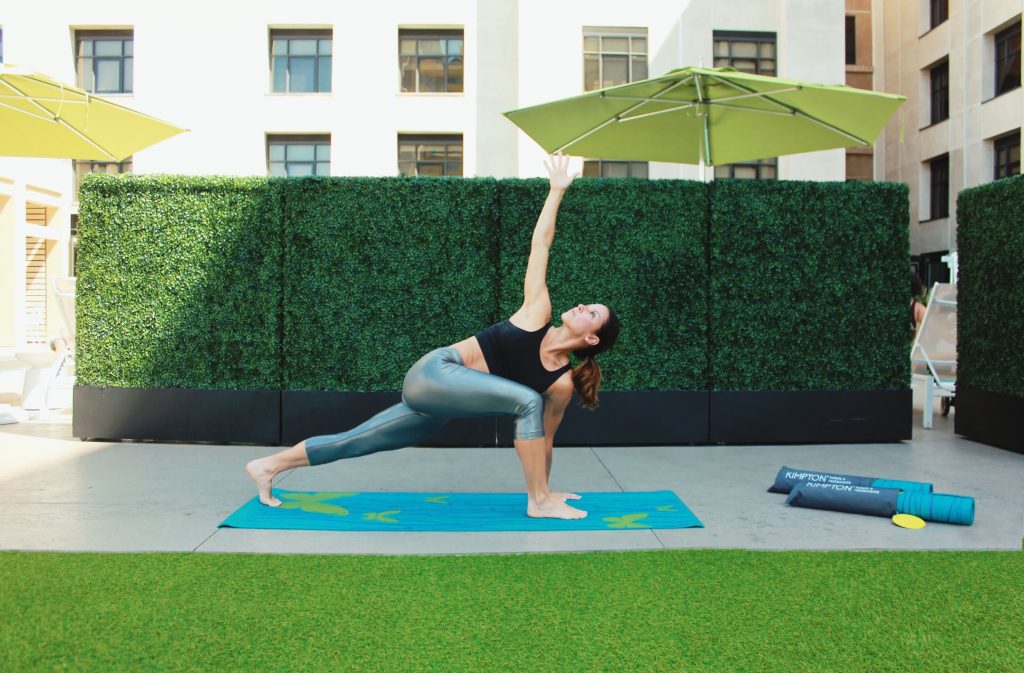 Kimpton knows it's all about balance with a complimentary coffee and tea bar each morning and a nightly wine hour. Founder Bill Kimpton wanted a gathering place for guests to feel a sense of community and inclusion, and relax at the end of the day. Wine partners are thoughtfully chosen for their dedication to environmental and community stewardship.
Here are some tips you can incorporate while traveling to help make the most out of your trips, business or pleasure:
1) Stay in Routine.

Stay as close to your home routine as possible.  This includes waking, eating, exercising, activity level and sleep.  Time zones can make this a tremendous challenge but it's important to stay in tune with your circadian rhythm. Travel can affect what and when you eat, whether your workout or stay out too late and definitely your sleep.  Try to hold to up your home routine as much as possible.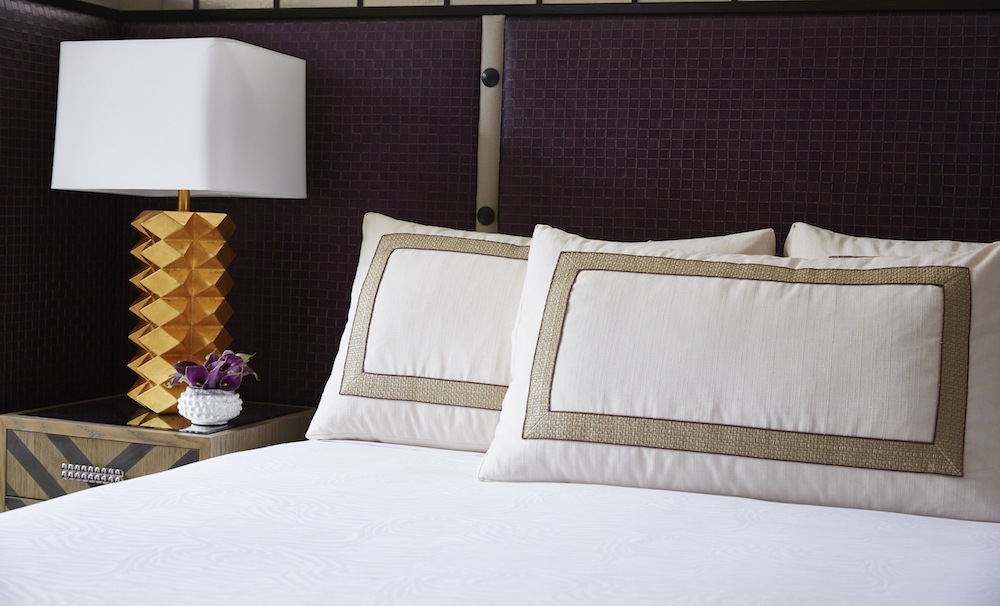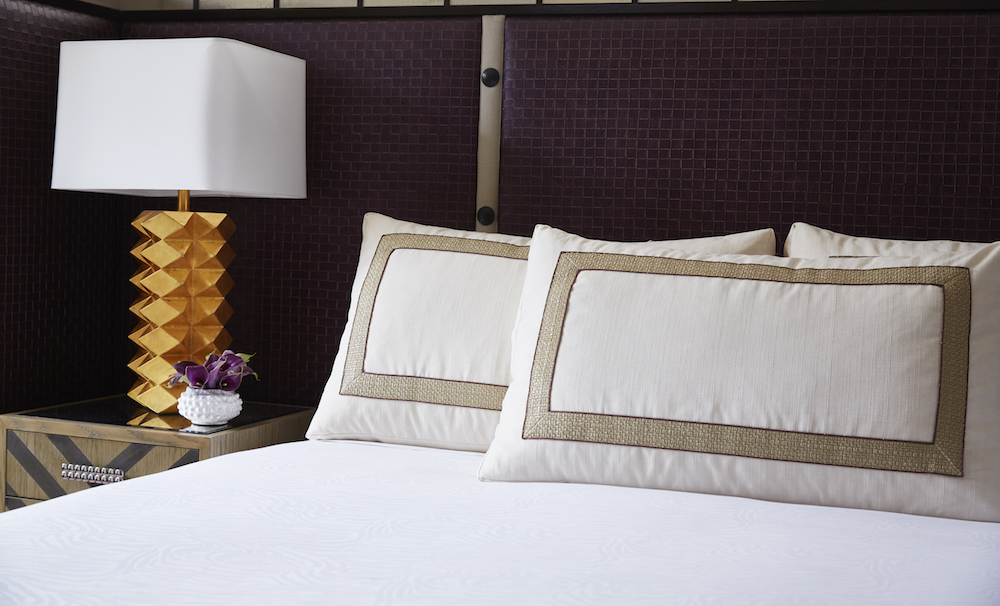 2) Stay Well.
Exposure to germs on planes, in airports and other public places means increased possibility of illness.   Load up on vitamin C!
Strengthen your immune system with my daily immunity tonic: 
3 ounces of warm water 
1 tablespoon of organic apple cider vinegar
juice of a half a lemon
1/2 teaspoon of each: ground turmeric and ginger,
1/4 teaspoon of cayenne pepper
1/2 a teaspoon of maple syrup or honey.
I mix all my spices together and pack this with me from home! There are great immunity boosting essential oils  and numerous other remedies and precautions you can take as well.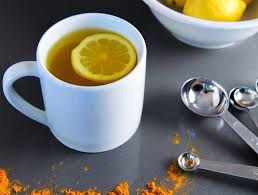 3) Eat Well.
Not only is important to monitor when you eat while traveling, it's crucial to stay mindful of what you eat.  Make a stop at the local grocer and stock up healthy snacks, plenty of water and grab & go meals to avoid the binge eating that can accompany travel.  Allow yourself to try some new places but remember everything in moderation.  Search for healthy restaurants and ask for healthy options if they are not already highlighted on the menu.
4) When in Rome…
If you are staying in the mountains, try skiing in winter or hiking in the fall.  If you are near a large park, go for a run, bike ride or take a nice stroll.  Lakes, rivers, oceans?  Look for some water sports like Stand Up Paddle boarding or kayaking.  Be sure to plan some type of adventure to keep you moving and active.  There is ALWAYS something new to see and do when you're traveling.  Ask the locals what's fun and get out and move, explore and enjoy the excitement of traveling to a new place. And if your hotel offers free yoga and a yoga mat, give it a try!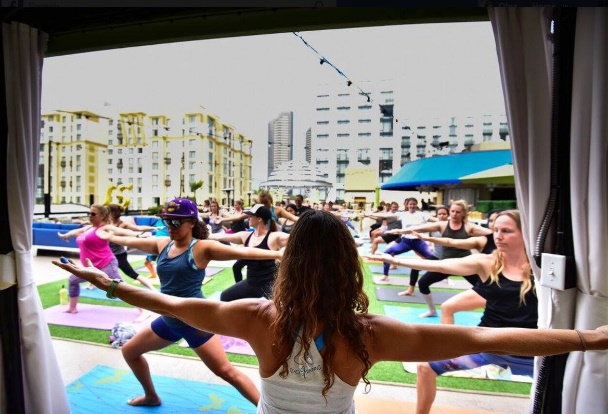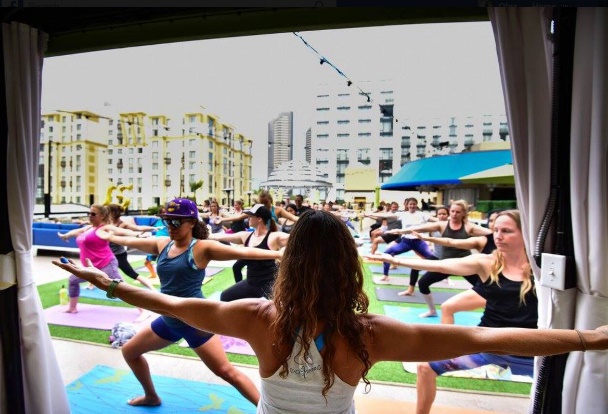 Jenn Bodnar
Jenn Bodnar is the owner of  Yoga Digest and has a genuine belief that yoga can benefit everyone. She is 500ERYT having attended multiple teacher trainings, facilitating yoga teacher trainings and studying and practicing yoga since 1999. Jenn is an avid fitness professional, who has taught and managed group fitness for many years. As a former competitive triathlete, gymnast and dancer Jenn loves the balance of strength, flexibility, perseverance and freedom that yoga provides. She is mom to three awesome young men and loves being active and outdoors with her family and friends. Jenn oversees LifePower Yoga studio in North Dallas, is a self proclaimed health food chef and hopes to leave a positive footprint by inspiring others to choose happiness. "Watching people grow through yoga is one of the most amazing miracles to witness."
Related Articles
Read more from COMMUNITY