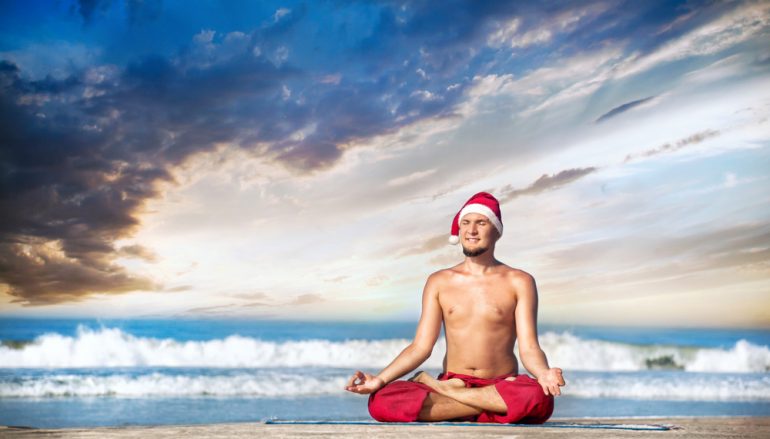 3 Easy Meditation Hacks To Keep You Sane This Season
While the holidays are known to be the 'most wonderful time of the year', the shopping crowds, yo-yo dieting and quality time with in-laws can often make it one of the most stressful.
While many think meditation is only achievable by sitting on a mat in a quiet room, here are some recommended tips on unconventional (and super easy) ways to mediate – even during the hustle & bustle of the holiday season:
Focus On The Surrounding Sounds: If you're joining family this season, there's bound to be plenty of sound! This is a very enjoyable, yet powerful user-friendly approach. Close your eyes and focus on the sounds you can hear, and use the sounds occurring in the present moment to hold your attention in the 'here and now.' Sounds are always changing, so the variety of sound will give the mind something interesting to focus on, which is much easier than focusing on your breath.
Tune Into Your Holiday Meal: Before you dig into that holiday brunch or massive piece of pie, take a deep breath and notice your food; smell it, take in the colors and textures. As you eat, stay with your food, and try not to think about anything else. Use the flavors of the food to keep you present in your meditation practice.
Take A Walk: This is a great way to practice without having to stay put and close your eyes, and it can relieve you from family for a few minutes! With walking meditation, the idea is to walk slowly and mindfully, while maintaining a soft and conscious breath. Every footstep is conscious as you remain mindful of the environment around you; the wind, the sound of the leaves blowing, the cars going by. Time and again you bring your attention back to the act of walking with the fullness of your awareness in your body.
Micah Mortali
Micah Mortali, Director of the Kripalu Schools of Yoga and Ayurveda and long-time Kripalu Yoga teacher, has been leading groups in wilderness and corporate settings for more than 15 years. With a passion for sharing the empowering, life-affirming practices of yoga and Ayurveda, Micah is dedicated to the idea that there is a power and a limitless possibility within every human heart, and believes that the purpose of life is to awaken and experience that possibility. He lives in the Berkshires with his wife and children, where he enjoys getting out into the hills and breathing the clean Berkshire air.
Related Articles
Read more from YOGA