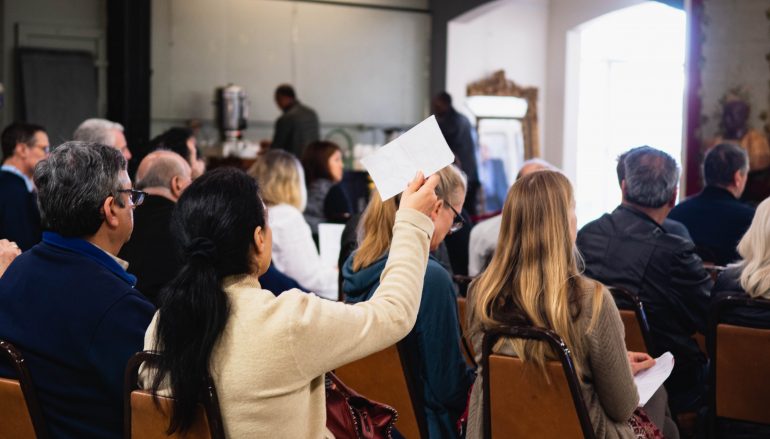 Shopping Eco-friendly: What's Old is New
If you like to shop Eco-friendly, you may be overlooking one of the oldest sustainable shopping practices around!
Eco-consumerism is on the rise! According to a 2019 fashion resale report (thredUP), 74 percent of people aged 18-29 prefer buying from sustainably conscious brands and there are more secondhand shoppers than ever before. The thrill of the hunt for variety, sustainability and value transcends age and income, with millennials and baby boomers leading the way. In today's luxury market, items from the past are fashion-forward.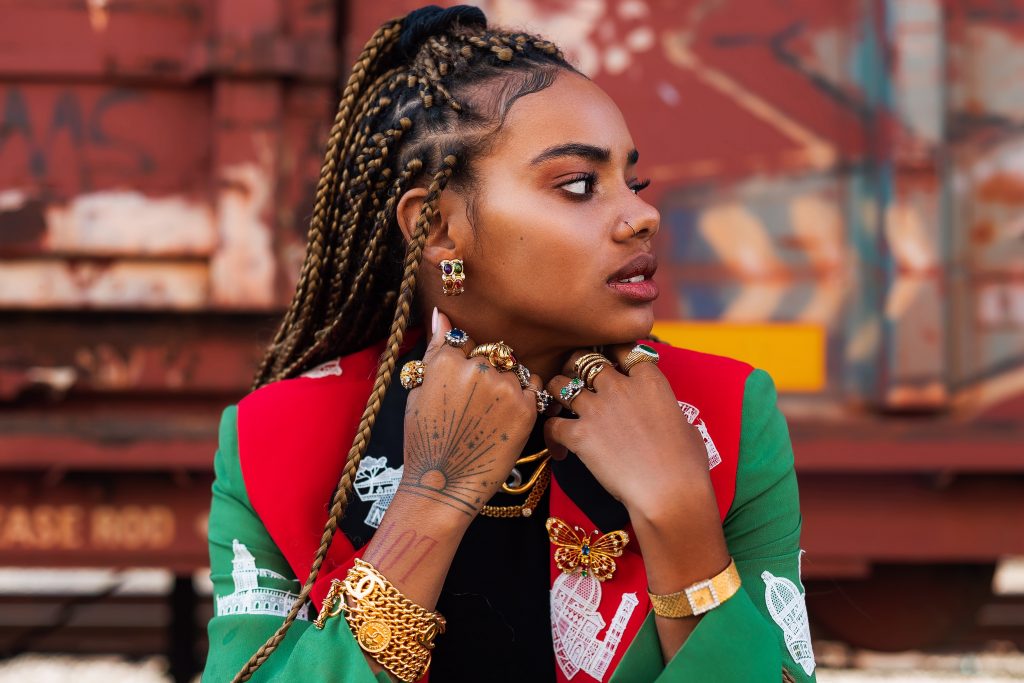 Abell Auction Company enjoys a constant influx of fine vintage jewelry, timepieces, fashion and accessories coveted by eco-conscious shoppers.  In today's luxury market, items from the past are fashion-forward!
Shop Green and Go Chic at Los Angeles' Abell Auction Company!
As part of this trend, Abell Auction Company – L.A.'s original and 103-year-old auction house – empowers eco-conscious shoppers with a unique and diverse line of vintage luxury goods from premier Southern California estates. Out with the old, in with the new has lost its appeal. In with the old is the new trend for green shoppers choosing live auction over retail.
It's Not His Grandfather's Auction House Anymore
Todd Schireson, 37, is Vice President of Abell Auction Company, Los Angeles' original and premier auction house. Family-operated for 103 years, it has handled the treasured belongings of many
high-profile estates and legendary figures in Hollywood.
Todd is especially passionate about creating an ideal space for green shoppers to find items they love and that match their lifestyle. He sometimes holds pop-up displays at Venice Beach, Calif. for millennials to preview hot auction items, including vintage fashion, jewelry, timepieces, furniture, artwork and design that you won't find anywhere else! "We are providing the ultimate luxury recycling experience," Todd said.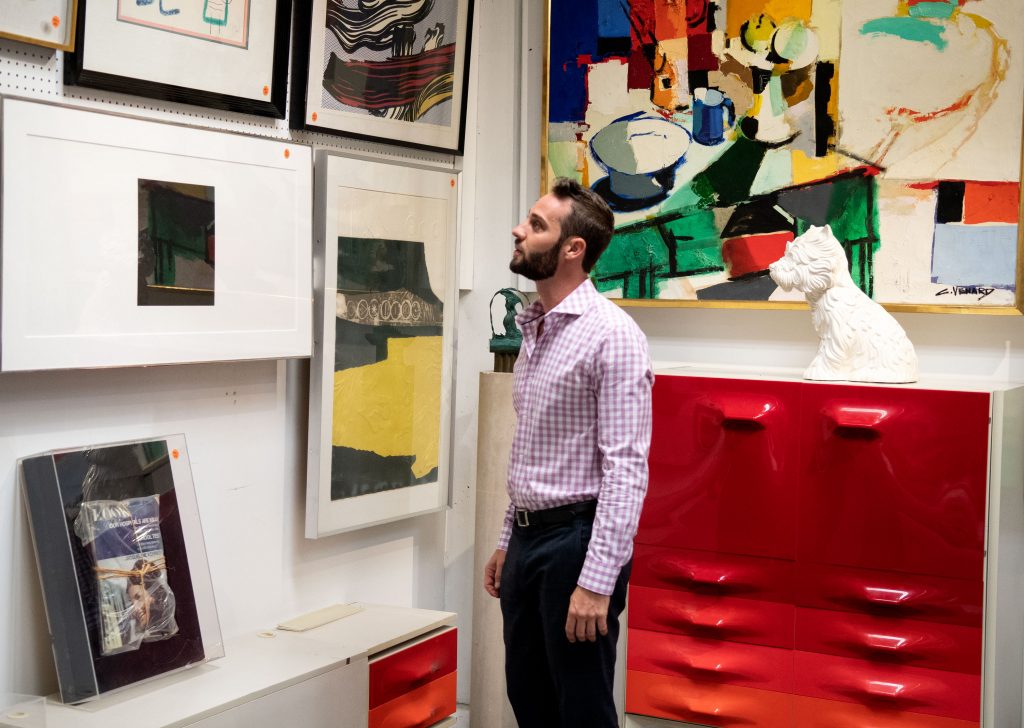 Todd Schireson, Abell Auction Company V.P., creates an ideal space for green shoppers to find items they love and that match their lifestyle.
When he's not at the auction block, Todd is responsible for daily operations. With a solid base in Southern California, they have expanded the business into areas such as Santa Barbara, San Diego, Palm Springs, Las Vegas and Northern California. Todd has also enhanced the company's online presence to grow its international audience of buyers.
Whether it's pulling out David Hockney lithographs from neglected basements in Los Angeles, or conducting charity auctions for Jane Goodall, it is the unexpected nature of the job that Todd finds most intriguing. Todd has discovered hidden treasures in abandoned estates, discussed business with Hollywood legends and appraised items for elected officials. "Every so often we come across really fun and interesting estates," Todd said. "One sale that especially appealed to a young, hip audience featured more than 200 pairs of rare collectible men's in-box sneakers."
Todd grew up surrounded by antiques and fine art through the family business. He started taking an interest in design at a young age and knew that he wanted to work in the art world. After earning a bachelor's degree in Business/Economics from the U.C. Santa Barbara, he worked in high-end residential management with some of the most important interior designers of the day, which grew his passion for art and design. With his grandfather and father running Abell Auction Company, he entered the family business during his mid-twenties.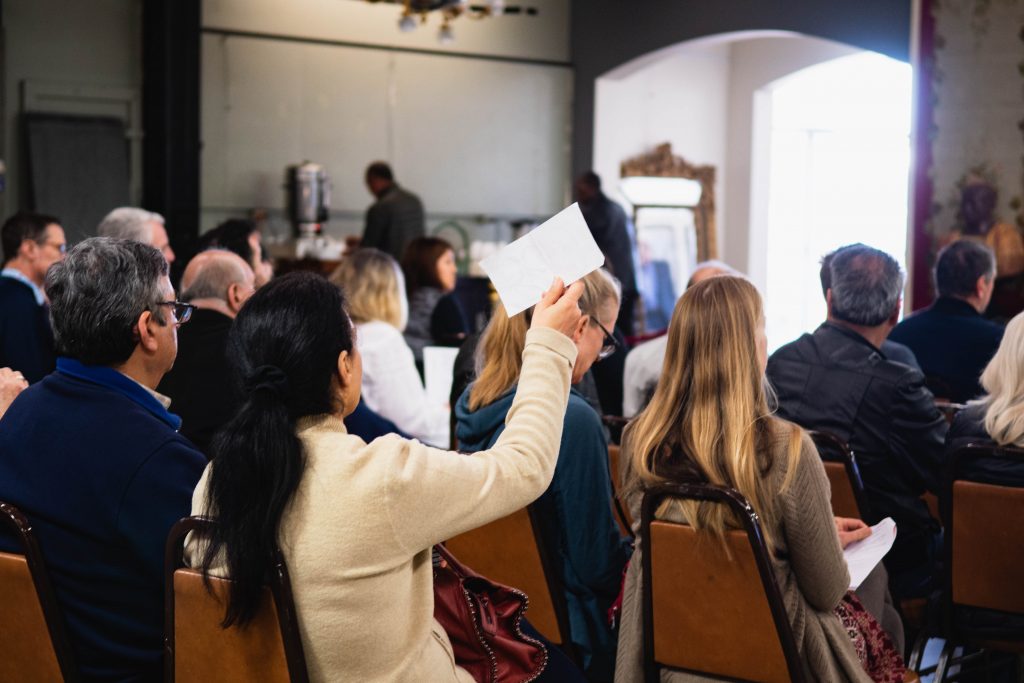 Abell Auction Company hosts live general auctions every Thursday and live and online high-end auctions every quarter at its iconic Los Angeles gallery, drawing an international audience of buyers.
Creating an Ecommerce Platform
Today, Abell Auction Company enjoys an influx of 800-1,200 items from up to a dozen Southern California estates at each weekly live auction. Abell is also famous for its high-end quarterly live and online auctions that attract a loyal following of clients – ranging from set decorators and production designers to interior decorators and private buyers. "Auctions showcase and keep in circulation unique items that can be reused rather than purchased new – conserving precious resources and reducing environmental impact," Todd said. "What one person may discard can be highly valued by someone else. Plus, we offer consumers a fun and exciting shopping experience."
Todd currently resides in Venice Beach, Calif., with his two young daughters. He spends his time appraising art for auction throughout the Los Angeles area, and hopefully getting to spend some time in the ocean on the weekends.
Auctions Matter to the Environment
According to the Environmental Protection Agency (EPA), only 15.3 percent of textiles – such as clothing, furniture, carpets, footwear and other nondurable goods – are recycled. By looking at a product's entire life cycle, new opportunities to reduce environmental impacts, conserve resources and reduce costs can be discovered. Abell Auction Company helps recycle and keep in circulation an abundance of items that might otherwise go to a landfill.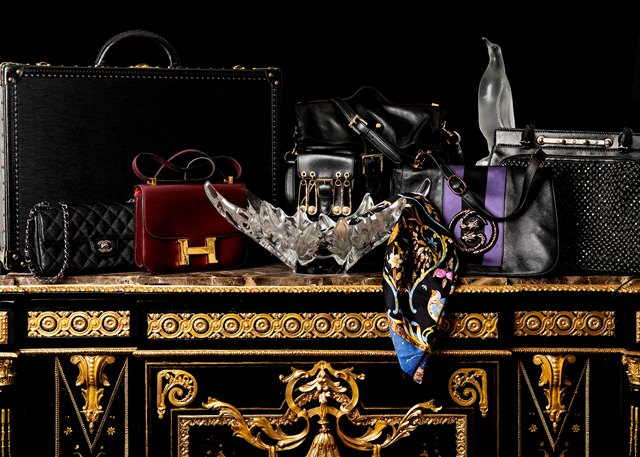 These stunning vintage luxury goods hit the auction block at a recent Abell Auction Company sale. (Left to right) Louis Vuitton Alzer 55 noir hard suitcase, Chanel black quilted east west flap bag, Lalique molded glass jardinière, Versace Versus safety pin bag, Hermes Pierres d'Orient et d'Occident scarf, Gucci by Tom Ford Serpent messenger bag, Lalique penguin and Valentino Garavani black Demetra handbag.
Upcoming Auction Spotlight
Abell Auction Company will conduct a fine art, antiques, 20th century design, jewelry and vehicle auction on Sunday, Oct. 6.  Live bidding begins at 10 a.m. PST online and at the gallery (2613 Yates Ave., Los Angeles). The sale will feature the estates of Dr. Thomas O. Paine, who oversaw the nation's space program during the first manned missions to the moon, and Mario Zamparelli, an artist and corporate marketing genius who gained fame as chief executive designer to aviation billionaire Howard Hughes. For additional information, call 800.404.2235 or visit www.abell.com.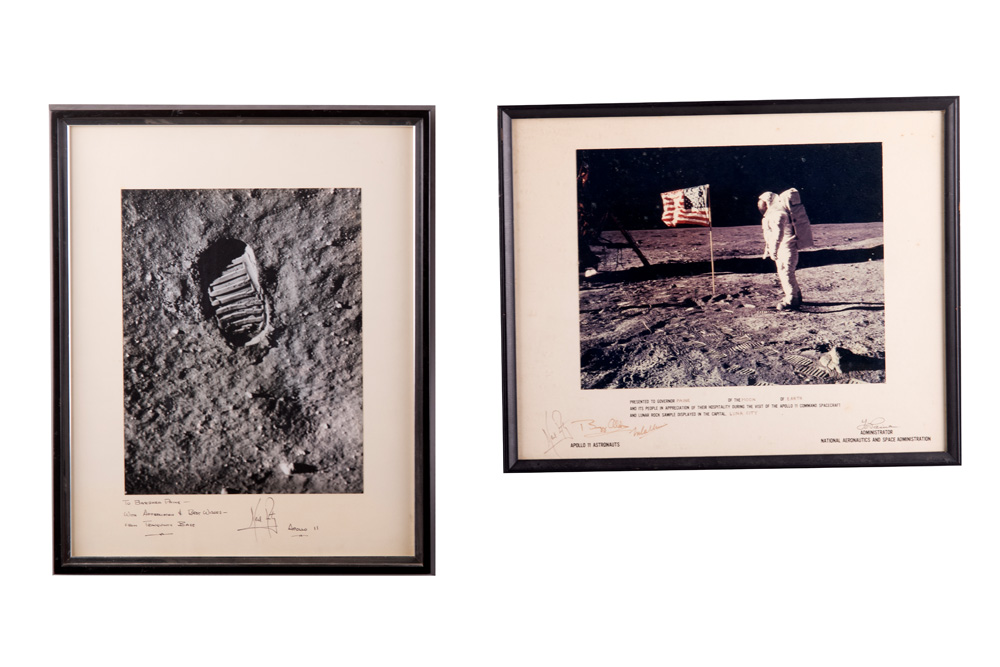 These photos taken during the Apollo 11 space mission will be among the rare items featured at Abell Auction Company's Oct. 6 live and online sale.
Related Articles
Read more from LIFESTYLE