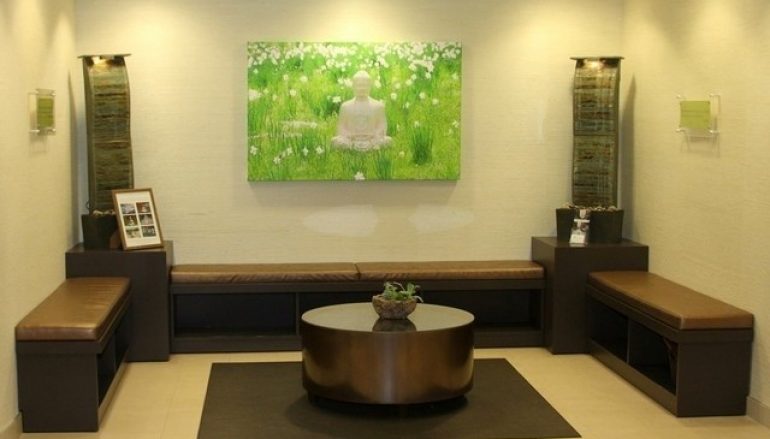 Creating a Yoga Space in Your Bedroom
Trying to find your Zen place doesn't necessarily mean you need to trek across town to a yoga studio. It is possible to create a space in your bedroom to reflect the elements you need to practice your downward dog or relax with child's pose. Here are some tips for a yoga zone in your bedroom:
1.  Designate a Point of Inspiration
What inspires you and creates a calmness in your spirit? Is it the ocean, a sentimental photograph or a relaxing painting? Hang this in your space to create a point of focus while you practice your postures.
2.  Invest in a Yoga Mat
All yogis need a mat for practice. Have your mat handy and keep it rolled out in your appointed space. It will serve as a reminder to squeeze in time to meditate and to run through a series of poses.
3.  Clear Your Space
It is hard to focus on yoga when your designated space is filled with paperwork, clutter and clothes. Clear your space so it is optimal for quiet and a place to focus on a yoga or meditation practice. Removing distractions is key for an effective yoga sanctuary.
4.  Repaint Your Bedroom
Is your bedroom painted in brighter colors? These particular hues may not be the best for calming your mind and preparing yourself for your yoga practice. Consider muted tones, warm whites and cooler tones rather than colors which stimulate the mind and demand your attention.
5.  Use Pleasant Scents
Breathe in fragrant scents to boost the mood of the room. Use candles or incense you enjoy as your sit in a pose or stretch out your limbs.
6.  Set the Mood With Proper Lighting
Harsh lighting will not help when you are trying to focus on your warrior pose. Set the mood with low lights and if possible install dimmers for overhead lights. Use light cotton curtains to block sun coming from a window.
7.  Install a Mirror to Refine Your Practice
Serious yogis will want to perfect their postures and check their alignment as they continue practicing various poses. Prop a full length mirror in your space to help you push you to extend your arms, correct a pose and stretch your legs.
8.  Store your Props in a Basket
Many practitioners use a block, straps and a bench to help with certain poses. In the middle of practicing, it will disrupt the energy if you have to search for one of these props. Place a small basket in your space and put items you plan to use so they are readily accessible.
9.  Enhance the Mood With Music
Keep your iPod dock or pill in your space and stream your favorite calming music or preset playlist to help put you in the right mood. Music during yoga isn't for everyone, so make certain this will accentuate your personal practice and not become a distraction.
Creating a yoga space is possible in your home with whatever inspires you to sink into the poses.
Modernize
Here is the bio for Modernize: Modernize is where you come to get inspired, see what's possible, and connect with a professional who will make your dream home a reality. www.modernize.com
Related Articles
Read more from LIFESTYLE