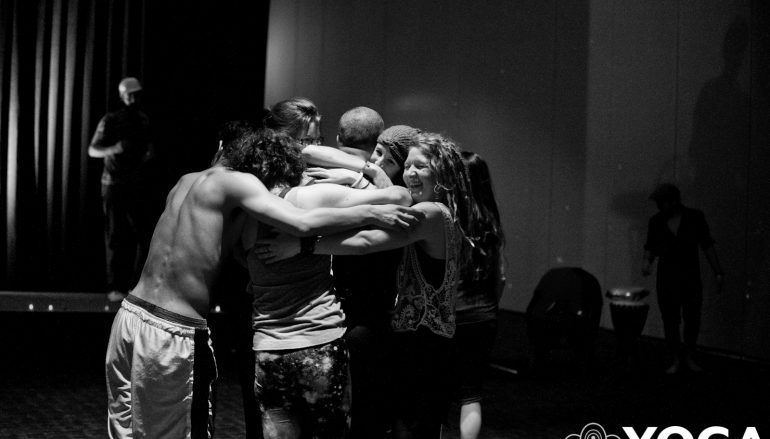 Building Heart-Centered Community at the Victoria Yoga Conference
5 Ways to Enjoy the Victoria Yoga Conference
The Victoria Yoga Conference is an annual event that takes place in the capital of the Canadian province of British Columbia. The conference offers a variety of styles of yoga classes, workshops on business, nutrition and meditation, a marketplace full of local exhibitors, and community yoga classes.
If you're interested in making a trip to the city of Victoria, here is a guide to choosing classes and workshops at the 2016 Victoria Yoga Conference (February 5-7).
What to do at the conference if you are a …
Hard-core yogi: You live and breathe yoga. You are looking to deepen your practice, expand your yoga knowledge, and spend an entire weekend devoted to yoga. If this is your jam, you could sign up for: Intro to Acro Yoga, Vinyasa Yoga, Prana Flow Yoga: Earth & Roots, Yin Yoga & Thai Massage, Arm Balances, Yin Fusion, or Invoking Bhairavi: The Power of Tapasya.
Spiritual enthusiast: You love meditation, intuitive healing, and spiritual awakening. You are looking to do some soul work. If this sounds like you, then we recommend you check out: The Ecstatic Breath, Good Vibrations: Chakra tuning and Shamanic drumming, The Divine Essence: Unleash your Self-expression through Aromatic Ayurveda, Deepening Intuition, Moving Through Conflict, or Deep relaxation, Meditation & Yoga Nidra.
Business-oriented entrepreneur: You are a yoga teacher, a health practitioner, or an entrepreneur. Maybe you have a health related business or you own your own studio. If this is sounds like you, you could exhibit your product or business in the marketplace, apply to teach or present at the Victoria Yoga Conference, or sign up for: What is your WHY: How to Create Clarity for your personal 'Brand' of Yoga, Strategic Manifestation, Your Home-Based Yoga Studio: It is a Business, Mind Your Own Business, Self-Mastery for Teachers & Dedicated Students, Living Yoga: Living A Life of Practice on the Teacher's Path, Soul Alignment: Connect with Your Soul's Knowing to Empower your Life and Business, or Using Yoga in Your Work: Skills Development to Support Professionals.
Creative artist: You are a musician, an artist, a DJ or a dance lover. You could enjoy live performances in the conference marketplace, leave your artistic mark on the interactive art installation The Wall Jam Project, attend the Opening Night + The Illumination Event, take part in the VYC Ecstatic Dance Party, or sign up for: Breath and Flow – Beats and Trance, Chant your Heart Out, Theme Like Monet, High on Life (Celebration!), or Rewilding From Within – Dance Yourself Free.
All of the above: You might be thinking – I fit into all of these categories! I'm a yoga enthusiast, a healer, an entrepreneur, and a musician. If that's you, your personal conference schedule could look more like a medley of learning, movement, and play. You don't have to fit into one description.
About the Victoria Yoga Conference
Celebrating their fourth anniversary in 2016, the Victoria Yoga Conference is an event where yogis, educators, and entrepreneurs gather for a weekend of learning, play, and connection. The annual conference takes place in British Columbia's capital, just North of Washington State on beautiful Vancouver Island.
This year, the Victoria Yoga Conference welcomes attendees from February 5-7, 2016. The schedule of events includes a variety of yoga class styles, educational workshops, and playful activities.
This article is designed to help you get a better sense of what the conference is all about, hear from a few people who have been to the conference before, and give you a taste of what your weekend could look like at the conference.
What Conference Teachers Are Saying
Founded in 2013 by event producer and community connector Carolyne Taylor, the VYC draws yoga teachers, inspirational speakers, health professionals, entrepreneurs, and yoga enthusiasts from all over Western North America and the province of British Columbia.
"The Victoria Yoga Conference builds community," says conference teacher Alexandra Pony, "it's such a beautiful opportunity for like-minded people to get together, move, breathe, explore, learn and have fun." Their signature tagline, for the "curious to the serious," describes the all-encompassing inclusivity of the event. The conference offers workshops on business, nutrition and meditation, a marketplace full of local exhibitors, community classes, and kids yoga.
Regular conference teacher and certified yoga instructor Tim Cyr describes the essence of the Victoria Yoga Conference as a sense of connection. "I love the way in which there is a feeling of connecting with people that I may or may not see again in life," says Cyr. "The feeling of engaging the team of individuals that have prepared the event, to the attendees that make the conference such a special space to visit and take part in each year."
Teachers, health professionals, and entrepreneurs from the city of Victoria and Western North America gather to create a weekend that caters to learning, growth, and movement. Victoria-based Vinyasa teacher Tracey Noseworthy says, "It is a weekend dedicated to learning, growing, sharing, laughing, loving and connecting with one's self as well as with many like-minded people around you."
Glynnis Osher has been a part of the Victoria Yoga Conference since its foundation year in 2013. Osher is a certified Ayurvedic practitioner, teacher, and author. She is also the founder of Academy Aromatica, an online learning experience in the art and science of Ayurvedic aromatherapy. "I love the feeling of a tribe coming together to raise the vibration on the planet," says Osher. "It gives me great hope for humanity." Osher will be teaching The Divine Essence: Unleash your Self-Expression Through Aromatic Ayurveda, and will be speaking on opening night at the Illumination Event.
Business and Connection
One of the focuses of the conference is entrepreneurship, intended to help yoga teachers and professionals make a business of their passion. Nicole Marcia, a yoga therapy specialist and director of training at Yoga Outreach, enjoys the conference for the ability to connect with other teachers and practitioners. "Yoga teachers generally work in isolation, without much direct contact or feedback from colleagues, bosses or managers," says Marcia. "The VYC is an opportunity for us to gather as a community not just to learn and teach, but also to have the experience of being supported in what we are doing with our lives and our work." Marcia will be teaching An Introduction to Trauma Informed Yoga at the 2016 conference.
What to Expect
For the 2016 conference, classes include: Manifest Your Destiny with Kundalini Yoga, Teaching and Practicing Prenatal Yoga, Yin Yoga & Thai Massage, Restorative Yoga and Healing Group Reiki Session, A Plant-Based Nutrition Workshop, Deep-relaxation and Yoga Nidra, Intro to Acro Yoga, Embodiment – Self Discovery and Self Nourishment, and a whole lot more. Each session is organized into a two-hour time slot, and conference attendees are able to design their own schedules. Connected to the conference is a Wellness Marketplace, where exhibitors and entrepreneurs will showcase artisanal products and local businesses. There will be a tea lounge, a photo booth, and live music, where conference goers can relax and mingle in between sessions.
Every evening of the conference will feature a different event. The first night is a speaker series entitled the Illumination Event. It includes an array of speakers and presenters, sharing ideas and stories to light your creative fire. From spoken word artists to CEOs to local entrepreneurs, each presenter will deliver something designed to inspire the audience.
On the Saturday evening, the VYC will host an interactive yoga performance entitled Through the Gaze of a Navel, presented by Emelia Symington Fedy. Symingtong Fedy is a writer, actor, radio freelancer and producer. A reviewer from Vancouver Presents calls the performance, "A perfect satirical balance, a comedic yin-yang as it were, of genuine respect and gentle derision."
Interactive Art Project
This year the Victoria Yoga Conference will include an interactive art installation as part of the marketplace. Originally founded in Vancouver, British Columbia, The Wall Jam Project has been featured at variety of educational and team-building events in order to facilitate deeper conversation. Each day of the conference, a thought-provoking question will be posted on the wall. Everyone has the opportunity to join in the fun and express a response in a creative way. The Wall Jam will be set up in the marketplace portion of the Victoria Yoga Conference for the first time this year. Wall Jam creator Anuj Singhal invites attendees and market goers to take part in the project to generate conversation throughout the event. "I asked the Victoria Yoga Conference organizers what they wanted people to walk away talking about," says Singhal. As someone who has attended hundreds of conferences, Singhal is always designing platforms that foster creative thinking.
What now?
So, if you're looking to expand and deepen your practice, learn more about yoga and business, or try something new, the Victoria Yoga Conference may be the new spot to do it. Whether you're curious or serious, there is always room to discover, explore, and connect.
To learn more, visit www.victoriayogaconference.com
Maddie Burlin
Founded in 2013, the Victoria Yoga Conference takes place in British Columbia's capital city, just North of Washington State on beautiful Vancouver Island. The Victoria Yoga Conference draws yoga teachers, inspirational speakers, health professionals, entrepreneurs, and general attendees from all over the province of British Columbia and Western North America for a weekend of inspiration in the community of Victoria.
Related Articles
Read more from COMMUNITY