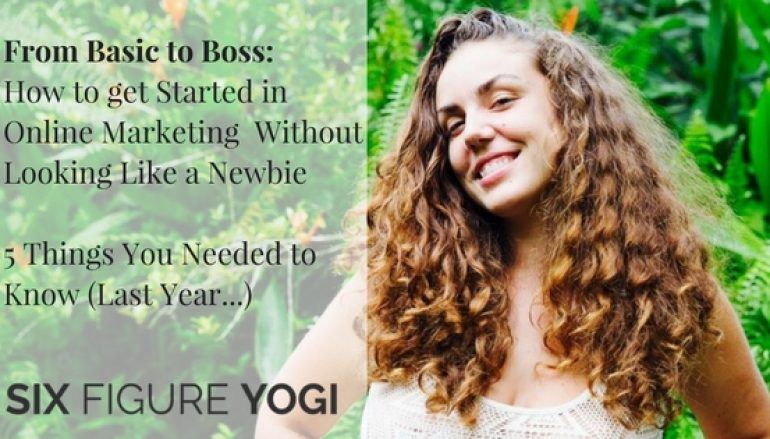 From Basic to BOSS: How to Get Started in Advertising and Marketing Without Looking Like a Newbie
Namaste Goddess Powerhouse! It's time to take your impact to the next level. I am here as your hippie business strategist and new best friend. Getting your message out is your top task as a Conscious Entrepreneur. Doing it RIGHT is critical to your success. You want to be 'boss', not' basic'…
Been at it a while and still not getting the results you want? Read on.
Want to keep doing the same things that DON'T work and keep you small? STOP READING NOW!
Here are 5 things you need to know as you get started.
#1: Advertising and marketing have different processes and are separate journeys.
Advertising and Marketing are the same, right? Wrong! They are related and they work together, but they are NOT the same.
Advertising involves getting as many people as possible to know about your product. (be it through Facebook ads, Google AdWords, Instagram, print media, etc.)
Marketing involves getting people to buy the product after finding out about it.
Advertising is the introduction. Marketing is the relationship.
Once a person knows about your product, the online marketing journey begins. Create your product and get clear on your advertising strategy. Construct a powerful marketing funnel with tons of great value, then watch your community grow (and the dollars flow!).
FREE BONUS: Not sure what a Marketing Funnel even is? Head over to SixFigureYogi.com to sign up for your free Online Marketing & Conscious Business Growth eCourse with me!
#2: Your community needs to get to know, like, and trust you.
Most people aren't going to be ready to buy right away. Like in any new relationship, you don't 'go for it on the first date'. You 'court' your prospect; you give them the opportunity to know, like and trust you. Once they are ready to buy, you're the one they decide to 'get in bed with'!
How do you get your prospects to know, like, and trust you online?
You give them something of value in exchange for their name and email address to build your list. (free content in the form of an online lecture, a video series, a PDF…)
Inside this free content, you 'sprinkle' in some mention of your service so that they have the invitation to take your relationship further. You don't just yell BUY MY STUFF over and over again. (No one cares!)
You provide free content regularly that exposes your heart and vision. It shares who you are. Your content shows your communication and teaching style. All of this begins to form a connection of trust.
Offer TONS of value for people, and when it is time for them to buy – YOU will be their choice.
#3: Get REALLY specific with what kind of free offer would work best for your business.
Identifying your ideal clients will guide you in creating your free content. Create based on THEIR needs, wants, and questions. Create content that will build a positive relationship and serve THEM. They will feel inclined to give back to you.
For example, I created a free eRetreat for people interested in Passion Yoga School. If you want to see how it works, you can head over to PassionYogaSchool.com to get access. I include online videos. A seven day plant based meal plan. Plus, Yoga Teacher Training quality lectures on yoga philosophy and lifestyle ethics. This allows my students to get to know me before they make the big investment. And, it WORKS.
#4: Take steps to nurture your leads through every step of the marketing journey.
Many conscious entrepreneurs spread their message without having a lead nurturing system set up. At my office (err… my hammock), we jokingly call this the 'Facebook and pray' strategy. With lead nurturing, you develop relationships with clients at every stage of the sales funnel. You listen to your client's needs and gauge how they respond to your content. You provide the information and answers needed that lead them to a purchase.
Through the online tools I have discovered, I learn about my clients as they interact with my free content. My team and I can see who's interested and engaged in what we do. Those are the people we focus on and lead nurture. We guide them along the rest of the journey until they are ready to sign up.
Interested in learning about lead scoring, list segmentation, client acquisition, and the specific systems available? Our intensive Seminar here in Costa Rica from March 13-18, 2017 may be the next step for you. The Empowered Goddess: A Modern Business Seminar for the Awakened Woman. Enter your email for more details here.
#5: Visit SixFigureYogi.com to learn how to rapidly grow your conscious business. The Six Figure Yogi podcast has mini lessons, great while you are on the go. The free Online Marketing & Conscious Business Growth eCourse was designed with your needs in mind. All FREE at the website.
This is Hippie Business Training you never had, and it is FREE. Be phenomenal. Create an engaging online presence. Learn how to sell out live events and workshops. I cover a TON in your free online marketing & conscious business growth eCourse. You can get that over on sixfigureyogi.com.
BIG ANNOUNCEMENT!
In collaboration with Yoga Digest, we have created a live event in Costa Rica. The Empowered Goddess: A Modern Business Seminar for the Awakened Woman. An intensive immersion with us here in the jungles of Costa Rica, March 13-18, 2017. Make more money & amplify your spiritual impact. Let's do it in sacred sisterhood.
Visit www.empoweredgoddessretreat.com and enter your email to receive the details.
Adi Shakti - The Six Figure Yogi
Adi Shakti manifested the Empowered Goddess Seminar to serve as the launching pad for empowering impassioned awakened women entrepreneurs to come together to collaborate, get their s*** together, and elevate collective consciousness through smart and soulful business. Adi is the host of the Six Figure Yogi, Creative Director of Passion Yoga School, Creative Mastermind of the Maha Shakti Center, author, and humanitarian. Adi is a born leader, empowered creator, and active force of nature. She enjoys a global freedom lifestyle of empowered entrepreneurship. She lives full time in Puerto Viejo, Costa Rica. Visit Adi at, www.sixfigureyogi.com, IG: @adi_shakti_rising
Related Articles
Read more from LIFESTYLE