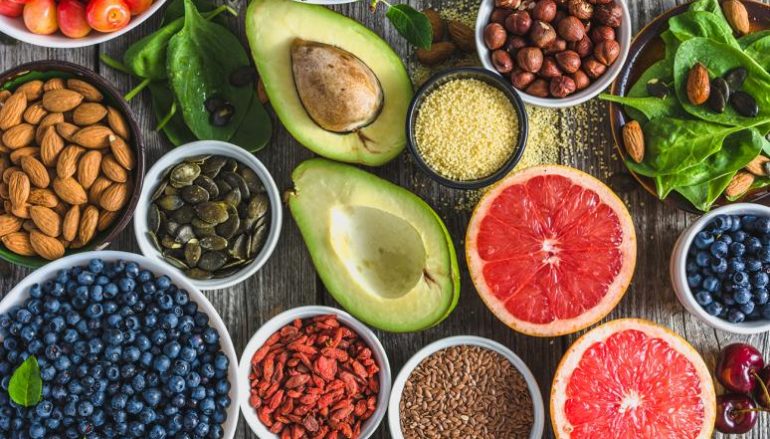 Here's a great way to start off your new year right with a seven day cleanse.  Just remind yourself how good your body will feel (from head to toe) after you complete this cleanse and how much more aware of your dietary habits you will become.
A cleanse, which can be three, five, or seven-days, is a healthy way to get your body back on track. It is exactly what you might think… a way to "cleanse" your body and get rid of the nasty toxins in your system. While some people opt to do a cleanse to lose weight, others do it just to feel better and help get their body and mind on the same page.
Benefits of a cleanse:
• Releases toxic debris that blocks the natural flow of your energy.
• Shedding unwanted fat or adding weight (whichever is needed).
• Skin will radiate.
• Stomach and intestinal problems diminish.
• General fatigue disappears.
• Renewed energy and vitality.
• Emotions and mood stabilize.
• No mid-afternoon energy crash.
• You will be psychologically empowered by taking control of your body.
Starting a cleanse means giving up some favorites for a few days. For example, if you are normally a coffee or soda drinker, giving up caffeine takes a few days to get used to. I recommend you start tapering these off prior to starting your cleanse. No alcohol is allowed during your cleanse. Sweets, dairy, soy milk, packaged foods, and sodas are also off limits!
Drink freshly squeezed lemon juice in warm water each morning. Lemons have been proven to be a natural solution for weight loss, digestion issues, and cleansing your body, from your skin to your liver. If you have a daily habit of drinking coffee, the warm lemon water will help trick your brain, while adding health benefits in the process.
You can enjoy herbal or green teas as long as they are caffeine-free. When it comes to milks, only almond milk, rice milk and coconut milk are acceptable, no other dairy products are allowed. Be sure you drink lots of water during your cleanse, and it is perfectly fine to add slices of oranges, limes, and lemon to your water. You can even freeze chunks of watermelon or other fruits to flavor your water.
Fresh or frozen fruits are allowed on a cleanse, and if you have a juicer, you might just find how much you enjoy the natural juice that you can make. Throw an apple, pear, peach and a couple of carrots into your juicer and sit back and sip the goodness. Eat lots of blueberries and raspberries to get the fiber and natural vitamins you need.
Spinach is one of the best items you can eat, period. Spinach is one of the healthiest foods available to us that helps fight cancer and other diseases. Make a salad of fresh spinach and cubed watermelon or strawberries. The watermelon acts as a dressing, and, if you use strawberries, just squeeze some lime juice over the top. Add almonds, cashews, walnuts or sesame, sunflower or pumpkin seeds and fresh broccoli. Eat broccoli throughout your cleanse week and load up on beets and dark leafy greens like kale, collard greens, and more spinach.
Almonds, cashews, and walnuts are very good for snacking, and they are excellent sources of protein. Pumpkin seeds, sunflower seeds and sesame seeds are also great foods to keep on hand for snacks, salad toppers and for nibbling.
Brown or wild rice is allowed just be sure you do not add any butter to the cooking process. Oatmeal is also allowed. Add fresh fruit or local honey as a sweetener not cream and sugar.
Pinto beans, lentils and black-eyed peas are great options for your seven-day cleanse. Try to get the dried variety and cook them overnight in your slow cooker with onion, garlic, and water. If you buy canned beans, make sure you buy beans that are canned in water, not oil. It is always a good idea to rinse and drain beans, anyway, especially during your cleanse.
Days 1 & 2 Portions are considered 1 handful.
Wake – 1 large class of hot water with ½ squeezed lemon.
Breakfast – Fruit, fresh-squeezed fruit juice, yogurt, chopped almonds, herbal tea (drink all you want of herbal tea throughout this whole week) and honey to sweeten.
Lunch – Protein (tofu, chicken or fish), steamed, poached or baked with no oil, 1 serving whole grain brown rice, veggies and salad (all you want of veggies and salad).  Salad dressing is 1 tsp olive oil with apple cider vinegar and lemon and natural seasons.  Lunch is the largest meal.
Snack – Any form of fruit or veggie.
Dinner – Same as lunch with protein (change protein for variety) and smaller portions.
Dessert – Fruit (fresh or baked) or vegan dessert.
Days 3, 4 & 5
Fruit-Fast! Fresh, whole or juiced or fruit salad – get creative!  Avocado and tomato count as a fruit – make a soup!  Apple cider vinegar is great for seasoning.
Days 6 & 7
Go back to same as Days 1 & 2 – but with smaller portions.
Be careful adding back sugars and caffeine to your diet.  Maybe you won't need or want as much as you did before! Giving up the alcohol and coffee is tough, but giving up the candy, soft drinks, salt, eggs, milk and processed meat products truly feels rewarding. Your mind might feel sharper, and your body will thank you for treating it so well! Good luck and happy new year, happy new you!
Rene Hawthorne
Rene' Hawthorne, 500HR RYT, (a.k.a. The Lotus Chick), is a former classical ballet dancer with The Dallas Ballet. For the past 11 years, yoga has been her focused passion. Her teaching style is a fusion of years of various dance experiences and yoga trainings. She currently teaches at her home studio, The Sweet Spot and at The Mat Yoga Studio in Dallas, Texas. Offering a variety of weekly classes ranging from vinyasa flow yoga, kids yoga, private yoga lessons, corporate yoga and Doga (yoga with your dog), you will find something for every member of the family. Check out her website to find a class for you at www.thelotuschick.com.
Related Articles
Read more from LIFESTYLE