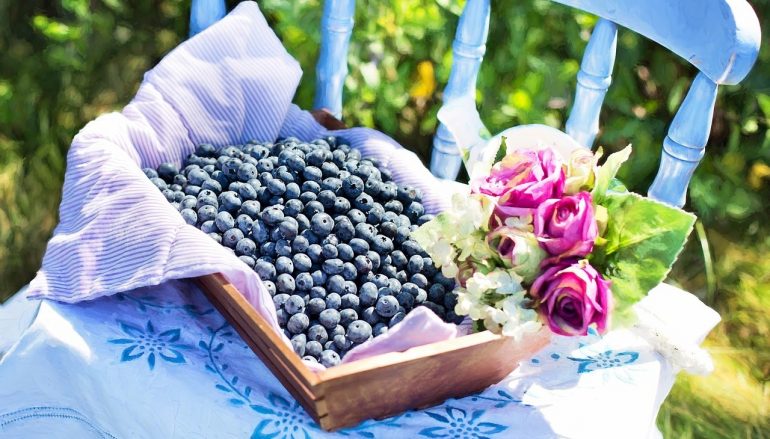 5 Heart-Healthy Foods to Work into Your Diet
Heart problems are deemed to be some of the leading causes of death. According to the Center for Disease and Control and Prevention(CDC), one person dies from cardiovascular disease every 37 seconds in the United States alone. In addition, more than 640,000 individuals lose their lives to heart disease yearly in the US alone, making heart problems a major health concern. The good news is that you can lower the risk of developing cardiovascular disease, heart disease, or any other type of heart problem simply by eating the right foods. You can order these foods or at least get the necessary ingredients to make some of them from Hello Fresh, Sun Basket, or Home Chef. If you are stuck between Hello Fresh and Sun Basket, this unbiased comparison between the two options can help you make up your mind. Today, I'm going to reveal to you 5 heart-healthy foods to work into your diet to help you avoid these diseases.
1. Blueberries
According to recent research on the potential health benefits of blueberries, this small dark-blue variety of berries promotes heart health like no other. The berries are a great source of a special type of antioxidants known as "anthocyanins", which are the reason behind their dark-blue color. According to scientists, anthocyanins may help lower the risk of cardiovascular and coronary heart diseases. But apart from these special, heart-health-friendly antioxidants, blueberries are also a good source of dietary fiber and Vitamin C, each of which contributes to great heart health in its own way. For example, dietary fiber improves digestion and helps prevent weight gain alongside obesity, conditions that can potentially lead to heart disease. Just like dietary fiber, Vitamin C has also been linked to weight gain, which is a major risk factor for heart disease. According to research, low Vitamin C intake may lead to weight gain, putting your heart health at great risk. With all the potential heart-health benefits in mind, it's not a bad idea to consume a cup of blueberries daily; one half in the morning and another half in the evening.
2. Whole Grains
Some great examples of whole grains include oats, brown rice, whole wheat, buckwheat, barley, quinoa, and rye(a type of whole grain derived from rye–a cereal plant that is more common in North America, Europe, and Asia than any other place in the world). Compared to other kinds of grains, whole grains are richer in fiber, folate, and other vital nutrients like B vitamins, potassium, magnesium, and iron. It is by the virtue of the first two nutrients i.e fiber and folate that whole grains promote heart health.
That said, taking whole grains in at least one meal a day can help you avoid a number of heart conditions such as heart disease, coronary artery disease, and cardiovascular disease. The best part is that these grains pair perfectly well with a number of foods including meat and vegetable stews. Apart from that, they can also be taken with milk, smoothies, yogurt, and even wine sometimes. Your daily meal plan simply cannot miss wholegrain if you want to maintain a healthy heart.
3. Leafy Green Vegetables
Consuming plenty of spinach, cabbage, lettuce, kale, beet greens, microgreens, and collard greens is a great way to avoid a number of heart ailments. These yummy and nutrient-packed vegetables are good sources of carotenoids, dietary fiber, and folate, all of which contribute to good heart health.
As a matter of fact, carotenoids have strong cardiovascular disease risk-reducing properties, making these fat-soluble nutrients vital for heart health. On the other hand, folate which is also known as "folic acid" is thought to have the ability to lower the risk of stroke and heart disease by approximately 20%. Furthermore, leafy green veggies also contain vitamins C and K as well as calcium and iron. As you already know, Vitamin C promotes heart health by preventing weight gain and obesity.
So, by working these vegetables into your diet, you pump nutrients with unbelievable heart-health promoting properties into your body, making sure this vital organ remains healthy. You can take your vegetables in many ways including drinking them as smoothies or eating them as salads, food pairings, or main courses.
4. Fatty Fishes
The good news for seafood lovers is that they have minimal chances of developing heart problems by consuming fatty fish. Fishes such as mackerels, salmons, herrings, tunas, and trouts are rich sources of Eicosapentaenoic acid(EPA) and Docosahexaenoic acid(DHA), which are two important varieties of omega-3 fatty acids. These polyunsaturated fats have a great potential to promote heart health by lowering the levels of triglycerides in the body, which are notorious for causing chronic inflammations, damaging blood vessels and paving the way for heart problems.
According to experts, you should eat fatty fish at least twice weekly to get sufficient amounts of DHA and EPA. As far as pairing fatty fishes with other foods go, you can pair your fishes with a range of foods including pasta, rice, steamed vegetables, or salads for delicious, filling, and nutrient-packed meals.
5. Beans
Beans are cheap, readily available, and often not appreciated much for their unbelievable health value. As common and unfancy as they may seem, beans are actually more beneficial to your heart than many foods out there you may consider fancy and classy. These kidney-shaped, edible seeds belonging in the legumes family contain a special type of starch with digestion-resisting characteristics. This starch decreases the levels of triglycerides and cholesterol in the blood, improving heart health. So, if you thought beans are not as worthy as other types of foods, you may want to reconsider your thoughts. These legumes can pair well with many types of foods such as pasta, rice, and tortilla. Make sure you eat them at least twice or thrice in a week to maintain a healthy heart.
Final Thoughts
Considering the CDC statistics above, heart problems can be very deadly and lethal, killing hundreds of thousands of men and women globally every year. But it's not all doom and gloom, thanks to a number of foods out there, which can be quite effective at lowering the risk of developing these conditions. That said, eat the heart-healthy foods above more and more to safeguard your heart against heart disease, cardiovascular disease, and other conditions that can affect your most vital body organ.
Related Articles
Read more from LIFESTYLE