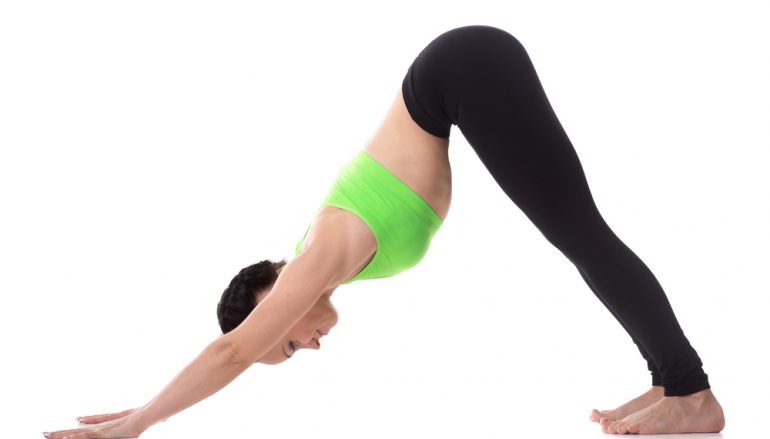 The Basics of Sun Salutation A and Sun Salutation B
There are many ways to vary your sun salutations when you teach vinyasa yoga. What are the basics? Here are some simple postures to follow for sun salutation variations.
Sun Salutations A and B follow the Getting Started section and can be set up slowly followed by moving repeatedly one breath to one posture.
THE BASICS OF SUN SALUTATIONS
Sun Salutation A
(inhale) mountain pose

(exhale) standing forward bend

(inhale) half standing forward bend

(exhale) low plank/chaturanga using a step back or float back

(inhale) upward facing dog

(exhale) downward facing dog
Repeat Sun Salutation A 2 or more times with breath-to-posture flow
Sun Salutation B
(inhale) chair pose

(exhale) forward bend

(inhale) half standing forward bend

(exhale) low plank/chaturanga

(inhale) upward facing dog

(exhale) downward facing dog

(inhale) Right leg warrior 1

(exhale) low plank/chaturanga

(inhale) upward facing dog

(exhale) downward facing dog

(inhale) Left leg warrior 1

(exhale) low plank/chaturanga

(inhale) upward facing dog

(exhale) downward facing dog

(inhale) half standing forward bend

(exhale) forward bend
(inhale) mountain pose
Flow Sun B 2 or more times with breath-to-posture flow
© ReadyToTeachYoga 2015
Anga Biel
Anga is an E-RYT instructor with a passion for yoga sequencing and crafting a quality student experience that is engaging and feels good and right for all. She has been teaching yoga for five years in San Diego, California. She has been involved in teacher trainings for power vinyasa instructors for the past four and recognizes the challenges teachers face in developing safe yoga sequences. Her mission is to be a source for guidance in providing sequences that yoga teachers can use as well as be a support for teachers in learning the rationale behind the art of sequencing. Find her classes at ReadyToTeachYoga.com
Related Articles
Read more from YOGA