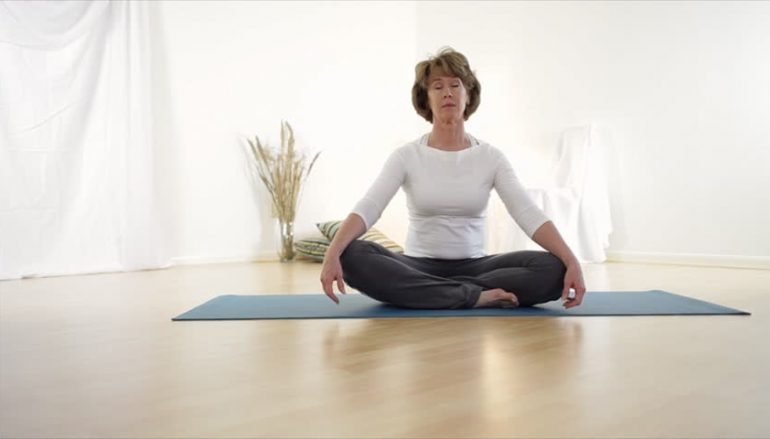 My yoga mat, my bridge to myself
My maiden voyage into yoga happened serendipitously more than 27 years ago. I'd
signed up for a squash lesson at my gym, eager to chase down a ball in a confined court and
hit it. Hard.
But when the instructor failed to show, I wandered to the adjacent squash court and
peeked in. A lithe woman arched over blocks, her spine in a graceful bridge. She asked,
"How can I help you?"
It was a big question. I felt stuck in a demanding job and unfulfilled in a disastrous
marriage. My beloved mother had recently died after a long war with cancer. And my
squash instructor had stood me up.
"I'm here for my squash lesson, but the coach isn't," I said.
"Yoga class starts in 15 minutes," she said. "Why don't you join us?"
Why? Because I'd been a competitive athlete since age 11, and I'd been judgmental
about the yoga classes I'd seen in session while heading to the weight room or lap pool.
"How hard can that be?" I'd asked myself upon seeing students in Warrior III. "They're just
standing there." Seeing students in reclined poses, I speculated, "What kind of workout is
lying down?"
But I did join her class. And when I took my first pose of the child, I knew I was
home. I'd been taking prescription drugs for arthritis my doctor had diagnosed in my back;
yet in pose of the child, I felt my muscle tension release. And when we took Warrior III —
the pose I'd dismissed as "just standing there" — my arms and legs quivered with fatigue.
I was hooked. I stopped training with weights and stopped taking my arthritis
prescription. I quit the gym and bought a month's pass at the only yoga studio in Denver.
Fortunately, the studio was an Iyengar center, so my first 12 years of practice involved
rigorously aligned asanas. I grew stronger, more flexible in body, mind and spirit.
I purchased my first yoga mat. In the big and crazy world, my mat was my island, my
sanctuary of stretch and breath. Pangs of envy welled up when I saw fellow students with
worn mats, evidence of their devotion. I wondered whether I'd stick with yoga long enough
to wear out a mat.
"Everybody has a free pose," the instructor said. Mine was headstand. "Headstands
change our perspective," she said. And the more I practiced headstand, the more I began to
see things differently. The more I stood on my head, the more I stood up for myself. I filed
for divorce. I quit my job.
With lots of time but little money, I signed on for work-study, cleaning the studios –
toilets and all – in exchange for free yoga classes. I nicknamed myself Yogarella. I took a lot
of classes. My mat showed signs of wear.
I moved on to Bikram yoga, then Baron Baptiste Power yoga, and eventually found
my way to a luxurious fitness center where I connected with an Iyengar teacher with whom
I've studied for the past 11 years. She introduced me to a Volo suspension practice, hanging
out in poses a big blue hammock.
And when the swanky gym recently closed, I followed her to a yoga studio again,
gratefully still in her tutelage.
I just bought my fourth mat.
Colleen Smith
Colleen Smith is a writer based in Denver. Learn more at colleenwordsmith.wordpress.com.
Related Articles
Read more from YOGA