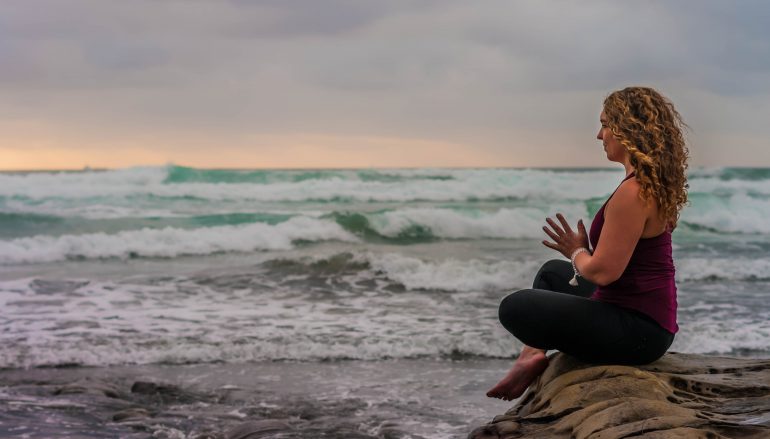 11 Yogic Ways to Find Peace and Ease during the Holidays
The holidays can be a busy, stressful, and sometimes lonely time of year. It's easy to get caught up in holiday parties, sweet food, caffeine, and indulging in too much fun. The pressure around the end of the year and holidays can cause more stress and chaos. It's important to take time to calm down, relax, and find your balance during the crazy holiday season.
Take time to help yourself this holiday season, and make YOU a priority. Find your joy, and if you have trouble maintaining a happy and optimistic attitude, seek natural remedies, and give yourself more self care. The yoga lifestyle can greatly help improve your health, happiness, and well-being! Utilize these yoga tips to help you survive the holidays and create more peace and ease.
11 ways to create peace and ease during the holidays:
1) Take time to slow down and Relax – It's a myth to think that relaxation cannot improve our body and health. When the days are shorter, our body needs time to rest and rejuvenate. It's critical to give yourself more time to sleep, unwind from your day, and relax. The body can reset and health can improve by doing less, sleeping more, and allowing your body to naturally adapt and refuel.
2) Meditate – Our mind benefits with breath and stillness. Meditation can help our nervous system calm down, and meditation allows us to get out of our mind and more into our body. By helping your mind release thoughts and worries, you can cultivate more peace and less stress. Our mental state shapes our body, the food we put into our system, and governs our reality. We can feel better by taking time to reset our mind, meditate, and create peace of mind.
3) Keep up the Exercise – Movement keeps us alert and energized. During the winter it's so important to keep your body moving and get some exercise in! Because it's colder, it's a great time to try indoor workout studios, get your sweat on at a good spin class, and find new ways to work out. Strength training can help build muscles, and doing cardio can boost endorphins and help keep you in a happy, strong, and motivated state.
4) Be in Nature– Nature has many healing properties. The body needs sunshine and natural elements to help it stay well. Be sure to get near the ocean, or travel to mountains, and find ways to be outside. Too often we get busy with holiday stuff, and forget to take care of ourselves and take time to be in nature. Plus, fresh air can do wonders for your mind, body, and soul.
5) Do Yoga – Getting your asana on helps the mind and body. There is tremendous power in learning how to silence the mind, breathe, and stay present. Yoga is great gift for your wellness needs. Connecting your breath to movement, and learning how to be in your body helps create harmony within. Hot yoga has extra benefits in the cooler seasons and can help you sweat and detox the body, while teaching you to move with more ease, grace, and flow. You can hire a yoga teacher and try different forms of yoga to help you relax and help your body stay well.
6) Indulge in Warm Food – Ayurveda, yoga's sister science, teaches us to balance our lifestyle with the seasons to promote optimal health. Because the temperatures are colder in the winter, the body is often more cool. Eating some heavier grounding foods can help warm the body and improve digestion. Try adding warming spices, like cinnamon, to foods, and be mindful of eating raw, uncooked, and cold foods. Watch what happens when you change your diet, and begin eating with the seasons!
7) Try a Float Tank– Float tanks are the new rage in the wellness scene! Take a long 90 minute float and relax in magnesium salt water. Float tanks are designed to help us relax and allow us to go into deep dream states. There are countless health benefits to float tanks, and there are scientific facts that proves it does help muscles relax, reduce pain in the body, and decreases stress and anxiety. Take a time out for you, and get into a float tank during the busy holiday seasons.
8) Unplug from Social Media– We all spend too much time looking outside ourselves. Social media adds extra stress and depression to our lives because we often get stuck comparing ourselves to others, and looking at what others have, and we don't. Lessen your holiday load by staying focused on you, and the positive things you have in your own life. Make the holidays merrier by tuning out of social media, deactivating your social accounts, and limit the time you spend looking down… instead, look up!
9) Practice Gratitude and Letting Go – Every year we all learn different lessons. The end of the year is a great time to reevaluate what you learned, what you went through, and consider what patterns you can break and how you can move on. Let your attitude of gratitude help keep your faith and optimism high. Continuously remind yourself of the good things happening for you, and let go of whatever is keeping you from living well and being the best version of you! Appreciate where you are, and even if it's not where you thought you'd be, or where you want to be, trust yourself to evolve in bigger ways for your future.
10) Listen to Music– Music is powerful and can do wonders for your mental and emotional health. Perhaps Christmas carols or Mariah Carey holiday tunes can help you get into a good mood. Discover what songs boost your mood, and get you into the holiday spirit! Create a happy playlist that has your favorite songs and can get you into a merry and joyous mood. If you start to feel down, alone, or lonely, play music, dance, and sing, and help yourself shift your state.
11) Give Yourself Lots of Self Love– Self love is overly stated, however, self love is powerful and it works to help us all feel good. Too often we are designed to seek love outside of ourselves, and we innately attach ourselves to people and relationships because we don't want to be alone. However, it is through our emotions, and learning to create more love inside and empowerment, that we really start to embody real love and can then, form non codependent relationships. During the holidays, detach from the drama, family chaos, and make peace with sadness, and whatever you're going through. Choose to develop love from within, and utilize mindfulness to nurture yourself and remind yourself, that there is always so much love inside yourself. Choose positive affirmations, see the good in who you are, and who you've grown to be, and continue to compliment and love yourself up, no matter what the holiday season brings!
Choose to release expectations this holiday season, and show up with excitement and fill your heart with joy! Do what you need, to cultivate a positive state, feel good in who you are, and close out the end of the year by positively making new choices and helping yourself move into the new year with peace, ease, and so much love. Break the bad habits, create better patterns, and upgrade your behaviors by integrating the lessons you learned. Choose to say Yes to you this holiday season, and bring in the new year with a positive mind, fresh new outlook on life, and driven perspective that can propel you into a fabulous new year!
Kali Bliss
Kali Bliss is a Yoga diva and teacher, photographer, and creative artist who has a passion for helping people live happy and healthy. Kali teaches a unique Yoga style designed to help you feel good in your mind, body, and heart. She is certified in Vinyasa and Kundalini Yoga and specializes in teaching balance through Astrology, Ayurveda, and mindful living. With a passion for the arts, and inspiring wellness, Kali aims to share Yoga to help future generations, and the world live well. She loves guiding people in connecting to their soulful joyful true nature, and does creative career consulting. As a free spirit, Kali loves music, singing, movies, playing in the ocean, and delving into anything creative. Kali resides in San Diego and does photography, writes, and travels every chance she gets. She is a revolutionary, spreading her sparkle and joy to others in hopes of creating a more magical and better world. www.kali-bliss.com, Instagram: KaliBlissYogaDiva
Related Articles
Read more from INSPIRATION