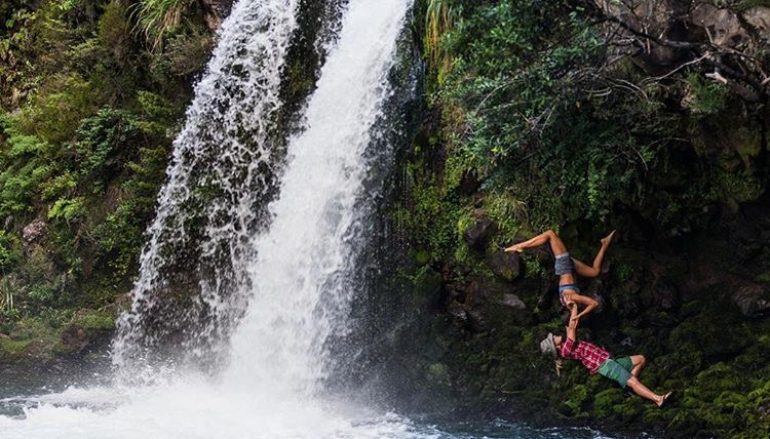 The Yoga Digest Top 5 Adventure Yogis
For some, adventure means jumping out of planes, back-packing in Europe and risking life for the sheer rush of it all.  For others, adventure means creating a life for themselves by fulfilling their dreams and passions.  Adventure  doesn't always mean "a daring, hazardous undertaking" like the Webster's Dictionary says, adventure can take form in many ways.  Here are just a few examples of yogis who are adding adventure to their practice in unique and inspiring ways!
1.  Yoga Slackers – This eclectic group united by yoga, slacklining, acrobatics and adventure is trailblazing the adrenaline seeking path!  "Adventure is a way of life for us," says slackers Jason and Chelsey.  This adventure team consists of dozens of thrill seekers who travel the world, engaging in extreme activities that test strength, agility and fearlessness on the regular.  If you are looking for adventure, pretty much anywhere these guys and gals are will not disappoint!
2. Caitlin Turner – Livin' la vida yoga! We don't know much about Caitlin Turner, aka, @Gypsetgoddess, but what we do know looks fabulous! From LA to NYC, numerous hidden SoCal beaches, Hawaii, Costa Rica and Aruba, she is truly a jet setter! She has an Acro Yoga army, practices Sup Yoga in the most pristine waters and demonstrates her amazing strength and flexibility in the most beautiful, secluded islands and among the tallest snow capped mountains – and this is all just within the last 2 months! With instagram posts asking "If you could go anywhere in the world, where would you go?" I'm pretty sure in my next life I want to come back as @gypsetgoddess! Adventure is life for this yogi!
3. Robert Sturman – Known for capturing beauty of all kinds, photographer and yogi, Robert Sturman goes way beyond the average yoga photo shoot. Depth and profound, his work includes children practicing yoga in a Kenyan orphanage, bare chested cancer survivors using yoga to heal and prisoners in San Quentin who don't have much to look forward to except their yoga class. In addition to breath taking remote beach and desert backdrops for his yoga shoots, Sturman has also trekked to the city streets of NYC, Cuba and Jerusalem. From police officers and amputees to cover models and pregnant models, Sturman ventures near and far to share his passion. His extraordinary expression of yoga makes him one of the most celebrated and adventurous yogis of our time!

4. Amy Ippolitti – Champion of all forms of eco-consciousness, animal conservation and more recent forays into marine conservation, Amy Ippoliti is all about turning up your volume. She empowers yoga teachers by providing business skills workshops globally. It's hard to ignore the impact of a yogi who hangs out with whale sharks and oversized manta rays in her spare time. The awareness raised with the incredible photos captured by Taro Smith are a viral sensation inspiring people all over to wake up to the hazards our sea life is facing. Ippoliti is an enthusiastic advocate of our time, doing whatever it takes, including yoga in the depths of the ocean to make sure her efforts are head! Go girl!
5. Kim Bauman – Some people wish to be the change in the world and some are the change in the world. Yoga Teacher, Senior Contributor for Yoga Digest and founder of the One Love Movement, Kim Bauman, is not afraid to take her yoga off the mat and into the world! Sharing inspiration, her time and fundraising to provide a better life for orphans in India, Bauman has amazing drive and courage. Not too many people would travel, alone, to live for weeks at a time in an orphanage to help create a better life for some so far away. This adventurous spirit is rare and that is why Bauman makes the most adventurous yogi list in our book! Keep on shining! Be the Change!
Tags
acroyoga
,
adventure
,
Amy Ippoliti
,
Gypsetgoddess
,
marine conservation
,
One Love Movement
,
philanthropy
,
Robert Sturman
,
sup yoga
,
Taro Smith
,
Yogaslackers
Jenn Bodnar
Jenn Bodnar is the owner of  Yoga Digest and has a genuine belief that yoga can benefit everyone. She is 500ERYT having attended multiple teacher trainings, facilitating yoga teacher trainings and studying and practicing yoga since 1999. Jenn is an avid fitness professional, who has taught and managed group fitness for many years. As a former competitive triathlete, gymnast and dancer Jenn loves the balance of strength, flexibility, perseverance and freedom that yoga provides. She is mom to three awesome young men and loves being active and outdoors with her family and friends. Jenn oversees LifePower Yoga studio in North Dallas, is a self proclaimed health food chef and hopes to leave a positive footprint by inspiring others to choose happiness. "Watching people grow through yoga is one of the most amazing miracles to witness."
Related Articles
Read more from INSPIRATION