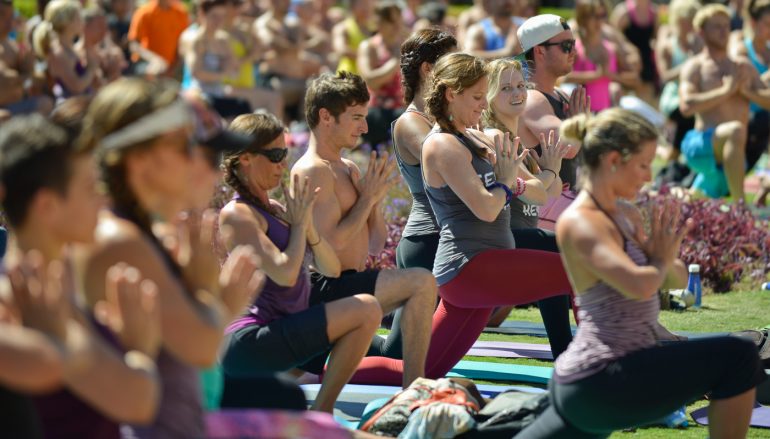 Yoga Digest Partners With The One Love Movement
Be a part of Something that Matters on August 8th, 2015. 

Yoga Digest is thrilled to be sponsoring our first event with the One Love Movement.  We invite you to be a part of something big, something great, and something that is sure to create change in the world far beyond what your mind can fathom. The amazing thing about giving back is that what you give continues to ripple with no logical end.
Four years ago, back in 2011, we would have never imagined that The One Love Movement would be where it is today. The dream is to one day have yoga events as big as Times Square that would give back in a ridiculous way to support kids. Our events have brought in 500 yogis to practice yoga in one space, and we have raised almost $75k that has been donated to support under-served women and kids.
Please join us for our 4th annual charity yoga event to benefit under-served women and kids locally & globally: Saturday, August 8th, 2015 in San Diego, California. Tickets start at $40 and will be on sale soon at: www.jointheonelovemovement.org
One Love, One Community
Imagine this… a huge grassy park space, backed up to the beautiful Pacific Ocean with sailboats hugging the harbor. You + hundreds of yogis roll your mat out in the sunshine to serve your heart, and to unite as One. The event is ONE big yoga class co-taught by selected teachers. It's truly a beautiful experience to bring hundreds of like-minded hearts together to practice yoga in one space. Drum roll please! Introducing our incredibly talented line-up of 2015 One Love yoga teachers.
TAYLOR HARKNESS
Taylor is a yoga teacher bent on moving people both on and off the mat with skillful action, an open heart, and gratitude. His motto is "Shine On", a reminder to be your best self through honesty, vibrance, and compassion while encouraging others to do the same. An avid rock climber, yogi, rookie sky diver, hungry learner, and paramedic- he applies the experiences of all factions of life to his teachings and to instructing mindful, accessible asana and philosophy. Learn more at taylorharkness.com. Practice online at yogaglo.com.
MACKENZIE MILLER
MacKenzie is a certified personal trainer and yoga instructor.  Her teaching combines thorough understanding of alignment and anatomy with the joy of balance and movement.  She engages deeply with her students and her classes are thoughtfully sequenced, creating a safe space to have fun and explore, work hard yet find softness. If there's one thing you'll take away from her classes it's a big smile, endless laughs and motivation to be more Authentically YOU!
For additional information mackenzieyoga.com and practice online at codyapp.com/mackenzie.
JAYSEA DEVOE

Youngest Certified Female Yoga Instructor in the U.S., Youngest Certified SUP yoga instructor in the world, a Glide Sup team member.
Mission: To live each moment with a smile and enjoy the present. "I am inspired by love, the present moment, kindness, the ocean, & selfless giving. I serve by teaching yoga, helping others, spreading love and kindness."
KIM BAUMAN

Founder, The One Love Movement
Mission: To celebrate under-served youth by being a creator of community & and an activist for service. "I am inspired by what we don't know we don't know in life. I serve by being a leader and visionary in community."
Our Mission
To inspire One Love across the globe and create One Community that gives back through action. We believe yoga will change the world. Our practice on & off of the mat brings us present to what matters most so that the moment we step off our mat, we are able to give more to the world. Change yourself, change the world.
You are invited!
Come to our event! Let's come together as One Community to give back. Spread the word, tell your friends!
Kim Bauman
Kim Bauman is the Founder of One Love Movement, a yoga teacher, and the creator and facilitator of One Love Heroes talk show and podcast. One Love Movement is a nonprofit that brings people together to take action and build support for projects advancing social justice, particularly to under-represented kids. To learn more, please go to: www.onelovemovement.org
Related Articles
Read more from COMMUNITY