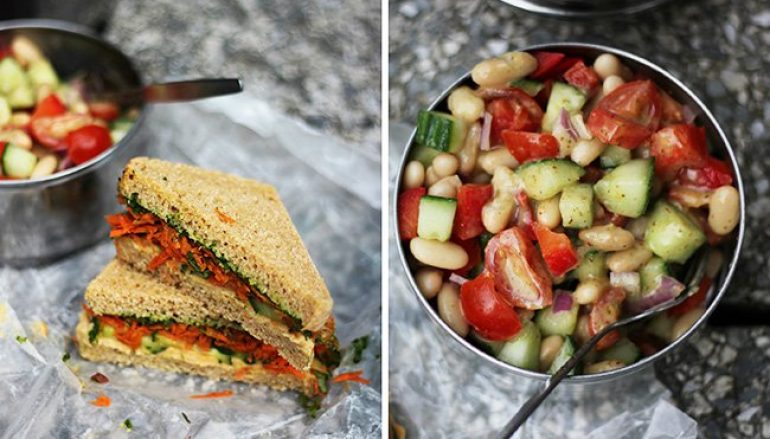 Try this Greek Style Picnic for Meatless Monday, Includes Dessert
This Greek Style Picnic feast packs big fat greek flavor and not a lot of calories!  Make Monday night meatless with this festive and fun dinner that's light and filling!  Includes dessert!
Mediterranean Sandwich
Recipe: Serves 2
Ingredients
4 Slices Wholegrain Sourdough bread (I used Kamut)
4 Tbsp Basic Hummus (Recipe Below)
4 tsp Parsley Pesto (Recipe Below)
2 tsp Mustard
1 Batch Carrot Salad (Recipe Below)
Slices of Cucumber
Pepper to Taste
Procedure

Spread two of the slices of bread with mustard and hummus.
Spread the other two with the pesto.
Arrange the carrot salad and cucumber on the hummus half and season with pepper if desired.
Top with the pesto bread.
---
Basic Hummus
Ingredients
2 Cups Cooked Chickpeas
2 Tbsp. Olive Oil
3 Tbsp. Water
1 Tbsp Tahini
Juice and Zest 1 Lemon
1/2 tsp Black Pepper
1/2 tsp Sea Salt
Procedure
Combine all ingredients (except water) in a food processor and puree until smooth.
Slowly add water until desired consistency is needed. Taste and adjust seasoning as needed.
---
Parsley Pesto
Ingredients
1 Bunch Parsley
2 Cloves Garlic
4 Tbsp. Olive Oil
Juice of 1 Lemon
Pepper to Taste
1/2 tsp Sea Salt
Procedure
Puree all the ingredients in a food processor until fairly smooth. Taste and adjust for seasoning.
---
Carrot Salad
Ingredients
2 Carrots, grated
3 Kalamata Olives, chopped
1 Tbsp. Cilantro, chopped
1/4 tsp Ground Cumin
Pinch Sea Salt
Procedure
Toss all ingredients in a bowl and taste for seasoning, adjust if needed.
---
Greek Navy Bean Salad
Recipe: Serves 4
Ingredients
1/2 English Cucumber, cut into bite sized chunks
1/2 Red Onion, cut similar size
1 Red Pepper, chopped
1/4 Cup Kalamata Olives, pitted  (optional)
8 Cherry Tomatoes, chopped
2 Cups Cooked Navy Beans (or one can Navy Beans)
Optional add ins: Feta, goat cheese, or hard boiled eggs
Dressing
1 Tbsp Mustard
3 Tbsp Apple Cider Vinegar (or use half Vinegar, half Lemon Juice)
1 Clove Garlic, Grated
1/2 Cup Olive Oil
1 Tbsp Honey, or Liquid Sweetener or Choice
Pinch Dried Dill
1/2 tsp Dried Basil
1 tsp Dried Oregano
Sea Salt and Pepper to taste
Procedure
1) Chop all veggies into similar bite sized pieces, toss to combine.
2) To make the dressing, combine the mustard, vinegar, garlic, honey, and herbs in a blender. Slowly add the oil while the machine runs, ensuring the mixture emulsifies. Alternatively, you can add to slowly while whisking. Taste and adjust seasoning as necessary. The dressing will be quite thick, but this is normal. It will thin a lot when added to the watery veggies.
3) Dress salad just before serving.
---
Baklava Bites
Ingredients
1/2 Cup Walnuts
1 Cup Pistachios, divided
1/2 Cup Dried Apricots (soaked for 6-8 hours)
1 1/4 tsp Cinnamon
1 tsp Lemon Zest
Pinch Sea Salt
Procedure
1. After the apricots have soaked for 6-8 hours, drain then puree them in a food processor until they resemble a chunky jam.
2. Add the walnuts, 1/2 cup of the pistachios, cinnamon, lemon, and sea salt and pulse until the mixture holds together and the nuts are chopped, but still have some texture.
3. Roll the mixture into bite sized balls, then toss in the remaining 1/2 pistachios which have been chopped. Store in the refrigerator.
Tags
cleanse
,
easy vegetarian recipes
,
food
,
greek food
,
health
,
healthy
,
meatless Monday
,
mediterranean diet
,
organic
,
raw food
,
recipes
,
vegetarian
Sophie Mackenzie
Sophie MacKenize is the founder of 'Whole Hearted Eats', a raw food blog. She is whole food enthusiast blogger who calls the rainforests of Vancouver Island home. She has a passion for making raw, vegan, and unprocessed recipes that one can feel good about eating.
Related Articles
Read more from RECIPES