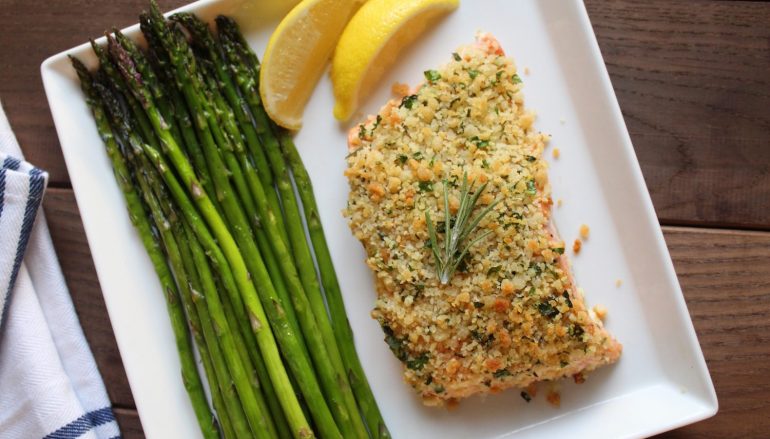 Recipes for the Heart from @The_Organic_Heart
Collard Wrapped Rainbow Spring Rolls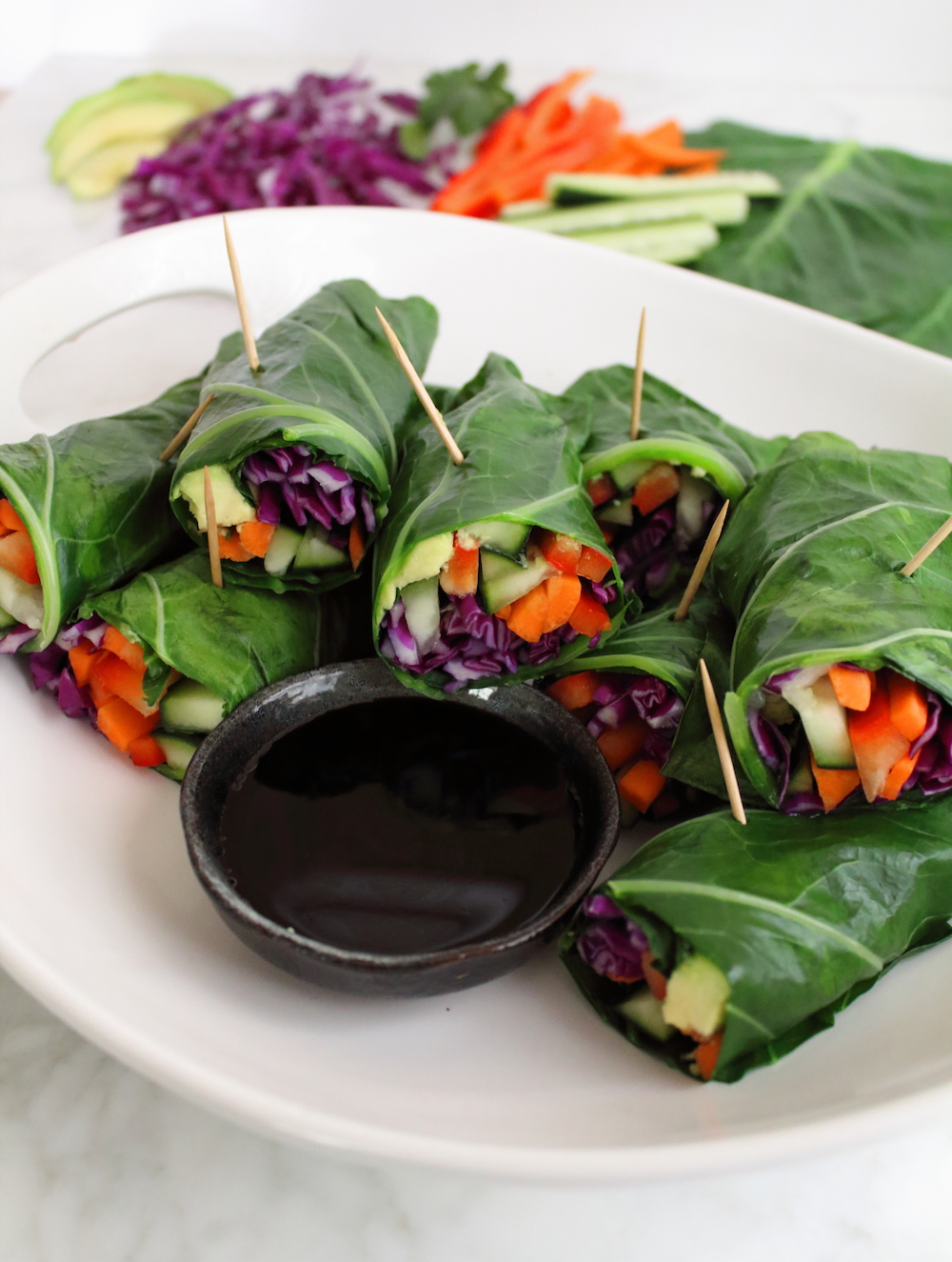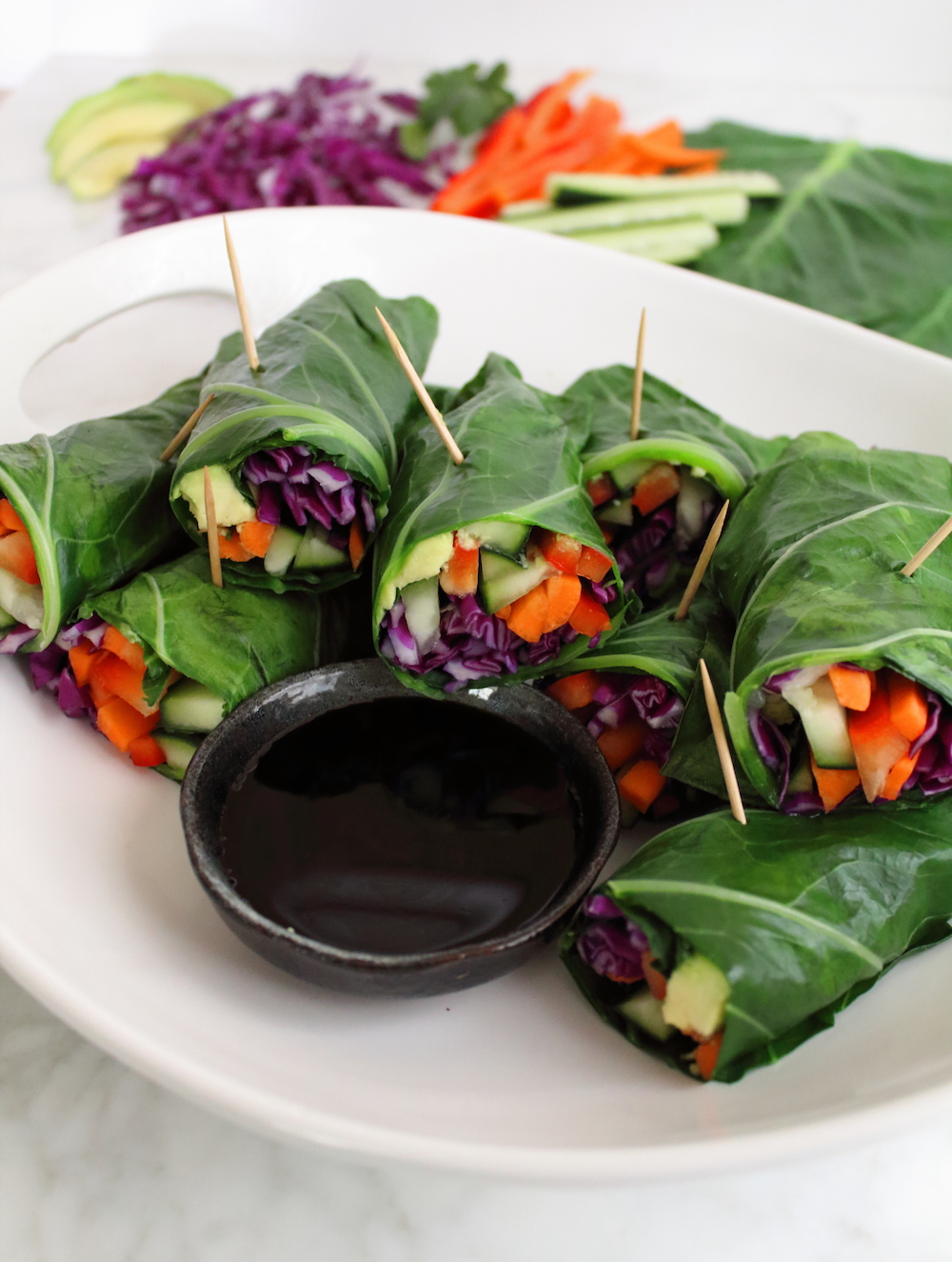 2-3 Servings
5 medium-large sized collard green leaves
1 small red bell pepper, julienned
½ cucumber, julienned
¼ small head purple cabbage, shredded
2 whole carrots, julienned
1 avocado, sliced thin
Cilantro, as desired
Serve with coconut aminos and sriracha sauce
Directions:
In a large frying pan fill it up ¾ of the way with water. Bring the water to a boil. On a cutting board take each collard green leaf and using a sharp knife shave the
thick stalk down until it is the same thickness as the leaf. This will allow the leaf to become more flexible for wrapping.
Using a pair of tongs place each collard leaf (one at a time) into the boiling water for about 30 seconds. Remove the collard leaf and lightly pat the excess water off with a paper towel.
Cut all your vegetables then create an assembly line for rolling. On each collard green leaf starting at the edge, place the purple cabbage, a few slices of avocado, cucumber, carrots, bell pepper and cilantro. Roll the spring roll as tightly as possible. Cut each roll in half then place a toothpick through each half to secure it.
Serve the rainbow spring rolls with plenty of coconut aminos and sriracha sauce for dipping.
---
Healing Vegetable Soup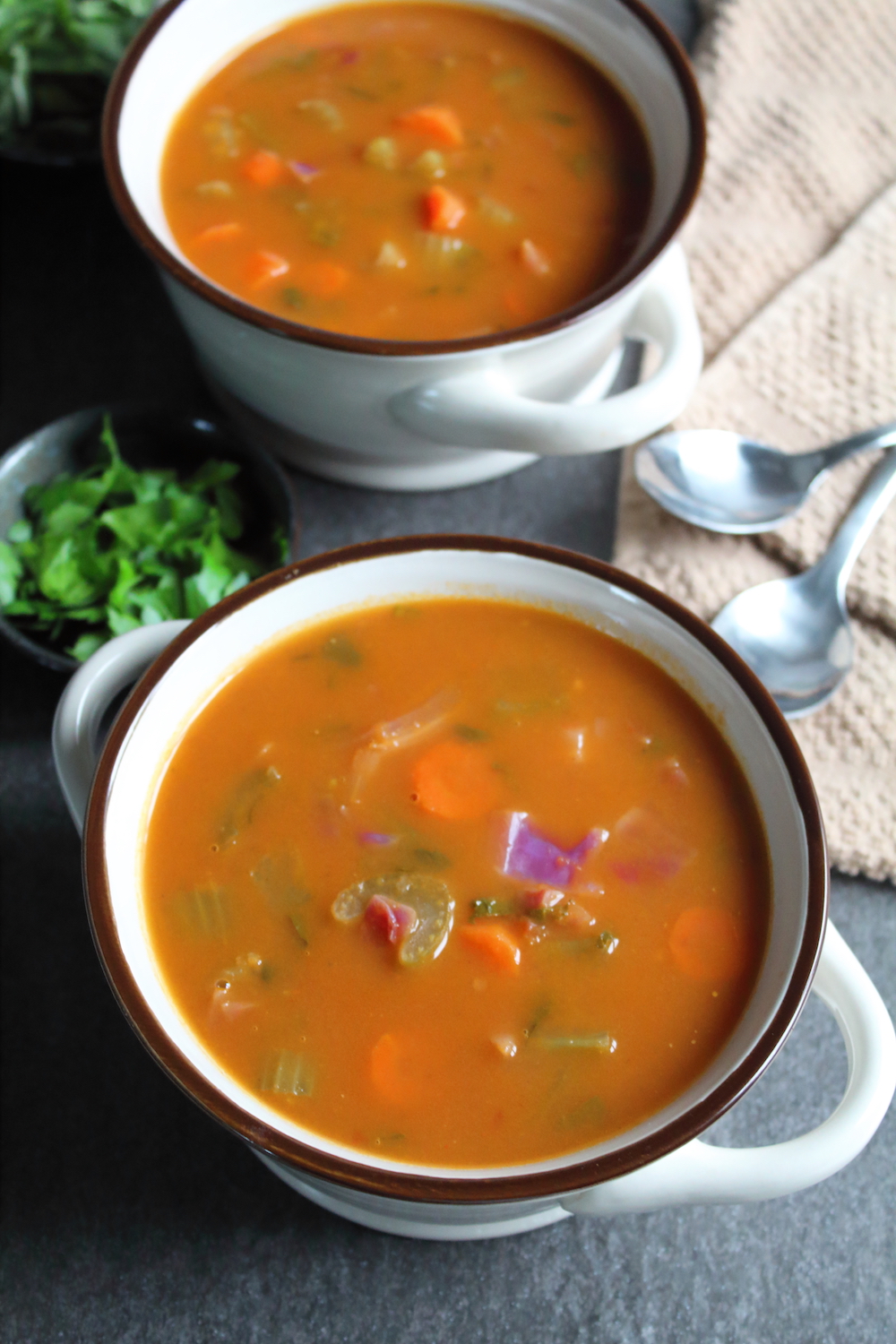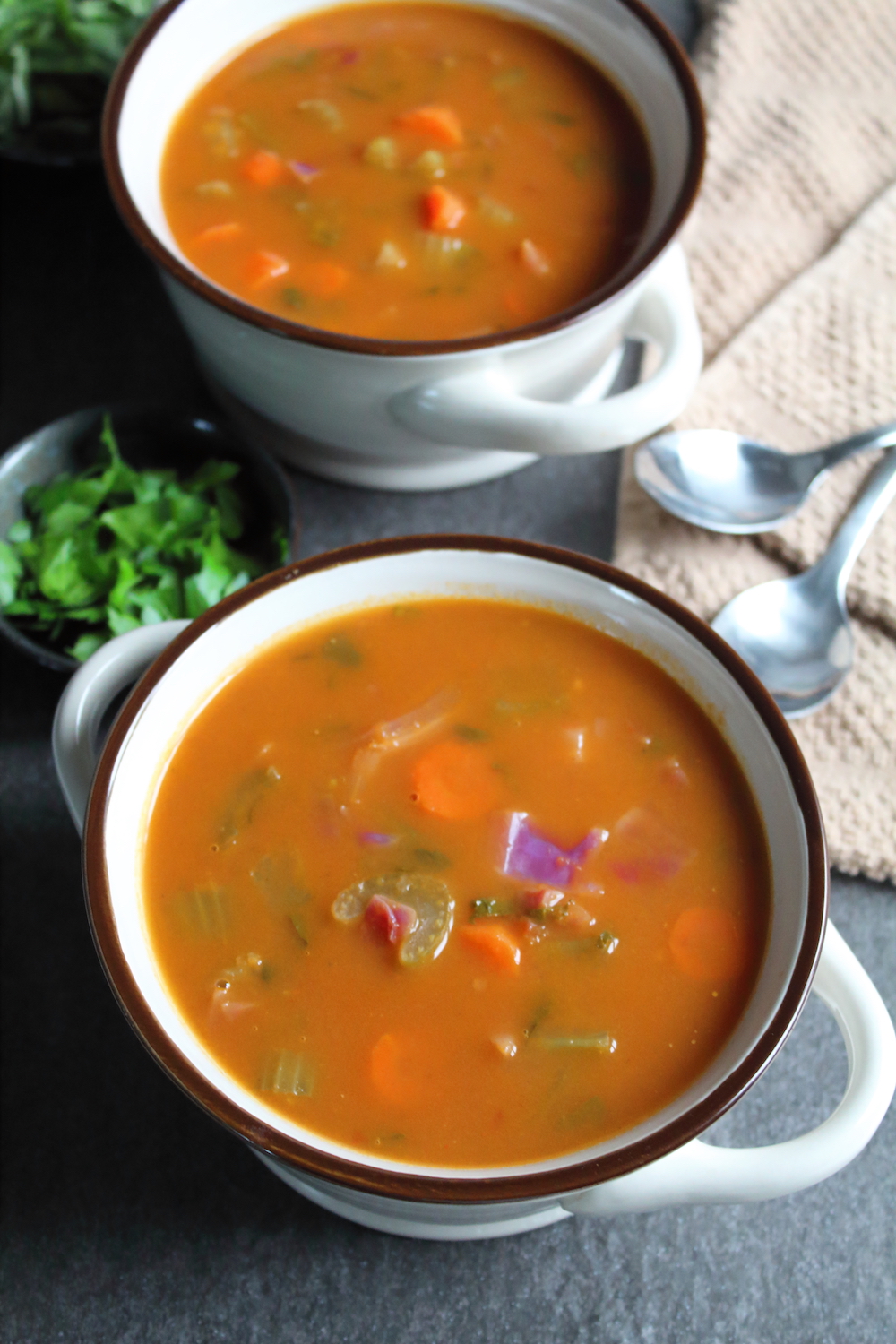 Makes about 15 cups
2 cups yellow onions, roughly chopped
5 garlic cloves, minced
2 tablespoons extra-virgin olive oil
14.5 ounce can diced tomatoes
8 cups low-sodium vegetable broth
3 celery stalks, chopped
1 green bell pepper, chopped
3 large carrots, chopped
2 cups cabbage, shredded
1/3 cup fresh basil, roughly chopped
¼ cup Italian parsley, roughly chopped
1 teaspoon paprika
2 teaspoons salt
Pinch of cayenne pepper
Directions:
In a Dutch oven, sauté the onions in olive oil a minute or so until softened then add in the garlic. Continue to sauté a few more minutes or until the onions are browned and translucent. Add the onions and garlic to a blender along with the canned diced tomatoes. Blend on high until everything is pureed. On low heat add the tomato sauce back to the Dutch oven then add in the vegetable broth. Now add in the celery, bell pepper, carrots, cabbage, basil parsley and seasonings and bring the soup to a boil.
Cover the pot, reduce the heat to low and allow the soup to simmer at least one hour and up to four hours for a richer tasting broth. You can store the soup in air-tight containers in the refrigerator for up to one week or freeze for later use.
---
Raw Granola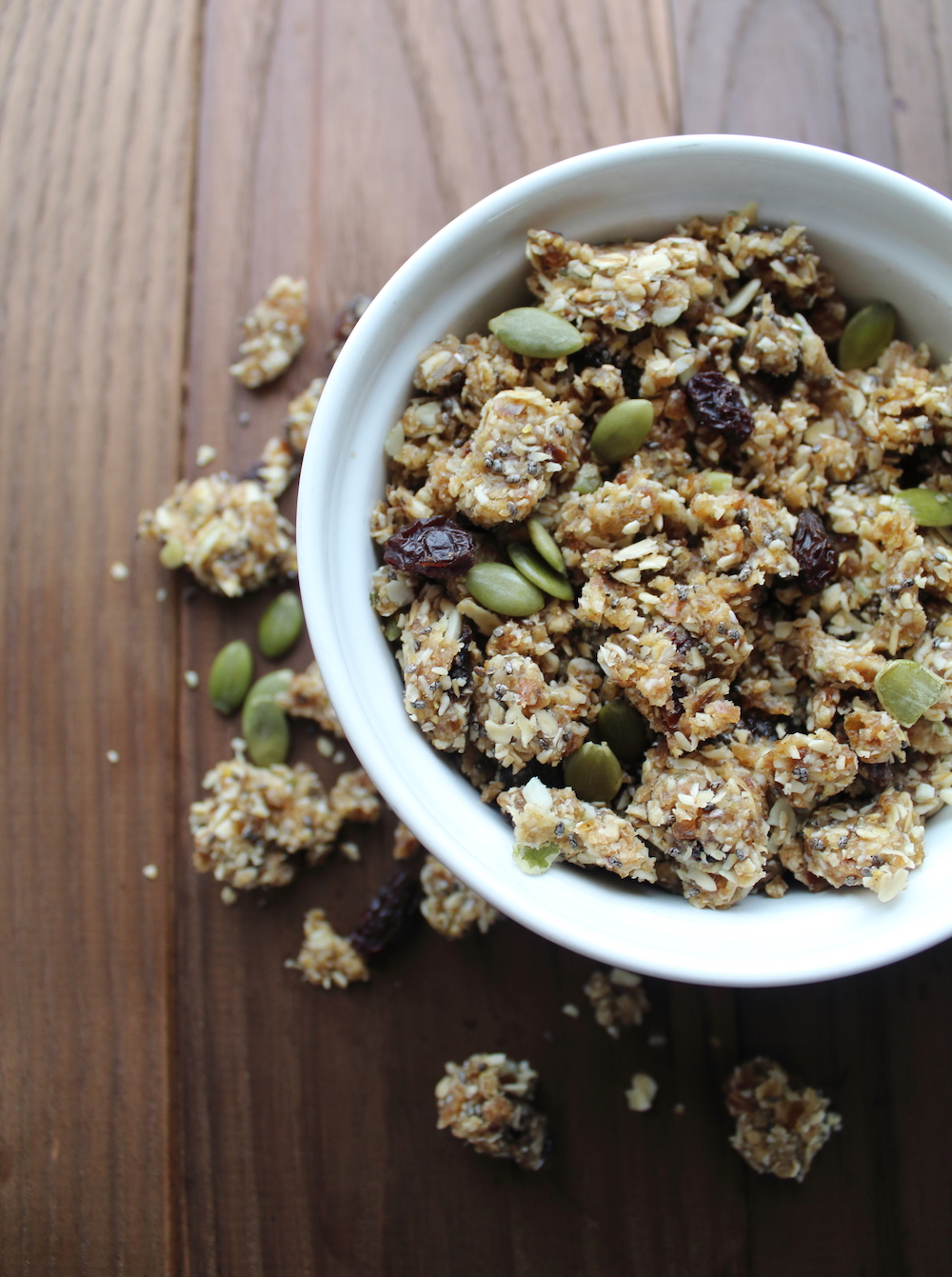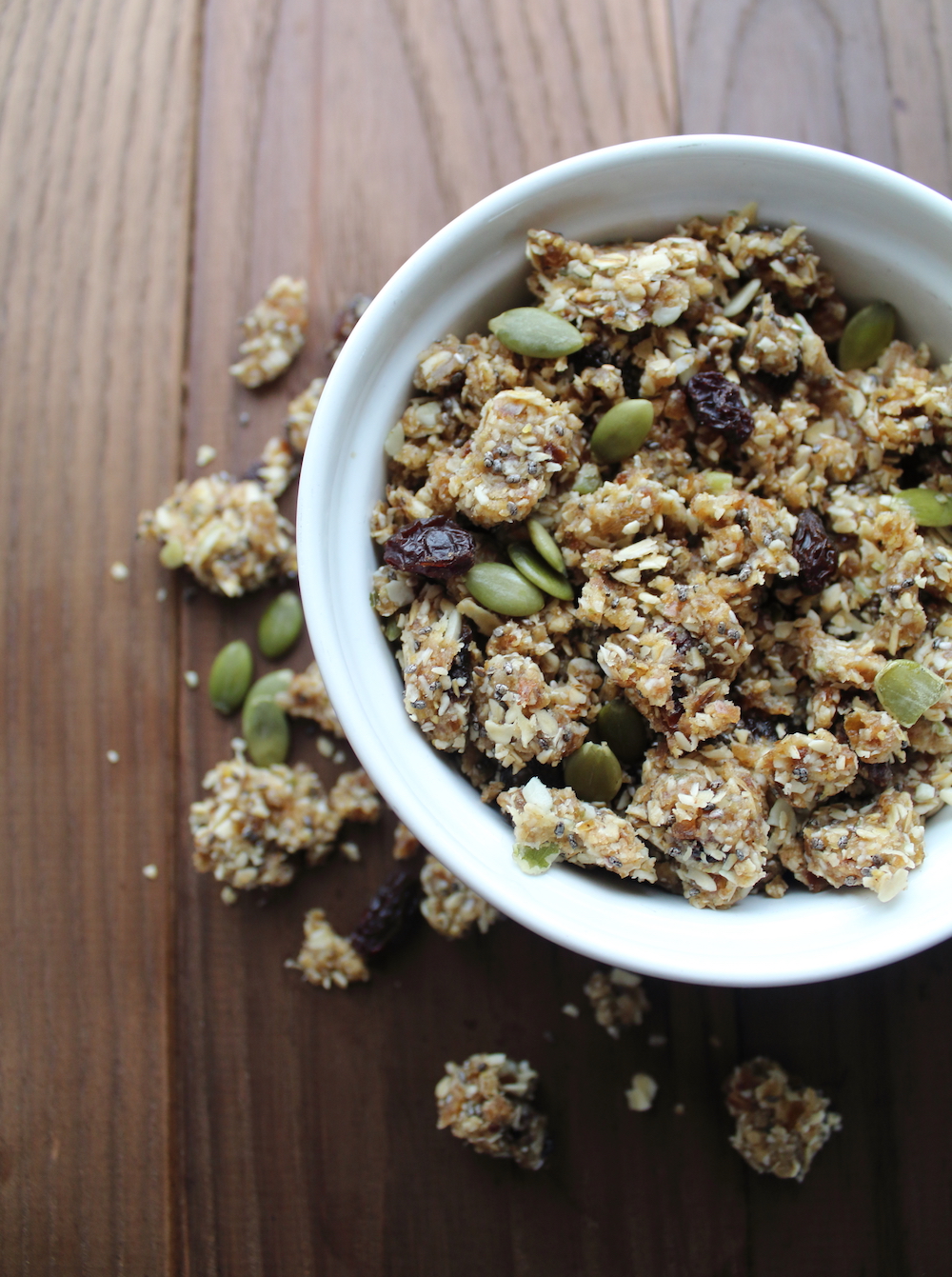 Makes about 1 ½ – 2 cups
3/4 cup gluten-free rolled oats
6-7 dates, pitted and sliced in half
1 tablespoon pumpkin seeds
1 tablespoon chia seeds
2 tablespoons raisins (no sugar added)
1 tablespoon + 1 teaspoon virgin unrefined coconut oil
¼ teaspoon cinnamon
Directions:
Place all ingredients in a food processor and blend until everything is well combined. Remove the granola mixture from the food processor and place it in a bowl. Squeeze the granola mixture together with your hand, pressing the granola so everything sticks and begins to crumble into pieces.
Transfer the granola to a mason jar and store in your refrigerator for up to two weeks.
---
Pumpkin Spiced Healing Turmeric Milk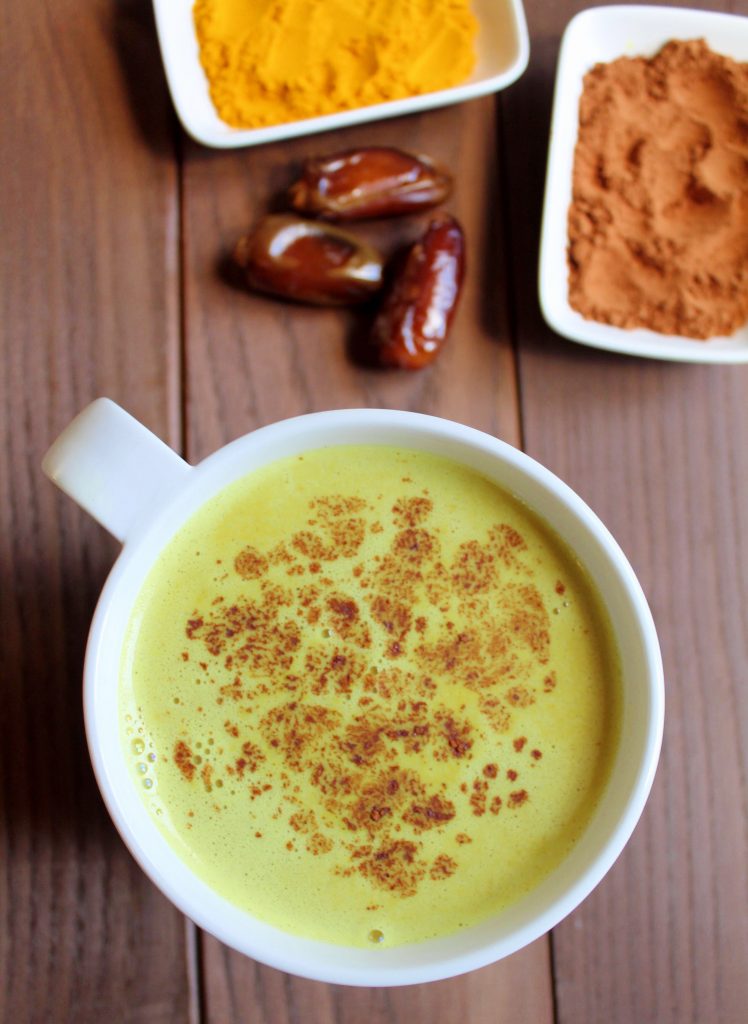 Yields 4 cups
4 cups coconut milk
2 teaspoons turmeric powder
½ teaspoon ground ginger
½ teaspoon pumpkin pie spice + plus more to top
4 pitted dates
Directions:
Place all ingredients in a blender. Blend until completely smooth and the dates are absorbed.
Add turmeric milk to a sauce pan and bring it to a boil. Reduce the heat to low, cover the pan and let it simmer for 10 minutes. You can drink it right away or store it in air-tight mason jars for later use.
Serve warm and sprinkle additional pumpkin pie spice on top before drinking.
---
Lemon-Herb Panko Crusted Salmon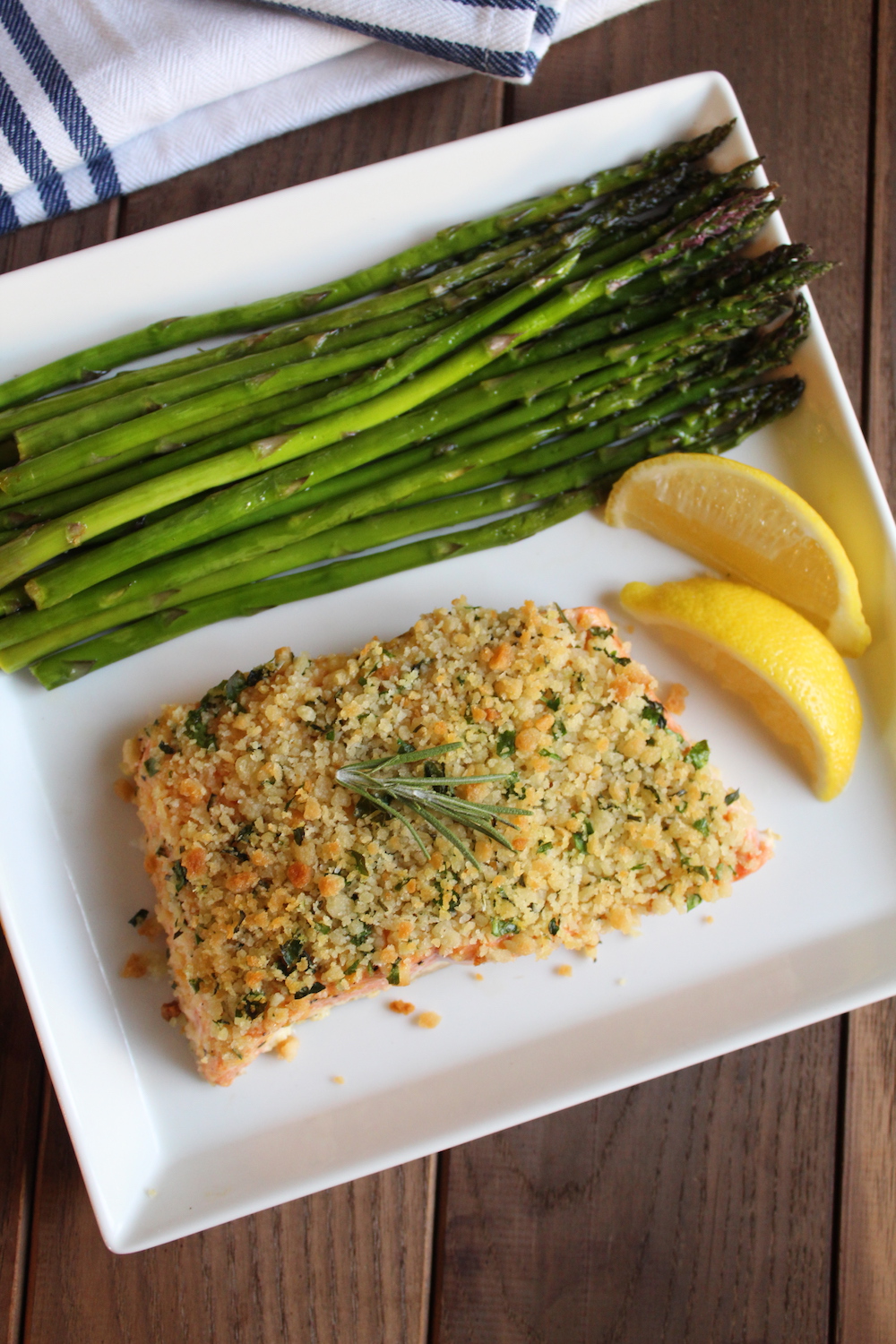 2 Servings
2 wild-caught salmon filets
1 organic egg yolk
1 teaspoon extra-virgin olive oil
1 teaspoon lemon juice
½ teaspoon lemon zest
¼ teaspoon salt
¼ teaspoon black pepper
Lemon-Herb Panko Topping:
1/3 cup gluten-free panko crumbs
1 ½ teaspoons extra-virgin olive oil
1/8 teaspoon salt
½ teaspoon rosemary, minced
1 teaspoon Italian parsley, minced
1 teaspoon basil, minced
Directions:
Preheat your oven to 425 degrees.
In a small bowl mix together the egg yolk, olive oil, lemon juice and zest, salt and pepper. In a separate bowl mix together all the panko toppings. Place the salmon fillets on a foil-lined baking sheet. Brush the top of each salmon filet with the egg yolk blend then top with the panko herb seasoning. The egg yolk allows the panko crust stick better.
Bake your salmon for 9-11 minutes depending on the thickness of the fillets. Serve with lemon wedges.
Breeana Callaham
Breeana is the author of The Organic Heart: A Gluten-Free, Dairy-Free, Clean Food Cookbook which has a release date for Summer 2017. She is the face behind the Instagram account the_organic_heart which has over 50,000 followers and she enjoys creating healthy, delicious and clean recipes which can be found on her blog at The-organic-heart.com. Her philosophy is 'using food as medicine' and it is her mission to help educate others on the powerful healing methods of food.  @the_organic_heart
Related Articles
Read more from Latest Articles