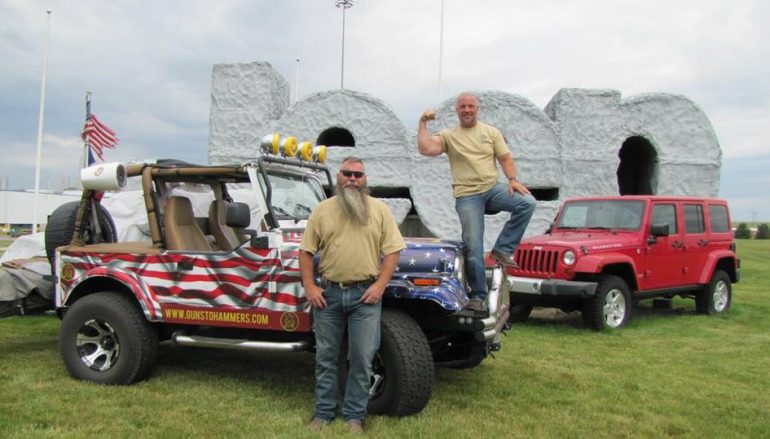 Guns to Hammers: Change Maker Spotlight
Some people wish to be the change, and some people are the change.  We believe in actions, not words and that is why we had to share this inspiring message about someone who saw a problem and is coming up with a solution.  J.R. Smith, owner of H-Towne Remodelers, created Guns To Hammers, a nonprofit company that specializes in ADA compliant projects for wounded veterans. Recently, he and long time friend and fellow marine, Kevin Jackson did a country wide tour spreading the word, raising awareness and funds to help change the lives of  veterans in need.

Watch Video Here!

YD:  How did Guns To Hammers come to life?
J.R. Smith:  After owning a construction company and working in the industry in Houston for over 20 years, we realized that we were getting more and more calls from wounded veterans and their families, needing us to provide them with estimates for handicapped accessible bathrooms, wheelchair ramps and to enlarge door openings to accommodate wheelchairs. These estimates were for the VA so that they could receive funding from them. More often than not, the funding never came through, so the Vets were left at home, putting this burden on the family members to deal with. 

J.R.S.:  I was trained in the Marine Corps to never leave a man behind no matter what. These veterans have been left behind right here at home. Knowing I have the ability to go back and help them is all the motivation I need. That's our Mission, and our motto: "Tolle Necessitatum, " Latin for "Pick up those in need".

J.R.S.:  A mission gives you drive and it is bigger than you. In business it gives you something to shoot for, to reach and push yourself towards. A mission will always help you stay focused on the reward. The reward is the unbelievable satisfaction of accomplishing said mission. 

J.R.S.: Raising money which means bringing people together who are all focused on our mission in front of us.  After running a business for many years, I had to learn how to inspire people to give us money. Selling a large home-improvement project has never been an issue for me, obviously the buyer is getting a beautiful project with a price attached to it. However, raising money for a non profit means you have to sell the need to people, as well as the urgency. You have to be able to tug on their heartstrings as theythemselves will be getting nothing materialistic out of the contribution.
YD:  Where do you see Guns To Hammers and this mission in general

in 10 years

?
J.R.S:  Guns to Hammers will be a nationwide company. Our foundation will be based out of Texas where we will continue to generate/raise money from large corporations around the country. We will handle most of Texas through our own construction programs, however, around the country, we will have an established network of GTH certified contractors who will be able to serve their local communities/veterans and who will be getting funded through our GTH foundation. They will proudly wear our GTH logo, and be able to advertise to their local community that they are a veteran friendly company.
Related Articles
Read more from INSPIRATION