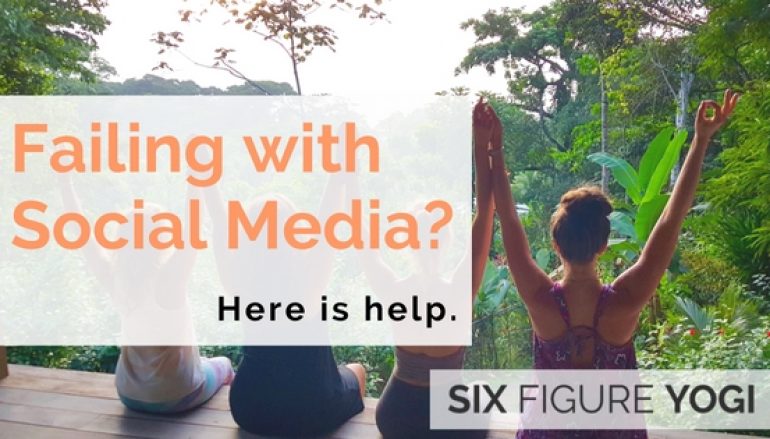 Failing with Social Media? Here is Help
Namaste Goddess Powerhouse! It's time to take your impact to the next level. I am here as your Hippie Business Strategist and New Best Friend. Social media can be confusing (even overwhelming!). These 4 Action Steps will get you moving in the right direction.
Action #1: Invest in something you own.
You may have a lot of engagement, a lot of likes, and a lot of followers on all the different platforms out there. The truth is that what these platforms provide, they own. And what they own, they control. I'm sure you have noticed changes over the last few years in platforms like Facebook and Instagram. Namely, you've got to pay to make sure that the people who Like you actually see your stuff. They can change anything they want at any time, and this could cost you BIG if you don't have access to your people in other ways.
You own your list. You own your website. You own any content you create. You have control over these things. They are what you need to ensure your success. The people ready to give you their email are the people who may actually be willing to buy your products or services. When I send an email, I am hitting each subscriber on my list, and in a much more intimate place than their news feed. I am in the INBOX baby – that's HUGE when we are talking follower to BUYER.
Action #2: The Real Purpose of Social Media Is…
To get people to YOUR website.
This is where YOU make the rules. Use your platform to bring people from Facebook / Instagram / Wherever into your territory. This is where they are seeing your informational videos, blogs, and sexy content that is getting them to know, like, and trust you. The purpose of your website is to get their email, and that's when the relationship building REALLY begins. You softly sell by offering your heart, your soul, your teachings through your content. Then, when they are ready to buy – they choose you!
Use those social media as a tool. Of course! Remember this, though – Social Media platforms are time sucks. Distraction Gurus. The worse place YOUR POTENTIAL CLIENT can be hanging out. Why? Because they get distracted SO QUICKLY. Get them to your website where it's all about you! I personally don't blast my Social Media links on my website. Why? Because Facebook is the LAST place that I want to send someone who is learning more about my services and thinking about buying.
Tip #3: Posting habits can serve you or sink you.
Determining what to post on your social media platforms should be done with a lot of awareness. Make sure you own the rights to all the images you post. Keep your ideal client in mind with EVERYTHING you share. Be careful not to share 'competitors' content, or you lose your potential students to their website.
Use it to share your videos, blogs, and valuable content primarily. NO ONE wants to be 'sold to' all the time, so make sure you are posting WAY more valuable content than sales, promotions, or money making events. Share wisely and intentionally.
Tip #4: Be mindful of branding and how you share content.
Pick a couple of colors (hexcodes) and stick with them consistently. Pick a font and use it. Be sure that your core message is present in everything you do. Speak DIRECTLY and LOUDLY to your ideal client. Don't worry about pleasing everyone.
It is super important that personalize your content wherever possible. Bring it into the soul. Fears. Desires. Real life stories and challenges. It is proven that engagements and more importantly clicks to your website go up when a post feels more personal and less salesy.
Canva (www.canva.com) is a great resource for entrepreneurs out there working to create some professional looking graphic designs for super cheap (even free!).
Tip #5 Visit SixFigureYogi.com to sign up for my free Online Marketing & Conscious Business Growth eCourse.
All FREE at the website. Learn how to rapidly grow your conscious business and learn other great tips for managing your Social Media. The Six Figure Yogi podcast has mini lessons, great while you are on the go.
This is Hippie Business Training you never had, and it is FREE. Be phenomenal. Create an engaging online presence. Learn how to sell out live events and workshops. I cover a TON in your free online marketing & conscious business growth eCourse. You can get that over on sixfigureyogi.com.
ANOTHER OPPORTUNITY TO GROW YOUR BUSINESS:

In collaboration with Yoga Digest, we have created a live event in Costa Rica. The Empowered Goddess: A Modern Business Seminar for the Awakened Woman. This is an intensive immersion with us here in the jungles of Costa Rica, March 13-18, 2017. Make more money & amplify your spiritual impact. Let's do it in sacred sisterhood.
Adi Shakti - The Six Figure Yogi
Adi Shakti manifested the Empowered Goddess Seminar to serve as the launching pad for empowering impassioned awakened women entrepreneurs to come together to collaborate, get their s*** together, and elevate collective consciousness through smart and soulful business. Adi is the host of the Six Figure Yogi, Creative Director of Passion Yoga School, Creative Mastermind of the Maha Shakti Center, author, and humanitarian. Adi is a born leader, empowered creator, and active force of nature. She enjoys a global freedom lifestyle of empowered entrepreneurship. She lives full time in Puerto Viejo, Costa Rica. Visit Adi at, www.sixfigureyogi.com, IG: @adi_shakti_rising
Related Articles
Read more from SPONSORED