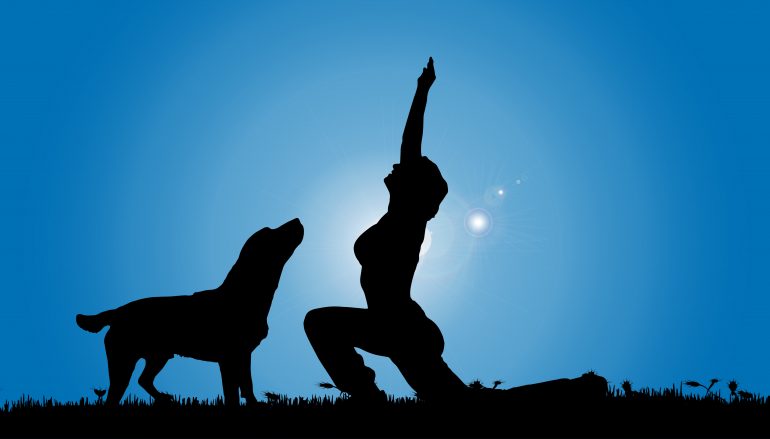 Doga – Yoga with your Dog
"Happiness is a warm puppy." ~Charles M. Schulz
Dogs are pack animals and love spending time with their owners. A Doga class is a natural match for both pets and people. Spending time on the yoga mat with our dogs helps us develop our own strengths and sensitivities. Doga is a complement to yoga's emphasis on union and connection with other beings, especially when you consider the spiritual wisdom of the dog.
Doga is simply yoga with your dog. The yoga is for the people, the dogs benefit by spending time with their owners. It creates a bonding activity with exercise for both dogs and owners. Doga is not intended to trivialize the ancient practice of yoga, but to offer a practice to those who may not have yet tried yoga or to someone who would like to share their practice with their beloved pet.
The practice of Doga is the incorporation of meditation and massage along with seated and standing postures using your dog as a partner or prop. Depending on the size, age and attitude of the dog determines what you will do in your Doga practice. All dogs are different, and like people, you have to modify the yoga to their needs and your own. Sometimes they don't want to work with you and that is ok, they can relax on the mat while you practice a few poses. Every day is different in these bodies of ours and we must honor that as we honor each other.
Benefits of Doga:
Taking care of our dogs/pets equals taking care of ourselves.
Relaxation and stress relief as well as stretching and flexibility are great benefits.
Taking time to slow down can help with many health issues.
Yoga has been shown to slow the heart rate which helps with high blood pressure.
Focusing on massage and stretching improves heart and digestion functions.
Meditation and breathing techniques for deep relaxation and deep connection.
There are some personality and demeanor issues can be corrected with focused attention to your pet.
Doga can also help with heal from injuries, aging, and help with agility.
Dogs become calm during Doga.
Time spent with their owner is precious to a dog.
When practicing Doga, think of the qualities your dog has that mirror your own. Dogs can be mirrors to our inner selves, highlighting our own strengths and challenges. Maybe living a life of unconditional love and unending devotion will be the lesson we take from Doga practice. Dogs show us how to be both gentle and fiercely protective while showing courage and surrender while on the mat or in life.
Doga Gratitude Affirmation:
Sit with your dog and think or say these words: "I feel gratitude; each day is a precious gift". Feel the meaning and truth of these words and emotions as they permeate your whole being. Think about all the experiences you've had with your dog and all the parts of his or her unique being for which you are thankful. Offer gratitude as a gentle, loving bridge of light from your own heart to the heart of your dog.
Namaste.
Rene Hawthorne
Rene' Hawthorne, 500HR RYT, (a.k.a. The Lotus Chick), is a former classical ballet dancer with The Dallas Ballet. For the past 11 years, yoga has been her focused passion. Her teaching style is a fusion of years of various dance experiences and yoga trainings. She currently teaches at her home studio, The Sweet Spot and at The Mat Yoga Studio in Dallas, Texas. Offering a variety of weekly classes ranging from vinyasa flow yoga, kids yoga, private yoga lessons, corporate yoga and Doga (yoga with your dog), you will find something for every member of the family. Check out her website to find a class for you at www.thelotuschick.com.
Related Articles
Read more from COMMUNITY