12 Must Sees of the Midwest- A Yoga Getaway!
by Pat Fabulous | August 17, 2017 8:01 pm
Your adventure awaits in Bloomington, Indiana!  Discover this Delightful Midwestern gem. Just 30 minutes south of Indianapolis lies a beautiful city with a small town feel. It is layered with historic notes, limestone buildings, and amazing flowers everywhere! Bloomington is truly the "Haven of Blooms."  The landscape is lush and green and full of open spaces and towering, beautiful trees. Bloomington offers calm winds and mild temperatures in the spring and spectacular weather with four distinct seasons. Bloomington is truly quaint, cool and rich in history. There a over 300 restaurants, more than half of which are locally owned.  The food is eclectic, trendy, fresh and unique. And yes, there is a thriving Yoga community!
Looking for an amazing midwest getaway?  Get a taste of the delightful city by visiting these 12 great spots!
1. The Grant Street Inn[1]
The boutique inn of 40 unique, luxury rooms and is centrally located to the Indiana University campus. Get a feel for the distinct historic neighborhood by staying in the heart of downtown. The Grant Street Inn is within walking distance to all the great restaurants, shopping and several yoga studios.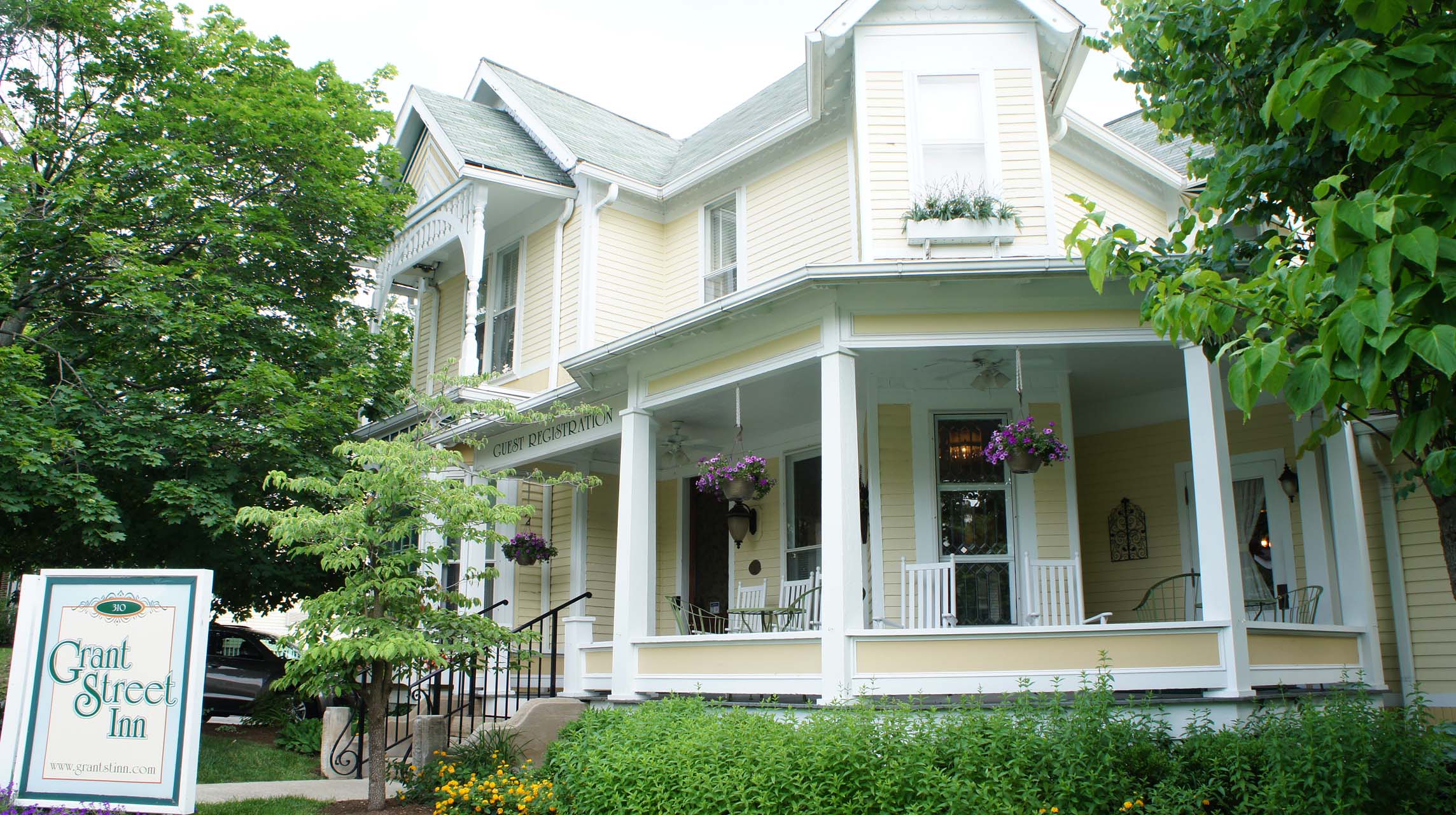 [2]
2. Cardinal Spirits[3]
Cardinal Spirits is a craft distillery and cocktail bar in Bloomington, Ind. They distill premium spirits using the highest quality ingredients, and they source local ingredients whenever possible. All parts of the distilling process — from fermentation to mashing to aging to bottling happen on-site. In the tasting room and bar, you can sample a flight of spirits, order cocktails made with their spirits and buy bottles of our spirits to take home.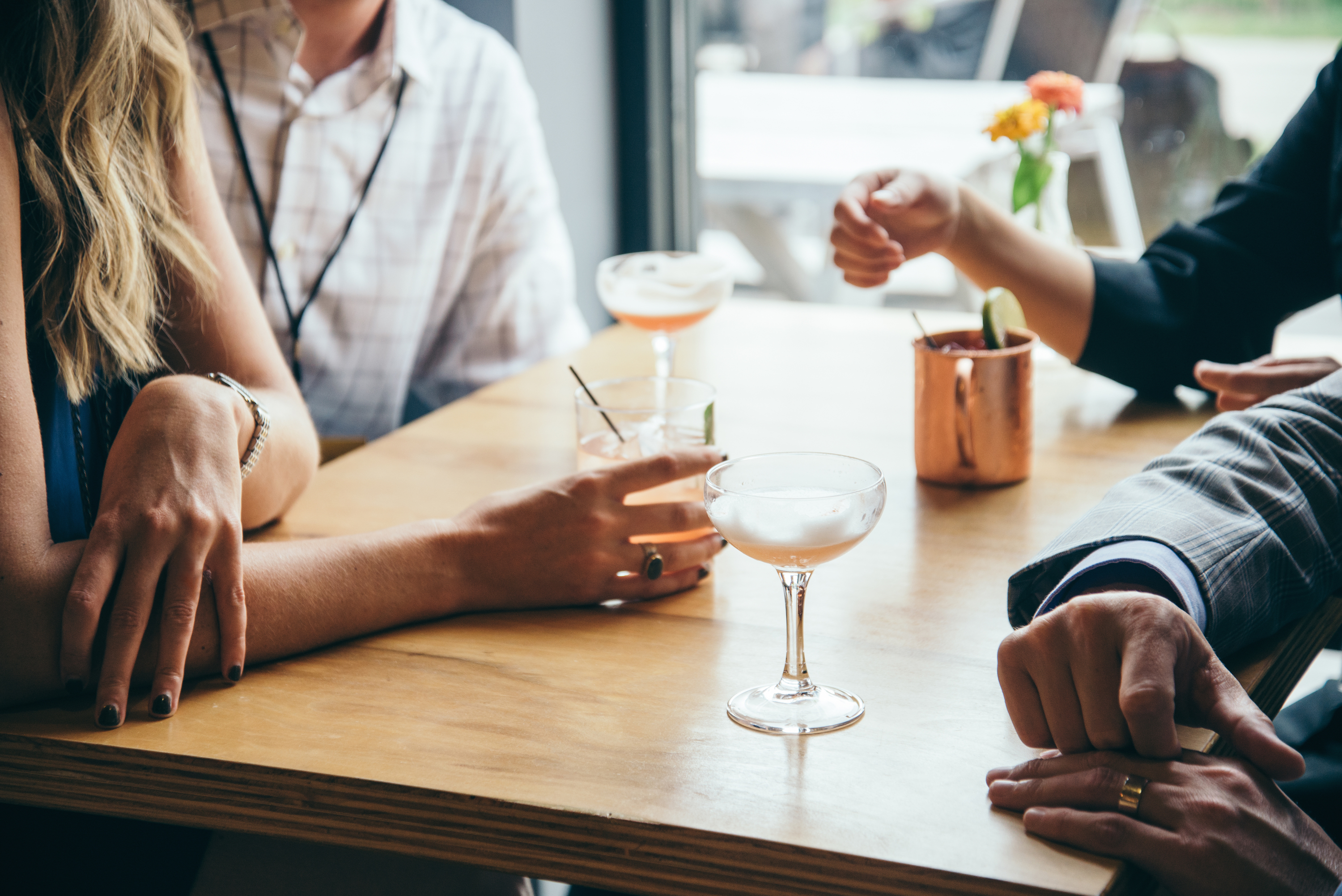 [4]
3. Visit the Sample Gates and Bike around[5] the University of Indiana
The Sample Gates, located between Franklin Hall and Bryan Hall, serve as a welcoming entryway for students into Indiana's beautiful 1,860-acre campus.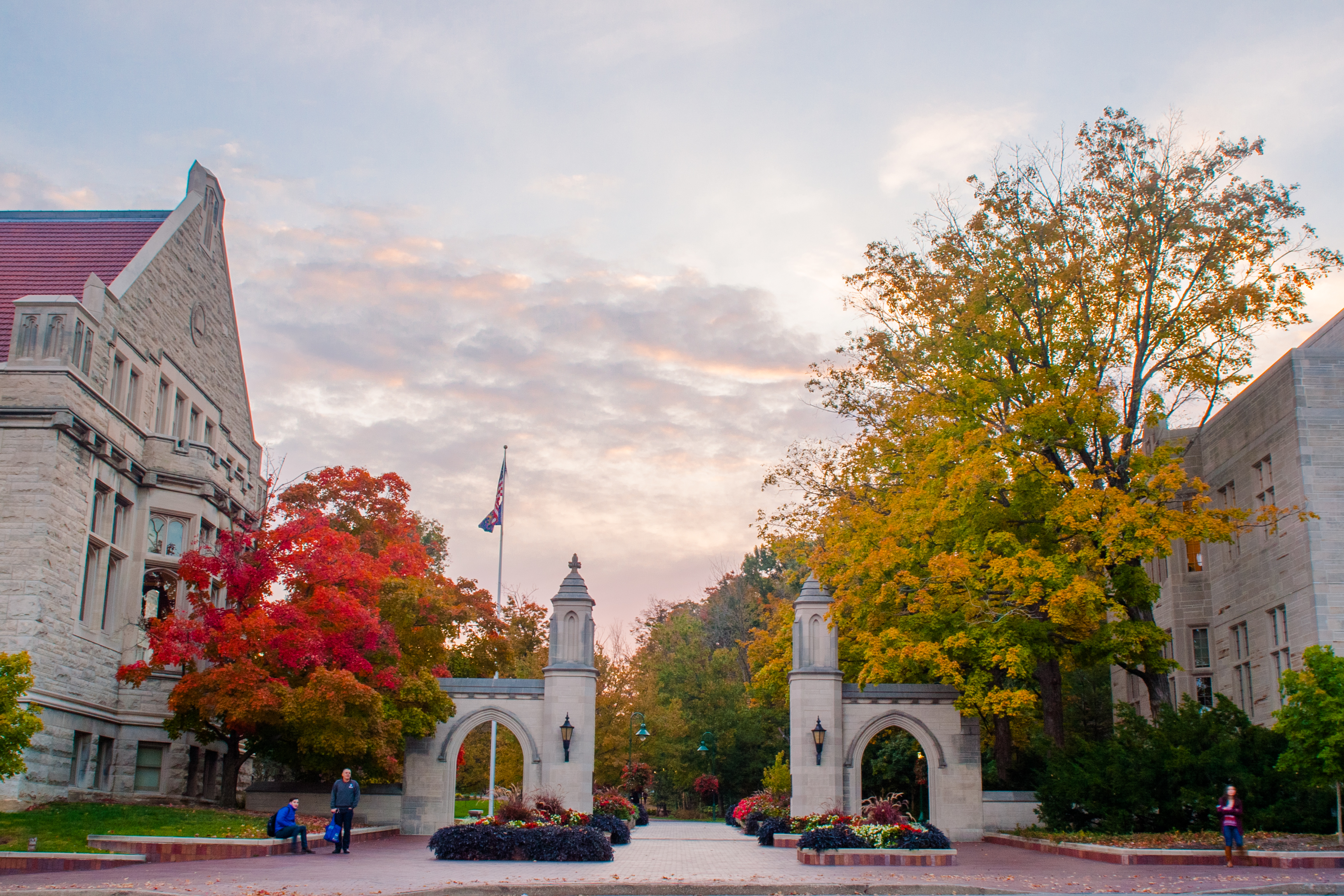 [6]
4. Tibetan Mongolian Buddhist Cultural Center[7]
Several monuments, a temple, a prayer-wheel pavilion, a pond with lotus flowers and cottage rentals make up this spiritual sanctuary. Set back on heavily wooded 108 acres,  just 10 acres of which are developed, the center hosts individual visitors looking for meditation as well as large events, including a handful of visits from the Dalai Lama (he even has a private apartment at the Center for those visits). They also offer Asana Yoga Practice of Patanjali by Tempa Phuntsok on Saturday mornings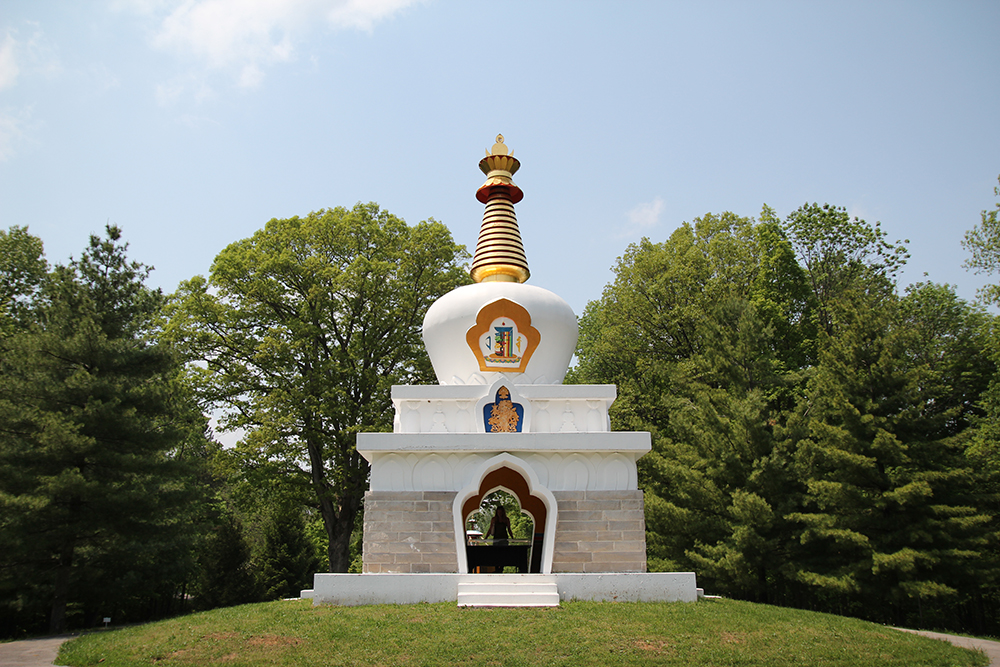 [8]
5. Bloomington Community Farmers' Market[9]
Every Saturday from April through November, 100+ local vendors gather at the Bloomington Community Farmer's Market to sell items like microgreens, tamales, small-batch barbecue sauce, paleo foods, organic fruits and vegetables, maple candy, and Italian pastries. Bloomington welcomes all dietary preferences, too. It's one of America's best small towns for foodies with plenty of vegetarian options (including the all-vegan and equality advocate Rainbow Bakery).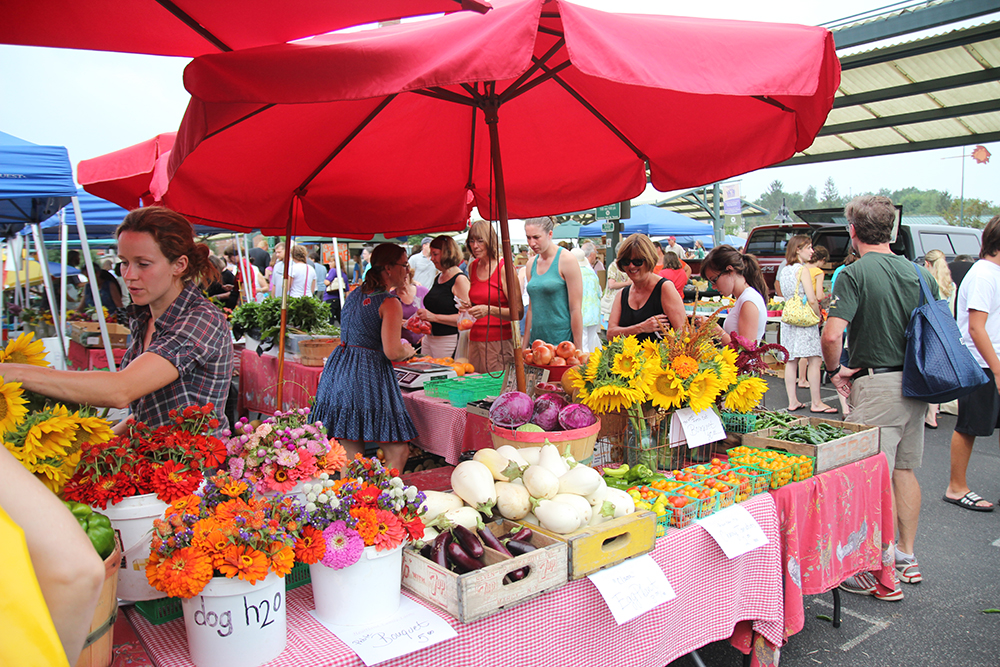 [10]
6. Know Yoga Know Peace[11]
"One of the best Yoga studios in Bloomington."  Know Yoga Know Peace has a variety of classes ranging from Hot Vinyasa to Gong Bath Meditation. The community and feel is warm and inviting.  It's a perfect spot for a long sweaty practice or a peaceful restorative session.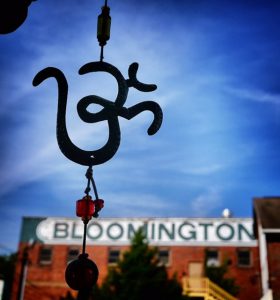 [12]
7. Ekah Yoga [13]
Located just outside of downtown, Ekah Yoga is Bloomington's Yoga Co-Op. It is a cozy studio that accommodates 15 people. So, sign up early for classes – they fill up in this intimate space. The studio offers Hot 26 posture yoga (Bikram Method), vinyasa, hatha, kundalini, yin, restorative, kettlebells and children's yoga.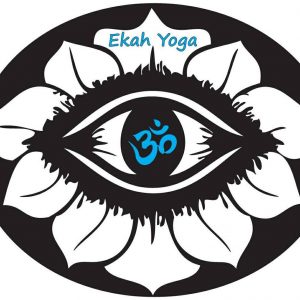 [14]
8. Yoga Mala[15]
Located one block south of the square, Yoga Mala is the only Ashtanga Yoga studio in Bloomington. They offer Ashtanga/Mysore classes daily, Ashtanga Basics, Amrit Yoga Therapy, Yin Yoga, Vinyasa, and Meditation. The community is friendly and inviting, the space is warm and quaint. Definitely a must see while in town.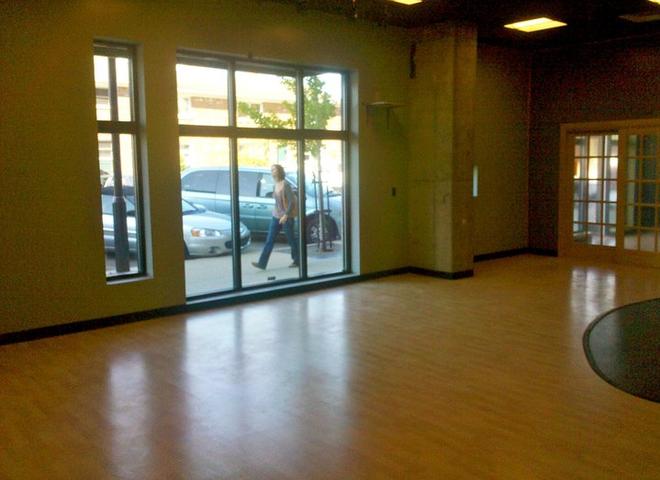 [16]
9. Lake Monroe[17]
A short drive down a wooded winding road takes you to beautiful Lake Monroe where you can rent kaykaks, stand-up paddle boards, and boats. It's a perfect outing in the summer months to feed the need for the outdoors while visiting Bloomington.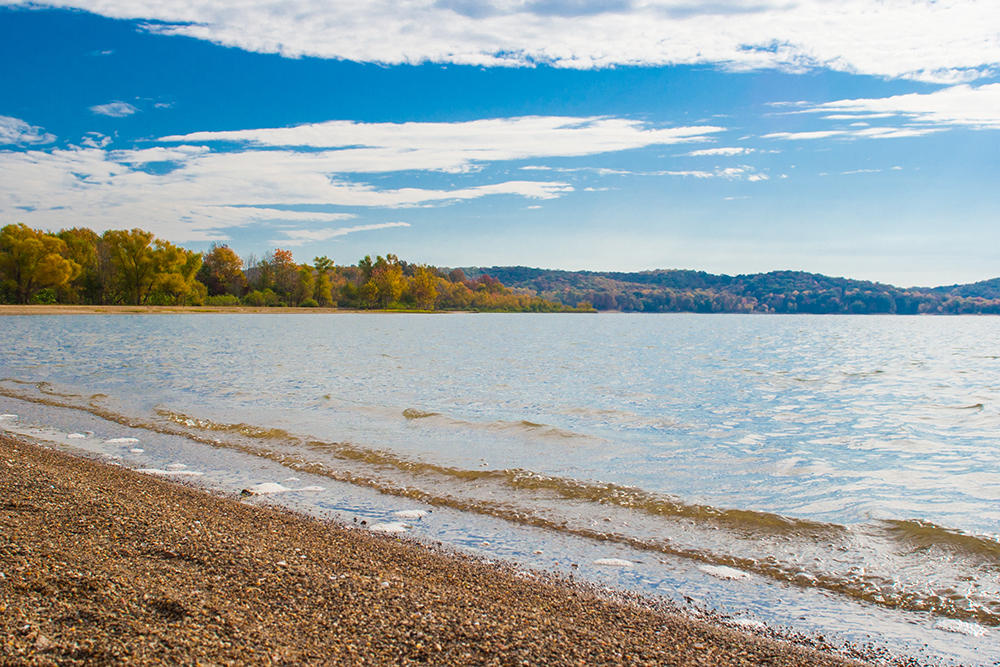 [18]
10. Oliver Winery[19]
"Wine brings people together!" Founded by William Oliver in the 1960's this amazing spot offers tastings, tours, private picnics and special events. The winery is nestled in a beautiful garden with large trees, flowing natural springs and fountains. They offer a diverse selection of wines for every palate. From their soft sweet wines and dry reds to their own wine collections, Oliver Winery is another must see for your Bloomington visit.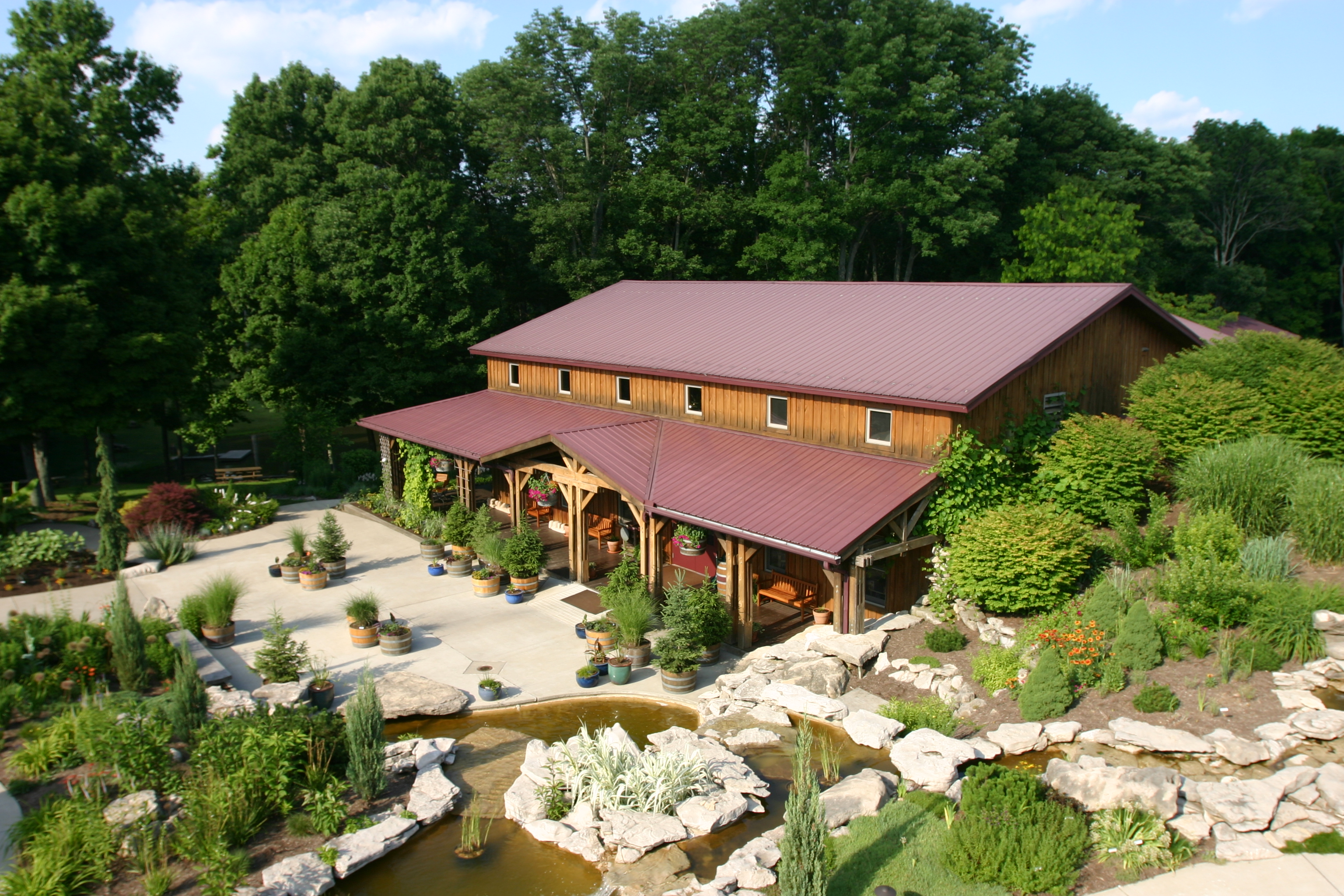 [20]
11. Upland Brewing Co.[21]
Opened in 1998, Upland Brewing Co. has expanded to four locations in Indiana and was featured on the popular television show, Parks and Rec. Demand for their sours landed Upland on the Huffington Post's list of most sought-after craft beers in America. Thrillist recently named Bloomington one of "10 Untapped Beer Cities Poised to Blow Up."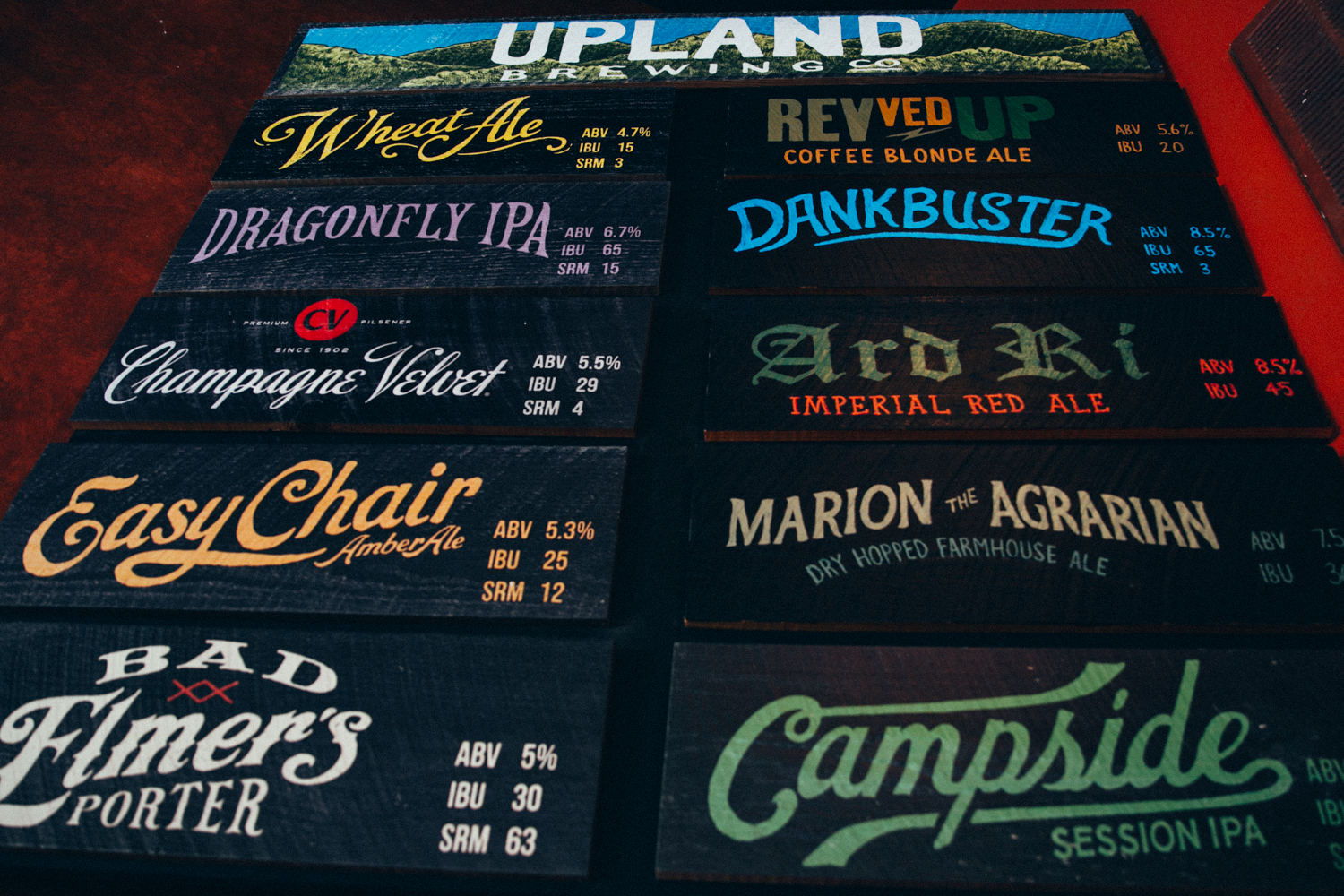 [22]
12. Anyetsang's Little Tibet Restaurant[23]
Located on 4th Street, restaurant row in Bloomington, a street lined with all local owned restaurants with huge variety, Anvetsang's is a great place for traditional Tibetan Food. Appetizers like Samosa to delicious TIBETAN DUMPLINGS and many other Thai and Indian dishes made fresh in a homey, warm and friendly atmosphere.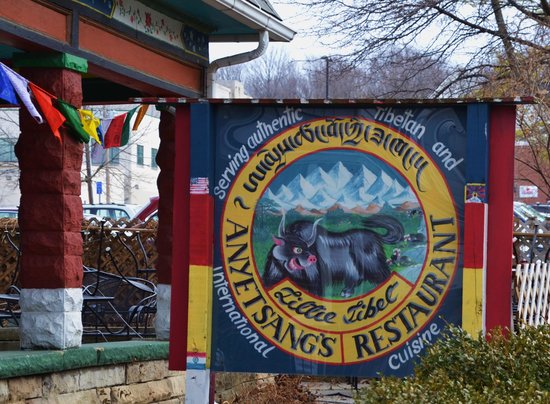 [24]
Endnotes:
The Grant Street Inn: https://www.grantstinn.com/
[Image]: https://yogadigest.com/wp-content/uploads/2017/08/Bloomington-IN-8-2.jpg
Cardinal Spirits: http://cardinalspirits.com/
[Image]: https://yogadigest.com/wp-content/uploads/2017/08/Cardinal-Spirits.jpg
Bike around: https://www.pedegoelectricbikes.com/dealers/bloomington/
[Image]: https://yogadigest.com/wp-content/uploads/2017/08/Sample-Gates.jpg

Tibetan Mongolian Buddhist Cultural Center

: http://www.tmbcc.org/
[Image]: https://yogadigest.com/wp-content/uploads/2017/08/TMBCC1.jpg
Bloomington Community Farmers' Market: https://www.visitbloomington.com/listing/bloomington-community-farmers-market/172/
[Image]: https://yogadigest.com/wp-content/uploads/2017/08/FarmersMarket.jpg
Know Yoga Know Peace: http://www.knowyogaknowpeace.org/
[Image]: https://yogadigest.com/wp-content/uploads/2017/08/Know-Yoga-Know-Peace.jpg
Ekah Yoga : http://ekahyoga.com/
[Image]: https://yogadigest.com/wp-content/uploads/2017/08/ekah-yoga.jpg
Yoga Mala: http://www.yoga-mala.org/
[Image]: https://yogadigest.com/wp-content/uploads/2017/08/36168_132078786845013_130751680311057_213652_6746931_n.660x480.jpg
Lake Monroe: http://www.lake-monroe.com/
[Image]: https://yogadigest.com/wp-content/uploads/2017/08/MonroeLake3.jpg
Oliver Winery: https://www.oliverwinery.com/
[Image]: https://yogadigest.com/wp-content/uploads/2017/08/OliverWinery1.jpg
Upland Brewing Co.: https://www.uplandbeer.com/
[Image]: https://yogadigest.com/wp-content/uploads/2017/08/Upland-2.jpg
Anyetsang's Little Tibet Restaurant: http://www.anyetsangs.com/
[Image]: https://yogadigest.com/wp-content/uploads/2017/08/exterior.jpg
Source URL: https://yogadigest.com/12-must-sees-midwest-yoga-getaway/
---