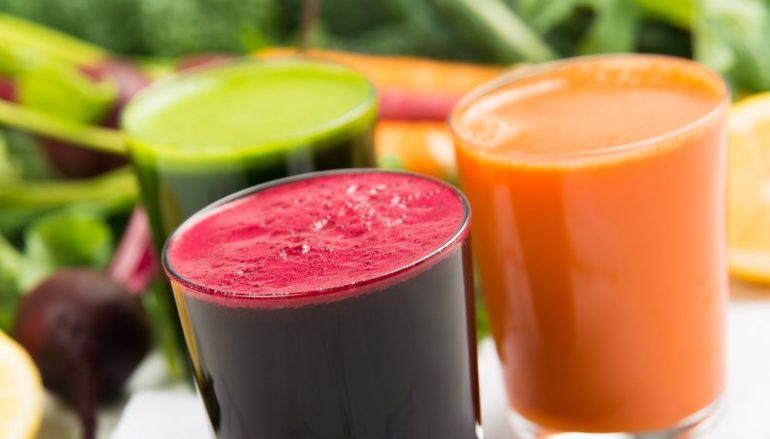 Weekend Juice Cleanse Recipes
We hope everyone had a wonderful 4th of July!  Most of us ate great tasting foods outside of our typical diet and drank much more alcohol than usual – but it was well worth it at the time!  With that said, we have compiled a few juicing recipes to blast away that bloated stomach and nagging hangover.
Liver Detox Juice
This juice will flush the liver and increase the rate that you process toxins out of your body.
1 organic red beet
4 organic medium size carrots
2 organic apples of choice
1 fresh lime squeezed
Green pH Detox
This juice recipe will help balance the acids in your stomach and cleanse the blood to get rid of the bloat and retain energy immediately.
5 handfuls of organic spinach
3 organic kale leaves
1/2 organic cucumber
3 organic celery stalks
2 organic green apples
Immune Restore
This juice recipes will blast away all the foreign invaders from attacking your immune system and leave you feeling revitalized.
1 organic orange
1/2 medium watermelon
1/2 pineapple
4 oz coconut water
Thumb size piece of organic ginger
1 organic lemon squeezed
Photo – shutterstock.com
[email protected] Digest
Cody is the Co-Founder & Publisher of Yoga Digest. Having his college basketball career cut short by a back injury, Cody opted for power yoga over surgery and medication. Fast forward a handful of years, the yoga journey combined with mindful eating habits has alleviated his back injury and done so much more for his mind and body. He is a avid advocate of self education and alternative health. Looking forward, Cody hopes to inspire people with his yoga story and educate the world how to become a happier and healthier generation. Connect with Cody on Linkedin.
Related Articles
Read more from RECIPES