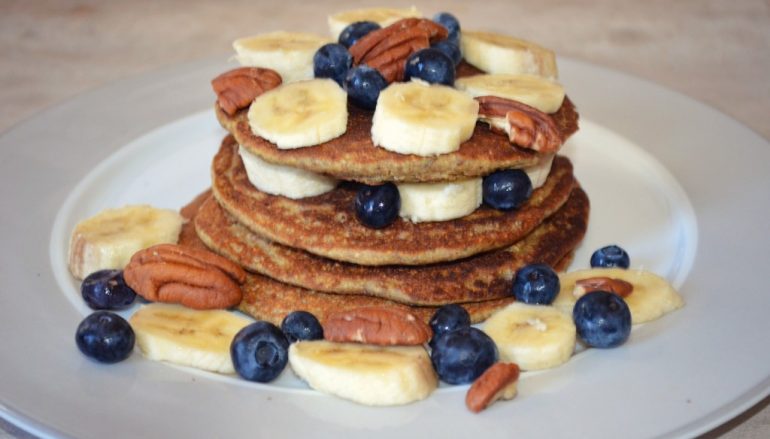 This Vegan Pancake recipe is as quick and easy as traditional pancakes!  Just ALOT healthier and tastier!
Yields 4-6 Vegan pancakes
RECIPE
1/2 cup buckwheat flour
1/4 cup quinoa flour (or any other gluten-free flour)
1 tbs ground flax
1 tbs baking powder
1 packet stevia (or any other minimally processed sweetener)
1 tsp cinnamon
1 tsp vanilla extract
1 cup almond milk
Directions
1. Combine all dry ingredients in a mixing bowl.
2. Add the almond milk and vanilla extract and mix thoroughly until a thick batter forms.
3. Add fruit or nuts if you'd like. You can wait until after they were cooked to add.
4. Using ladle or a measuring cup, drop pancake batter onto a skillet at medium-high heat. Grease with a bit of coconut oil. Use about ¼ cup of batter per pancake.
5. Flip pancake when the bottom is golden brown and firm. Cook thoroughly until golden on both sides. Should take about 1-2 minutes per side, but you want to make sure it is thoroughly cooked so it tastes its best.
[email protected] Digest
Cody is the Co-Founder & Publisher of Yoga Digest. Having his college basketball career cut short by a back injury, Cody opted for power yoga over surgery and medication. Fast forward a handful of years, the yoga journey combined with mindful eating habits has alleviated his back injury and done so much more for his mind and body. He is a avid advocate of self education and alternative health. Looking forward, Cody hopes to inspire people with his yoga story and educate the world how to become a happier and healthier generation. Connect with Cody on Linkedin.
Related Articles
Read more from RECIPES