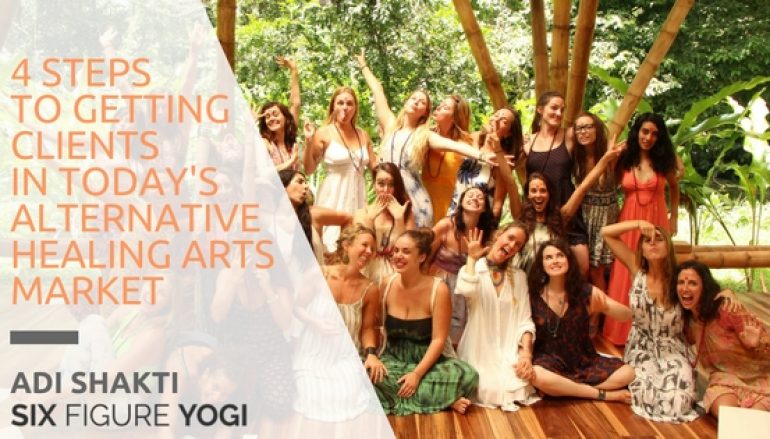 4 Steps to Getting Clients in Today's Healing Art's Market
Namaste Powerhouse! It's time to take your impact to the next level. I am here as your Hippie Business Strategist and New Best Friend. Identifying your ideal client is vital to growing your business. Get it wrong, and fail. Do it right, and soar. Get ready to meet your client avatar!
Step 1: Create your ideal client avatar.
Your ideal client avatar is who you are meant to serve. They match your passion. They are the kind of people that light your soul on fire. If you aren't specific with yourself on WHO these people are, you:
– Won't get ANYONE to do business with you
– Will get people that you don't vibe with. Nightmare. This can create a TON of problems for you and your business.
It is super important that you decide who this avatar is. From there, you decide what you can do to reach them. Consider the following points:
– demographic information like age, gender, income, location, education, & family
– their goals and challenges; both personal and professional
– their deepest desires and fears; their dreams and perceived limitations
– job titles and job/work history
– their hobbies and interests, media habits, tastes and preferences
Do a little Market Research to discover the details of your market. Once you have this info, you have to discover how to touch them. Deeply.
For example, my ideal client avatar is 22-33 years old. Let's call her Suzy Starchild. She has feathers in her hair and loves being barefoot in nature. She's super passionate about alternative healing arts and transformational experiences. Maybe she is into yoga, conscious travel, plant based nutrition, massage, or reiki.
She participates in women's circles. She is pursuing conscious entrepreneurship and a freedom global lifestyle. She may have some corporate experience. She may have some writing skills that she picked up in school. She already has some formal training behind her. She may be a member of the Yoga Alliance. She likes Wanderlust Festivals. She enjoys a plant based lifestyle… You get the idea.
Once I know Suzy, I can tailor my marketing campaign to make sure that I am speaking right to her beautiful wild spirit.
But How?
Step 2: Get laser-focused on your message
It may seem counter-intuitive to focus on a small, specific group of clients. Don't we want to talk to everyone? NO! Speak LOUDLY to those you want to do business with. Casting a wide net just makes you blah to everyone. That doesn't work anymore.
Conscious consumers are looking for that one answer that aligns fully and completely with their world view. You need to communicate with that target demographic directly and give them what they want.
Simply put: keep that ideal client avatar in mind with EVERYTHING you create. Here are a few ideas to get you started:
– shape the language on your website by using the same language and vocabulary your Ideal Client Avatar (IDA) uses throughout your emails, ads, and blog content
– shape branding by choosing color palettes and fonts that are attractive to your target demographic; chooses images that fit within your branding scheme
– shape any written content around the interests, desires, and fears your client avatar may encounter and want support with
– imagine speaking directly to your client avatar when making videos and podcast recordings. Remember, they are HUMAN – just like you! Nobody wants to just hear BUY MY STUFF, BUY MY STUFF, BUY MY STUFF!
Step 3: You know who you serve, you know what to offer them – but how to reach them?
You know who they are and what to say. Now, it's time to reach them. It's time to get down and dirty with Facebook ads or Google AdWords. With these platforms, you can quickly and easily decide the age, household income, interests and more which will allow you to speak directly to your potential clients. Your ads get right in front of your ideal market, and the words you use speak right to their heart. You help them fulfill a desire or confront a deep fear. Starting with even $2 a day can get you heading in a powerful direction. Why? Because you are crazy SPECIFIC about who sees your ads.
In addition to online targeting, you need to know how to touch your clients in the real world. The idea is to show up in other places in your clients' lives that may then guide them to doing business with you. You get creative about where they might be in REAL LIFE. Selling yoga retreats? Get a booth at a local farmer's market. Are you a massage therapist? Pass out flyers at a local art fair. Selling essential oils? Do workshops at the local yoga studio. And it goes on and on. Online Marketing is great, but NOTHING is more powerful than real face time with the people we are meant to serve.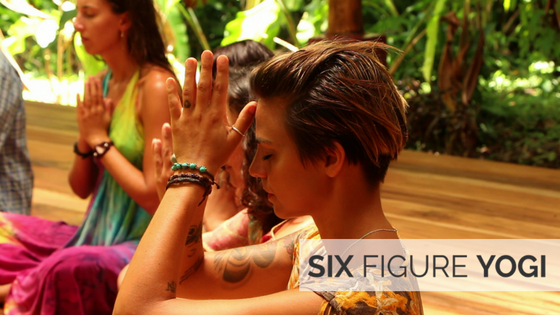 Step 4: Head over to SixFigureYogi.com and sign up for my free Online Marketing and Conscious Business Growth eCourse.
Of course, there is so much more to this. Not to worry, I've got a lot more for you. Head over to SixFigureYogi.com to get the free 7-day, 21-video series on how to grow your Conscious Business. I also have a podcast over at iTunes, the Six Figure Yogi. You can get those over at the website as well. Dive in.
I see you. I honor you. Thank you for working to make this world a more conscious, loving place.
HUGE OPPORTUNITY:
Want to learn with us LIVE? Costa Rica, March 2017. The Empowered Goddess: A Modern Business Seminar for the Awakened Woman.
In collaboration with Yoga Digest, we have created a live event in Costa Rica. The Empowered Goddess: A Modern Business Seminar for the Awakened Woman. An intensive immersion with us here in the jungles of Costa Rica, March 13-18, 2017. Make more money & amplify your spiritual impact. Let's do it in sacred sisterhood. Visit www.empoweredgoddessretreat.com  to receive the details.
Adi Shakti - The Six Figure Yogi
Adi Shakti manifested the Empowered Goddess Seminar to serve as the launching pad for empowering impassioned awakened women entrepreneurs to come together to collaborate, get their s*** together, and elevate collective consciousness through smart and soulful business. Adi is the host of the Six Figure Yogi, Creative Director of Passion Yoga School, Creative Mastermind of the Maha Shakti Center, author, and humanitarian. Adi is a born leader, empowered creator, and active force of nature. She enjoys a global freedom lifestyle of empowered entrepreneurship. She lives full time in Puerto Viejo, Costa Rica. Visit Adi at, www.sixfigureyogi.com, IG: @adi_shakti_rising
Related Articles
Read more from SPONSORED